The Top 50 Black Gate Posts in February
The Top 50 Black Gate Posts in February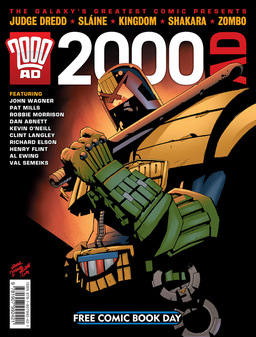 Back in December, Derek Kunsken's enthusiastic review of Star Wars: Rogue One, "I Am One With the Force and the Force Is With Me," shot up to #2 on our monthly traffic chart. Last month he claimed the #1 slot, and he didn't need a blockbuster film to make it happen — he did it the old fashioned way, with a book review. The book in question was Thrill-Power Overload: A History of the British Comic 2000 AD, a detailed history of the legendary comic that launched Judge Dredd, Alan Moore's D.R. and Quinch, Sláine, Rogue Trooper, Strontium Dog and countless others. Check it out.
Number 2 on the list for February was Mark Finn's report on the Kickstarter for the first Skelos Press anthology, Chicken Fried Cthulhu, followed by Violette Malan's survey of My Top Five Sword-Fight Movies, our obituary for GDW founder Loren Wiseman, and Andrew Zimmerman Jones' interview with Paizo mastermind and Creative Director of their new Starfinder RPG, James L. Sutter.
Howard Andrew Jones' review of one of his favorite recent games, the solitaire-suitable WWII simulation Heroes of Normandy, came in at #6 for February. At #7 was our report on the new Literary Wonder & Adventure Podcast from Robert Zoltan and his talking raven — featuring a lengthy interview with Black Gate's own Ryan Harvey on one of his favorite topics, Edgar Rice Burroughs. And close on its heels was our announcement of the 2017 Nebula Award Nominations.
Rounding out the Top Ten were Steven Brust's summary of Five Roger Zelazny Books that Changed His Life, and Fletcher Vredenburgh's January Short Story Roundup.
The complete list of Top Articles for February follows. Below that, I've also broken out the most popular overall articles, online fiction, and blog categories for the month.
The Top 50 Black Gate posts in February were:
There were plenty of older articles popular last month as well. The 25 most popular blog posts written before February were:
The Top Black Gate Online Fiction features were:
The top categories last month were:
The Top 50 Black Gate blog posts in January are here, and you can see all 87 posts we made in the month of February here.