Convention Report: Conpulsion 2015, Edinburgh
Convention Report: Conpulsion 2015, Edinburgh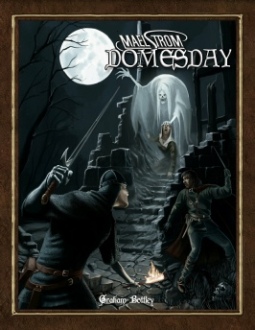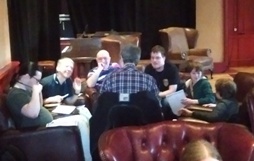 "OMG! You're the Rosemary Sutcliff of the roleplaying world!"
I was at Conpulsion 2015, Edinburgh's tabletop gaming convention and talking to Graham Bottley, founder of Arion Games, and the man behind Maelstrom Domesday (like Robin of Sherwood but better grounded in history).
Graham lives in a farmhouse in Yorkshire, keeps sheep, can see a castle out of his window, and a short walk takes him to a Roman camp.
Listening to him, you can see the woods and fields, feel the depth of the history beneath each bump in the ground. He should be a lyrical Historical novelist  in the mode of Rosemary Sutcliff. Instead he's a successful roleplaying game designer and publisher.
He GM'd for the gamer boys last year, and they liked it so much that DeeM bought the book and became our local games master.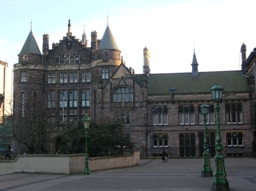 If you've never been to a gaming con, it's basically a chance to play with strangers and old friends, and to experience new games, including pre-release versions.
Conpulsion takes place in the rambling gothic edifice of Teviot, reputedly the first purpose-built student union in Scotland. What it has is enclosed spaces — bars and committee rooms — with tables for GMs, and wider spaces with even more tables cafe for boardgames.
The boys are an increasingly gangly 11, not quite teenagers, not kids anymore. They quietly slotted in and though the youngest in their games, they weren't the youngest roleplayers at the convention. Just like last year, it had an intergenerational feel. I swear I even spotted a third(!) generation gamer sitting up at a table amidst the beards and grey hair.
It's not just that gamers are growing up and spawning the next generation. Tabletop gaming itself has come of age.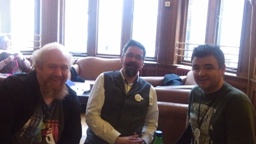 I just told you about Graham, the absolute antithesis of the nerdboy stereotype, who comes up with his scenarios while striding the Yorkshire Dales like a Bronte hero. I also got to hang out with Ian Lowson, the driving force behind Frankenstein Dark Harvest — dystopian steampunk in a Rumania ruled by Victor Frankenstein — and  Steve Ironside, key tester and contributor.
Like Graham, both defy the outdated expectations. Ian has the kind of urban persona you'd expect from an established arts professional. A veteran of the video gaming industry, Ian's low on BS and buzzwords but, reading between the lines, all about the user experience. I gathered that he began to write his own games out of frustration with the rambling rulebooks he grew up with.
Steve, meanwhile, is an articulate but chilled  IT professional with a speciality in systems and documentation. It's clear both have brought their professionalism into the hobby, and the hobby is all the better for the trend of "grownups in charge" that they represent.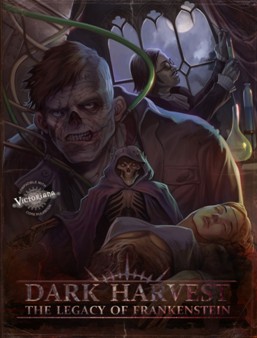 Slightly terrifyingly, both these high-powered individuals turned up for my writing workshop. We had a rare old time brainstorming a heist plot and discussing the rhythm of narrative… I think, at least.
You see, I'd put out my back the previous day (suddenly found myself on my knees in the main hall… a nice blue-shirt volunteer helped me by pretending we were sharing a religious experience… a pretense easy to keep up because the pain was so bad it was funny) and despite that (stupidly) led a demonstration of authentic European Historical Martial Arts. I was there on Sunday courtesy of a cocktail of prescription drugs. (Hey! The pink elephant that inexplicably followed me around all day said I wasn't stoned!)  Thus a lot of the day was a blur…
Despite my woozy state, I met some interesting people including a strategy game enthusiast whose interest had led him to study Geopolitics at Edinburgh University. (Life hack: When strategy gamers regard the current global situation as "intriguing" it's time to start stocking the bunker with ammo and bottled water.)
There were also plenty of tabletop games, including a rather timely civil war simulation homebrewed to a high standard by Neil MacCormack, and Andrew Harman showing off his now-fully-published Frankenstein's Bodies, a tie-in with Dark Harvest.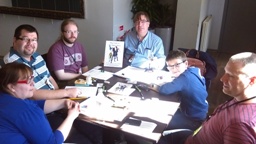 Other highlights were panels (Cat Tobin of Pelgrane Press was also there), my co-instructor David McIlhiney of Edinburgh's Dawn Duellists showing LARPers how to apply historical techniques to whacking each other with foam boffers, and Edinburgh gaming cafe 6stoHit held the fort in the wargaming room.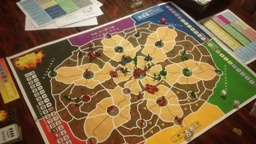 I also spotted the Abney Park roleplaying game (based on a Steampunk album, naturally)  on sale but failed to buy a copy (really, I wasn't wandering around in a daze) and the creator of Code of the Spacelanes GMing his game, which I wished I'd been able to play.
Just like last year, Conpulsion felt like home. (Literally, actually. As I type this, I can hear the sounds of 40K from Kurtzhau's room.)
Or perhaps college, but without the hard work. I'll certainly be back, as will the gamer boys — rumour has it that next year promises to be particularly welcoming to younger gamers.
---
M Harold Page (www.mharoldpage.com) is a swordsman and full-time author. Right now you can get his new action-packed YA Dark Age adventure, Shieldwall: Barbarians! on Kindle. Read an interview with him over on Modern Medievalist.