Cemetery Dance 72 Now on Sale
Cemetery Dance 72 Now on Sale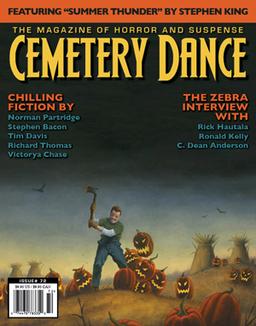 Cemetery Dance calls itself a magazine of horror and suspense, and I think that describes it pretty well. It has a nice mix of fiction, interviews, news, and reviews. It's not a digest, and has plenty of interior art, both of which I appreciate.
Issue #72, cover dated January 2015, has new fiction from Stephen King, Norman Partridge, and others. Here's the complete contents.
Fiction
"Summer Thunder" by Stephen King
"Incarnadine" by Norman Partridge
"The Cambion" by Stephen Bacon
"Barn Dance" by Tim Davis
"Chasing Ghosts" by Richard Thomas
"Anti-Theft" by Victorya Chase
Features
The Zebra Interviews: Rick Hautala, Ronald Kelly, and C. Dean Andersson" by Christopher Fulbright
Feature Review: Stephen King's Revival, by Bev Vincent
The Usual Suspects
Words from the Editor, by Richard Chizmar
Stephen King News: From the Dead Zone, by Bev Vincent
The Mothers and Fathers Italian Association, by Thomas F. Monteleone
MediaDrome, by Michael Marano
The Last 10 Books I've Read, by Ellen Datlow
Fine Points, by Ed Gorman
Spotlight on Publishing, by Robert Morrish
Horror Drive-In, by Mark Sieber
Cemetery Dance Reviews
We last covered Cemetery Dance with issue 71.
Cemetery Dance is edited by Richard Chizmar and published by Cemetery Dance Publications. It appears twice a year (roughly). Issue #72 is cover-dated January 2015. It is 80 pages, with a cover price of $9.95. The cover art is by Stacey Drum; interior Ar is by Chris Bankston, Mark Edwar Geyer, Stephen C. Gilberts, Chris Odgers, Shane Smith, and Luke Spooner. Order copies directly at the CD website.
See our April Fantasy Magazine Rack here, and all of our recent Magazine coverage here.