Cemetery Dance #71 Now on Sale
Cemetery Dance #71 Now on Sale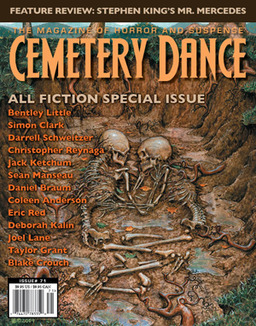 Cemetery Dance is a magazine I buy rather sporadically. I should probably remedy that, as its non-fiction features — especially their news and reviews columns — are consistently excellent. It does a terrific job of keeping you up on the latest in the horror field.
I'm usually a fiction guy, which is why their All Fiction Special Issues are particularly appealing. There's only been two others in their 25-year history, so when I saw this one on the magazine rack a few weeks ago, I bought it immediately.
This issue has a stellar cast of contributors, including Bentley Little, Simon Clark, Darrell Schweitzer, Jack Ketchum, and many others. The cover is by Alan M. Clark, and the issue is cover-dated May 2014. Here's the complete table of contents:
Fiction
"In the Room" by Bentley Little
"Sacred Duty" by Simon Clark
"Odd Man Out" by Darrell Schweitzer
"A Million Miles from Graceland" by Christopher Reynaga
"Gorilla in my Room" by Jack Ketchum
"An Authentic Nichole Freres" by Sean Manseau
"The Green Man of Punta Cabre" by Daniel Braum
"The Collector" by Coleen Anderson
"Colorblind" by Eric Red
"Teratogen" by Deborah Kalin
"Quarantine" by Joel Lane
"The Infected" by Taylor Grant
"Perfect Little Town" by Blake Crouch
Departments and Features
"Words from the Editor" by Richard Chizmar
"Cemetery Dance Reviews"
"Feature Review of Mr. Mercedes by Stephen King" by Bev Vincent
Cemetery Dance is edited by Richard Chizmar and published by Cemetery Dance Press. It appears twice a year (roughly). This issue is 104 pages, with a cover price of $9.95. Order copies directly or learn more at the CD website.
See all of our recent Magazine coverage here.