7th-9th April is Conpulsion! Edinburgh's Ultimate Roleplaying and Tabletop Convention!
7th-9th April is Conpulsion! Edinburgh's Ultimate Roleplaying and Tabletop Convention!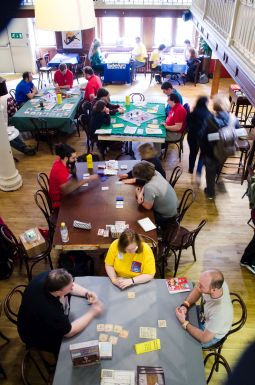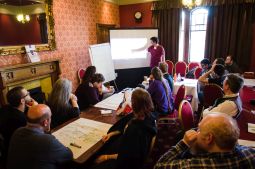 If you're anywhere near Edinburgh, then don't miss Conpulsion this Easter!
It's basically Valhalla for geeks, a temporary Nerdtopia — think Burning Man, but with less sun and more dice.
We're talking two and a bit days of actual table top gaming in a popup community that you wish would just settle down and start its own township!
It's Scotland's biggest weekend gaming convention, and it is a splendid experience. (See reviews for 2014 and 2o15)
There are dozens of roleplaying games squirrelled away in the Gothic venue's labyrinth, all refereed by experienced GMs. These run morning, afternoon and evening, so it really is possible to roleplay solidly for two days.
There are whole areas devoted to modern board and card games, some of them entirely new, plus various LARP games and panel discussions.
There's also always wargaming going on, especially X-Wing and Warhammer 40K, but also games you  won't have heard of, or are yearning to try.
The atmosphere is inclusive and have-a-go, with roleplaying sessions aimed at a range of ages and experiences, and board and wargames hosted by enthusiastic demonstrators.
Overall it's a really good chance to try out — or at least, watch — the kind of games that look tempting but are a bit too expensive to just buy on the off-chance that they are any good. It's also the place to pick up copies of games without having to pay shipping —  a refreshingly retro experience in an era when the Internet is usually cheaper.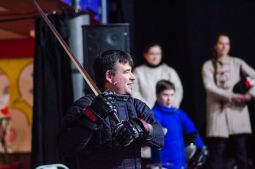 It's even child friendly, with older kids able to go free-range as long as they have a named contactable adult in the building. (See FAQs.) There's good food, acceptable beer, comfy seating and proper coffee if you're stuck riding herd on a teen who's off rampaging through Neverwhen brandishing a brace of polyhedral dice.
I'll be there helping my Edinburgh-based HEMA society to demonstrate swordplay, doing a writing workshop based on my Storyteller Tools, and getting in some gaming. For me it's a rare chance to be GM'd by adults and play with other adults.
My son "Kurtzhau" and his mates, meanwhile, will be shooting aliens and riding zeppelins in a variety of games. "Morgenstern," my daughter, 9 but already a keen roleplayer, is booked to have her first game with people she doesn't know. She's keen on OneDice and this is a chance to meet the creators (one of whom was keen to invent a game for his daughter…).
Most of the games are pre-bookable on the website, but you can also sign up on the game and there'll be ad hoc stuff happening too. Go take a look!
If you see me, do say hello. (I'll be the writer swordsman gamer dad…)
---
M Harold Page is the Scottish author of  The Wreck of the Marissa (Book 1 of the Eternal Dome of the Unknowable Series), an old-school space adventure  yarn about a retired mercenary turned archaeologist. He's on a quest to find the mythical Dome but keeps getting involved in "local difficulties". You can get it on Kindle here.