The Death of an Audi
The Death of an Audi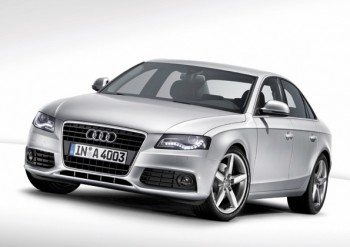 I usually reserve the Black Gate blog strictly for topics related to the genre.  I hope you can forgive a brief trespass on that tradition today, as I celebrate being alive.
This morning I was on IL-47, a single-lane country highway, heading south to Champaign, where I work as a software salesman. At approximately 10:32 a.m. I watched as a fully-loaded 18 wheeler in the northbound lane went into a lock-up to prevent a crash with a stopped car. The truck lost control and twisted across the center meridian until it fully occupied both his lane and mine, still coming very fast and leaving me without a lot of options.
I hit him doing slightly over 60 mph. I'd already gone off-road on the right shoulder, but it wasn't enough to avoid a collision. The impact triggered four of my Audi's airbags, including three I didn't even know I had.  Seriously — there were airbags everywhere.
I took the hit on the driver side. It drove the chassis down into my left rear tire, immobilizing it and sending me into a 60-mph uncontrolled spin — past the truck and back onto the road, then deep into the shoulder on the right. Fortunately the road and the shoulder were both clear. I leveled about 120 feet of grass in a dead line.
I got out of the car without a scratch, for which I thank God, and German engineering.
I can't say the same about my loyal car, which took a critical hit.  It took ten minutes with a chain and a tow truck just to get it back on the road, and I can't say for sure if it will ever move under its own power again.
But today, I have absolutely no complaints. I'm just glad to be alive.  Alice and our three kids showed up in her van three hours later, and drove me home to St. Charles, where we went out to dinner and celebrated. I consider myself a very lucky man.
But tomorrow, I will miss my car.