A review of Hellebore & Rue: Tales of Queer Women and Magic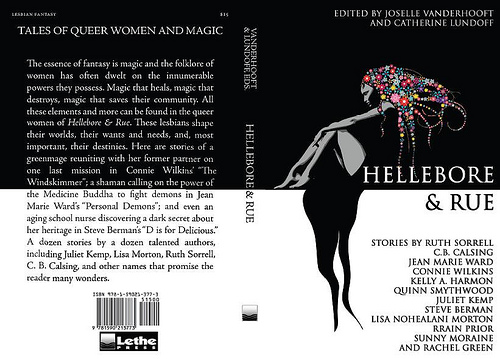 Hellebore & Rue: Tales of Queer Women and Magic
Edited by JoSelle Vanderhooft and Catherine Lundoff
Drollerie Press (Ebook [Kindle], 238 pp., $9.99, February 2011)
Lethe Press (Trade Paperback, 238 pp., $15.00, May 2011)
Fantasy allows us to see the world not as it is, but as it might be.
Worlds where mortals have powers and abilities we can only dream of; where women neither need nor expect to rely on a man; where genders and orientations are equal, or face inequities starker than our own.
You'll find all these possibilities, and more, in the twelve worlds of Hellebore & Rue: Tales of Queer Women and Magic, the new anthology edited by JoSelle Vanderhooft and Catherine Lundoff.
In opening story "Counterbalance," Ruth Sorrell's impressive first fiction publication, the world isn't too different from ours. It initially resembles a typical urban fantasy milieu: magic's real; the setting's a modern metropolis; there's a vampire slayer; there's a nightclub/bar/safe space for the supernatural set. But the protagonist, Riley, isn't the vampire slayer–she's the most powerful being in Toronto. And the safe space? It isn't, leaving Riley facing a newcomer much too powerful to oppose alone.