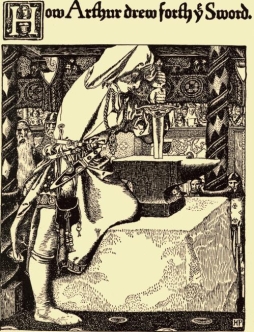 As I write this, I'm closing in on the 50,000 word mark of my NaNoWriMo novel. I'm aiming for 100,000 words, which means I'm well behind my ideal pace, but if I can keep going for 6,000 words a day over the next week and a half, I should get there. So it's still very possible. (You can read some thoughts on National Novel Writing Month here, some talk about the Arthurian legends that inspired my plot here, and a more detailed discussion of my plans over here.)
An outside observer might wonder what the point is. The book I write isn't going to be very good; it's a first draft, written in haste. Why not take it slower, and produce something better? But whatever I'd write would have to be reworked; that's the way of things. Still, even assuming that this particular way of working is conducive to eventually producing something worthwhile … well, what is it that's worthwhile, exactly? What, in short, is the point of writing this novel?
I don't know if there's really an answer to that. But why ask the question at all?
Only because that's where I'm at with the novel.
---