Grasping for the Wind reviews Black Gate 14
Grasping for the Wind reviews Black Gate 14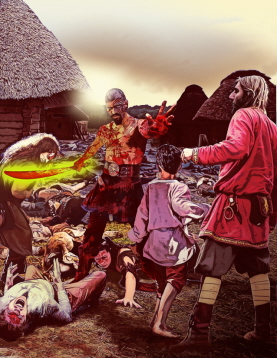 John Ottinger III at Grasping for the Wind has posted the first review of Black Gate 14.  Here's what he says about our latest issue:
One of the best collections of fiction on the market – whether books, magazines, or online. The latest edition has just been released, and Black Gate 14 is massive, topping out at 384 pages …  this massive collection of fiction shows why, even with their irregular publishing schedule, Black Gate is one of the most popular magazines (print or online) available today.
He reserves his highest praise for two novellas, including Pete Butler's "The Price of Two Blades:"
Spectacular… a story of a pact made with old gods that costs a high and terrible price… Butler's clever build of suspense and mystery, use of religious magic that costs a price, and multiple viewpoint telling of the story keep the reader glued to the action as it unfolds. This is undoubtedly one of the best stories of this issue, perhaps one of the best Black Gate has yet published.
And Robert J Howe's "The Natural History of Calamity." 
A piece of paranormal crime noir. Debbie is a karma detective, a person people hire when they feel that for some reason the universe is out of whack. When Will Charbonneau hires her to find out why his girlfriend left him for no apparent reason, it seems like a straightforward case. But then Debbie runs into an old boyfriend in the course of the case, and everything becomes a tangled mess. Surprise twists, a significant dose of self-deprecating humor, and a no-nonsense first person point of view make this story hard to walk away from. From the little teaser at the beginning, to the depth of character and clever use of karma as plot device, Howe's story is a real pleaser from beginning to end. My favorite of the magazine and one I highly recommend.
Art by Malcolm McClinton for "The Price of Two Blades."
The complete review is here. Thanks for the kind words, John!