Gobsmacked: Tangent Online reviews Black Gate 14
Gobsmacked: Tangent Online reviews Black Gate 14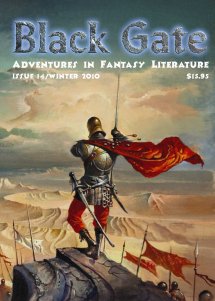 Steve Fahnestalk is a little overwhelemed with his first issue of Black Gate:
When I first opened the very thick envelope from Kansas City, I thought that Dave had messed up and sent me a Black Gate anthology… Full-color glossy perfect-bound wraparound cover on 380-plus pages containing not one, but three novellas, and sixteen stories. Plus poems, book and game review columns, letters, editorial and a comic strip — and handsomely illustrated throughout. I was poleaxed, banjaxed, gobsmacked and just plain overwhelmed. For those of you who bewail the terminal illness of the publishing industry, the loss of the midlist, the paring down of the professional story market and the death of the illustrated magazine, ease up. I've seen more professional-quality short stories in the last month in my mailbox, half of them in this magazine, than I had in the previous six months.
He draws special attention to "The Hangman's Daughter" by Chris Braak:
Cresy has a problem. Night after night, she wakes from a dream of suffocating (as many children do) — but one particular night she thinks she saw something sitting on her chest and drawing the breath from her lungs. In these dreadful dreams she is paralyzed and can only wait for the dream to end so that she may draw a full breath again. Then, questioning the boys she plays with, she finds that all the children of Corsay have this problem. "Everyone gets those. It's the bogeymen," says Ally. How Cresy finds her personal center and gains the strength to face her nightmares face on (and what she finds when she does) is the crux of the story. A nice little tale of personal growth set in a less-than-usual fantasy world.
And "Devil on the Wind" by Michael Jasper and Jay Lake:
A tale of blood, pain, magic and the costs of being powerful. Lena is one of the Redeviled, a Killaster witch in the land's most powerful eight-of-power. Lena has just undergone her fifth suicide — a method by which the Redeviled gain more power. The Killaster Witches, led by Black Mattieu, have just received what should have been tribute from one of the lords.. two copper coins — a major insult, and one which will not be allowed to pass unnoticed… Lena is sent to show the prince the error of his ways. This is one of my favorite stories of the issue…  Lake and Jasper are two of the very few fantasy writers who seem to understand that power demands a price. She and her fellow wizards pay a price with their very flesh and blood, pain and sacrifice.
He also feels that "Red Hell" by Renee Stern
could be, with very few modifications, an alternate-world science fiction story instead of fantasy. It's so well written, however, that it works either way… Kellen is press-ganged into Red Hill (called "Red Hell" by the natives)… Despite his gnawing hunger, Kellen works hard to fulfill the contract — only to have Soiberon accuse him of theft at the end of the day rather than pay him. Soiberon allows Kellen to "coerce" him into giving Kellen a magic ring that will hide his indenture tattoo; Kellen thinks this will help him escape from Red Hell by helping him hide in the hold of one of the airships. During that attempted escape, Kellen learns that not all magic is what it's cracked up to be, and that desperate people you work with are not necessarily your friends… I liked this story a lot!
And he enjoyed "On a Pale Horse" by Sylvia Volk:
A departure from all this traditional fantasy — it is an Arabian fantasy about a young Bedouin ("Bedu") woman named Salsabil (after a fountain in Paradise) — who is in charge of a horse by the same name. She… comes to her father and tells him of a white stallion that has been courting the mare; a stallion that is perfect in every respect save one— it has a horn on its forehead. It is then that Ibrahim knows his daughter is mad. But before he can do anything about it, the raiders from the north attack… here is no vague middle-ages fantasy world, but a well-realized Arabian analogue full of characters one can understand and empathize with, and also full of action and adventure.
You can find the complete review here.