Goth Chick News Mini Blog: The Dead Matter Lurching Toward You in Two Days
Goth Chick News Mini Blog: The Dead Matter Lurching Toward You in Two Days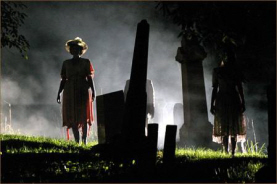 The Dead Matter, Midnight Syndicate's first leap from music to movies, is available to add to your gothic collection starting July 30th.
However, as I have been shameless stalking Ed Douglas since first meeting him at the Halloween, Costume and Party Show back in 2003, he gave up an advance copy of the movie and the music; probably thinking he'd get me to stop reading angst-y poetry into the Midnight Syndicate office answering machine.
Hah! No such luck!
I spent last weekend combing over the release that combines the movie with two music CD's meaning another I haven't seen daylight in 72 hours. And if that doesn't seem all that unusual for me, well then let me tell you that it is. Normally when I sit in the dark for days on end it's with my voodoo dolls and I'm…well… meditating over something important, like my exes or my last boss. So if I'm doing it because of The Dead Matter, then it's definitely worth it, trust me.
Only two days to go!