Goth Chick News: The International Halloween, Costume and Party Show
Goth Chick News: The International Halloween, Costume and Party Show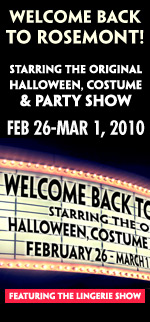 Chicago once again played host to the IHCPS, February 26-29, but to say the show as a whole was a disappointment is the understatement of the century.
This is the event around which my entire calendar revolves, and it usually requires a full ten-hour day to visit all of the exhibitors. I actually have a countdown clock on my computer ticking away the days to this most anticipated of events.
However, in their first year back after a two-year run in Vegas, this year's show was less than 50% of the size of previous years. Gone was "The Dark Zone," my most favorite area, which used to take up the entire upper floor of the convention center, and where Hollywood's finest special effect magicians from the horror genre showcased their latest wares.
The exhibition hall itself was spread thinly across two rooms instead of three, and was heavily dominated by been-there-seen-that costumes and drug store decorations.
Even the "party" part of the IHCPS seemed to be missing. In the past, yet another hall was occupied by general party items, not Halloween themed. Though a little tame for my taste, I always found one or two cool things to share with you, as well as for my own future use. All in all the IHCPS consumed the entire convention center in prior years.
And sacrilege of sacrilege, this year my beloved "Dark Zone" space was occupied by…I can barely write it…a GOLF show. Oh the humanity!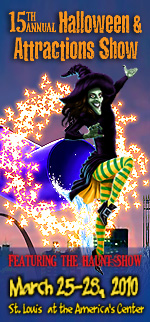 Apparently TransWorld, the company that puts on the IHCPS, is holding another show at the end of March in St. Louis, the 15th Annual Halloween & Attractions Show, where several of the missing elements from the Chicago events will be set up.
I've been trying to find out if everything will be moved back to Chicago in 2011, or if this sad showing is the last gasp and the entire event will be only in St. Louie next year.
If so, ROAD TRIP!
And yet, there were still several gems to be found amidst the mediocrity. So the least I can do, considering the drastically lower show attendance, is to bring these particular stand-outs to your attention.
Treat them well as there is something for everyone in my 2010 "Best Of" picks, and all are available directly to you via phone or web site.
Here goes:
Midnight Syndicate's new movie, The Dead Matter
Call me biased and I won't argue, but I've had about a ten-year love affair with the music of Midnight Syndicate which has been the backdrop to many a Goth Chick event.
However for a bunch of guys who got into the business to pick up girls, the new trailer for their upcoming movie The Dead Matter proves this talented team has way more going for them than just creating eerie soundtracks.
And from what I've seen, they're breaking into indy film making with much-anticipated, scream fest.
It's coming to a theater near you in July but Ed Douglas and the guys have promised me a screener. So as soon as I get over myself on that account, I'll be sure to give you all the gory details.
Until then, check out the serious creepiness here.
Blood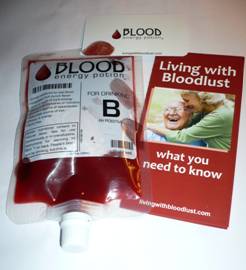 This gets my vote for the coolest new product of the show, by far.
Harcos LLC has not only created a blood-like drink which comes in hospital-like bags, but they've created literature to explain the condition of "blood lust" which can only be satisfied by the consumption of "Blood."
The stuff even looks grossly viscous when poured but, much like real blood, it is chock full of protein and iron, making it a true "energy drink."
And somewhere beneath the very pleasing berry flavor is the ever-so-faint metallic taste you get if you stick a cut finger in your mouth.
"Blood" was apparently handed out to attendees of the Daybreakers" premier, which is marketing genius, and though it was originally released after Halloween last year, the initial batches sold out in a matter of weeks.
Obviously those crazy Twighlighters are making sure Hot Topics is always in short supply, but the rest of us can just go to the web to get it, four bags per case.
The site is hysterical, by the way. It looks like a medical information site with the tag line "Being dead doesn't mean you have to stop living."
I've already got "Blood" on order so I can have a few bags stacked up nonchalantly in the fridge for my next party.
Minion's Web Cobweb Gun
It seems like only yesterday that Mr. Goth Chick and I were out combing the temporary Halloween stores in our area, looking for a spray can of cobwebs. I didn't want the cheesy cotton stuff we generally spread on our bushes outside, but realistic looking spider webs I could spray onto our chandeliers and lampshades.
Alas, nothing was to be found that wasn't a risk for choking my dogs or catching fire. But this year it's the Minion Company to the rescue with their Cob Web Gun.
Looking like an oversized glue gun into which you load oversized "glue sticks," this gadget hooks to a small, air compressor like the one you'd use for an airbrush; then just aim into the air and pull the trigger.
What comes out looks a little like cotton candy filament, but when it starts attaching to something and building up, a spider couldn't tell the difference. The "web" is non-sticky, non-toxic and flame resistant, making it perfect for giving your house that abandoned, uninviting look. Plus if you ever decide to clean it up, you can do so in seconds with a vacuum cleaner hose.
I have one on order. Why wait for October?
WoWindow Posters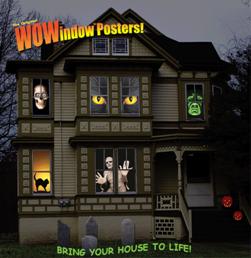 Robert Schott from New Jersey came up with this ingenious idea while decorating his house at Halloween and decided to make a business out of it.
Originally, he had covered his upstairs windows with plywood and painted giant eyeballs on them, making the old house look like it was staring ominously down at the neighbor kids. When this was so successful it drove away some of his younger visitors he knew he was onto something, and WoWindows was born.
Various designs are printed on light conductive vinyl, which attach easily to your window frames with the included adhesive. Then turn on a lamp in the room and voila; instant haunted house!
Several designs are coordinating so you can put the same theme up in several windows. For instance, my personal favorite was the zombie theme, which makes it look like zombies are eating your family members in every room of the house (ask for the new "Ghoulies" design when you order as its not yet up on the web site).
Robert has even recreated his own staring eyeball design which is a best seller in this new form and I was thrilled to pick up yet another addition to my annual attempt at putting the neighborhood kids into life-long therapy.
Big Pirate
(www.treasuresofthehighseas.com)
I couldn't help but go a little pirate-crazy with the rest of the world (give me a break, its Johnny Depp after all) but the folks at Big Pirate have done so with an ominous twist.
They have created a line of tankards and treasure boxes that are more "Dead Man's Chest" than Disney, and all are display-quality works of art.
Their skull designs are truly disturbing, as in: imagine drinking your grog out of someone's upturned head.
In addition, they have commissioned a line of pirate-themed glass ornaments that are stunning and put unusual conversation pieces in everyone's financial reach.
The Treasures of the High Seas web site is still under construction, but should be operational in March. Until then, you can contact the company directly at 612-275-9638.
PS: Archie Peltier from whose imagination all of this stuff sprung, let me in on an advanced secret; he's working on a line of Steam Punk-themed glass ornaments! I asked him to step on it, Christmas isn't that far off.
Dolls Gone Wrong & Wicked; Steam Punk Clothing
(Beverly at 505-603-2412)
Normally my rule here is to only include merchandise you can order directly from a web site, but I needed to make an exception for Beverly and her amazing, one-of-a-kind clothing line.
If there is such a thing as "high end Steam Punk" then Beverly has captured it. Her designs are like Mad Max meets Pirates of the Caribbean where you choose the fabric and combination of accessories, and the whole get-up is made to your specifications.
Though I wish there were a web site so you could see the amazing array of movie-set-worthy designs, I grabbed a couple of pictures to give you an idea.
Plus I love the fact that Beverly wasn't passing out glossy literature on her clothing. She was instead handing out photocopies of a hand-written menu of items she hastily threw together at the local Kinkos.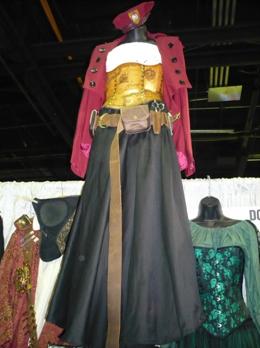 She, like her clothing, is true anti-establishment artistry, so just ring her up to chat about your own design ideas.
I was particularly taken with the bullet belt and the brass flight goggles. I hope Mr. Goth Chick was paying attention.
Heritage Lace
Last but not least are the decorative touches for those of you not quite willing to make the full Goth commitment, but still want to give your home that "Motel Hell" feel for special occasions.
It is to get this unique perspective on the show that I invited Mr. and Mrs. Disney to be my guests as I waded through the "Midnight Syndicate" and "Blood" booths.
After being friends with them for over ten years, I constantly have to look for new ways to up the shock value to even get a reaction these days. And when Mrs. Disney actually uttered the words "Oh THAT's cute!" more than once during the show, I knew for sure that this year's IHCPS was way off its stride.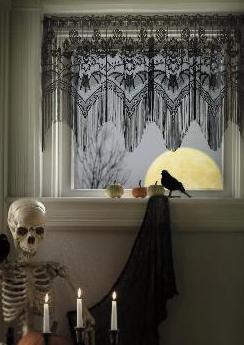 However, that being said, I credit the Disney's for pointing out Heritage and their black, Victorian lace for throwing over your lamps and draping across your fireplace mantle.
It's what I call "old lady creepy" and certainly adds a distinct feel of funerary mourning to any room without going so far as to bring in a coffin.
I was especially fond of the damask curtains with a subtle skull design that will most certainly be gracing my library as soon as the first autumn leave takes a dive.
And finally, in past years when I have attended the IHCPS, I am especially excited to bring you a genre-specific celebrity encounter.
I had the pleasure of having coffee with Dee Snyder the year he was there promoting his rock opera VanHelsing's Curse, and hanging out with Butch Patrick, the kid who played Eddie Munster in the TV series The Munsters. Yes, it might be stretching to call that a celebrity encounter, but he was a really nice guy with a good sense of humor as you can imagine.
So as final proof that the TransWorld Company was obviously still hung over from their two year stint in Vegas, this year's celebrity encounter was… Bridget from the E! Channel's Girls Next Door reality show.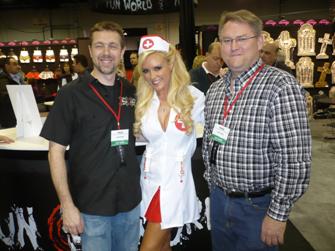 If you aren't familiar, the show followed Hugh Hefner, of Playboy fame, as he dated three girls young enough to be his granddaughters. One of them was Bridget.
I'm not knocking her personally, since she too was a really nice person, as well as being extremely blonde, scantily clad and a Playboy centerfold model. Yes, I indeed stood in line to meet her to try and figure out the connection (Playboy – scary stuff???)
I even asked her outright as Mr. Disney and Mr. Goth Chick tried hard not to drool on themselves. Turns out she really, REALLY loves Halloween.
Well, at least we had that in common.