HBO's Rome to hit the Big Screen
HBO's Rome to hit the Big Screen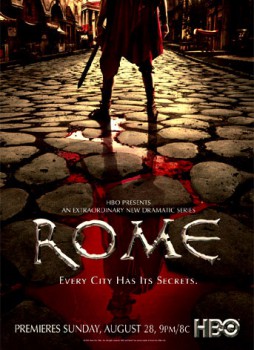 A while ago E.E. Knight posted a nice review of the two-season run of HBO's Rome, calling it: "about 25 hours of what I consider the best Sword and Sorcery I've seen in about the same number of years." Knight goes on to point out just how this historical epic satisfies the S&S itch, and I recommend that both fans and those unfamiliar with Rome but interested in bloody good adventure go check out Knight's review.
It's been more or less an open secret that Rome was headed for a big screen follow-up for some time (Knight's review is from June of last year, and a commenter mentions just this fact), but a recent article from Entertainment Weekly has brought the rumors back to life and appears to indicate that Bruno Heller has finished the script for the film, and regulars Kevin McKidd and Ray Stevenson will be back. EW erroneously goes on to say this is a surprise, since both Lucius Vorenus and Titus Pullo appear to be dead at the end of the show. This was picked up by nearly every other reporting agency running this story — apparently not many of these entertainment reporters have bothered to watch the entertainment they report on, as a living, breathing Pullo is walking down the street at the close of Rome, and the off-screen death of Vorenus is ambiguous enough to suggest he lives on in hiding.
Anyway, whether or not this item is strictly news is open to debate, but it is 'good news' regardless, and it gets me interested to see how the film will develop. Now, if only they'd do the same for Deadwood, a show that met the same ignoble fate as Wild Bill Hickok in the Number 10 Saloon . . .