Rage of the Behemoth Review
Rage of the Behemoth Review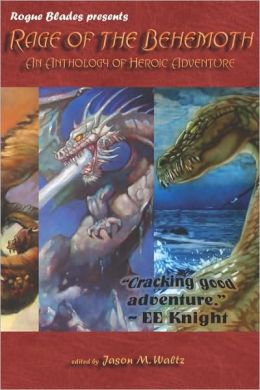 I have to confess that I was not initially impressed with Rage of the Behemoth, the heroic adventure anthology from Rogue Blades. The first two stories didn't start out slow, exactly, but they struck me as being more akin to fan fiction than professional fantasy literature. I was on the verge of setting it aside when I read Sean T. M. Stiennon's strange and enthralling "Black Water", which is without a doubt the best story about a heroic crab warrior I have ever encountered. Intrigued anew, I lost the urge to put the book down and by the time I had reached Bill Ward's excellent "The Wolf of Winter" a few stories later, I realized that I needed to completely revise my attitude about what had turned into one of the more consistent anthologies I have had the good fortune to read.
Editor Jason M. Waltz has done an excellent job both in selecting the stories for this anthology as well as presenting them in loosely connected theme sets based on their environments. This approach really works well as it prevents the reader from being jarred too completely in the transition from one fantasy world to the next. There is the Water set, the Jungle set, the Mountain set and so forth; my favorites tended to be concentrated in the Winter set although that may reflect nothing more than a susceptibility to the romanticism that CS Lewis once described as "Northernness". The average level of the stories is very strong regarding both quality and action; this is supposed to be heroic fantasy after all. And it is truly heroic, there is very little of the anti-heroism that has become so tiresomely cliched over the last two decades. If some of the heroes whose deeds are recorded here commit acts of appalling violence, they mostly do so out of necessity and often with a genuinely sacrificial sensibility. It is Conan, but it is Conan with a soul.
Style (3/5): Aside from the two aforementioned stories, the writing is entirely competent throughout. There are no literary fireworks, and one detects the editor's hand in the admirable lean, stripped-down approach that brings each story to a rapid and fitting end. Despite its length, there is no fat whatsoever in these stories, which is particularly fitting for this fast-paced genre.
Story (4/5): Good stories. Strong stories. In one or two cases, weird and vaguely disturbing stories. As the discerning reader might glean from the title, Bruce Durham's "Yaggoth-Voor: A Tale of Mortlock" reads rather like the recently unearthed love child of RE Howard and HP Lovecraft. I found that even the stories that I didn't especially like were still worth reading. Of particular note were A. Kiwi Courters's "Stalker of the Blood-Red Sands", which lived up to its name in a manner that I never would have guessed, while C.L. Werner's "The Rotten Bones Rattle" was one of my three favorites in the collection.
Characters (5/5): Due to the relatively short length of the stories and the rapidity with which the various characters enter the stage, speak their lines, and depart, it is difficult for an anthology to present memorable characters. And yet, three of the authors managed to do so, as Ward's Winter Wolf, Stiennen's Shabak the kabrisk, and Martin Turton's Hunter Jon are all memorable personas who stay with the reader even after the final page has been turned. Their creators are to be congratulated.
Creativity (4/5): This is heroic adventure, so abiding by certain conventions is arguably more important than conceptual pyrotechnics. Nevertheless, most of the stories were clearly distinct from each other, not just due to the settings and characters, but in their various world-building scenarios as well. "Runner of the Hidden Ways" by Jason E. Thummel was of particular note in this regard, thanks to a setting, a magic system, and glimpses of an unusual theology that were all rather different than the norm.
Overall (8/10): Rage of the Behemoth is an intriguing glimpse into a multitude of savage worlds. The anthology is a throwback to the glory days of Burroughs and Howard, with an icy, ominous edge.