Win a Limited Edition Copy of Rage of the Behemoth from Rogue Blades Entertainment
Win a Limited Edition Copy of Rage of the Behemoth from Rogue Blades Entertainment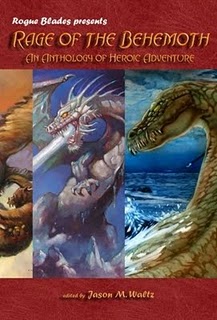 Jason M Waltz, publisher of Rogue Blades Entertainment, is giving away a free copy of the limited edition of Rage of the Behemoth to one lucky winner this week.
Described as "Almost 150,000 words of monstrous mayhem recording the ferocious battles that rage between gargantuan creatures of myth and legend, and the warriors and wizards who wage war against, beside, and astride them," Rage of the Behemoth gathers 21 splendid tales of pure adventure fantasy under one cover, including contributions from Bill Ward, Andrew Offutt & Richard K. Lyon, Lois Tilton, Mary Rosenblum, Sean T. M. Stiennon, Brian Ruckley, Bruce Durham, Jason Thummel, C.L. Werner, and many more.
How do you win? Easy!
Just comment on any of the three posts this week at Rogue Blades Entertainment's Home of Heroics , and you'll be entered into a drawing to win a copy. The Home of Heroics is the Grand Central Station for heroic fiction on the Web, and previous writers have included Martha Wells, E.E. Knight, David C. Smith, Charles Saunders, Bill Ward, and many others.
Comments must be made between Monday, July 25, and Friday July 29. Complete details on the contest are here.
Learn more about Rage of the Behemoth here.
You won't find many contests this easy — or this much fun. Check out Home of Heroics today. You can thank us later.