Fantastic Science Fiction Stories, April 1960: A Retro-Review
Fantastic Science Fiction Stories, April 1960: A Retro-Review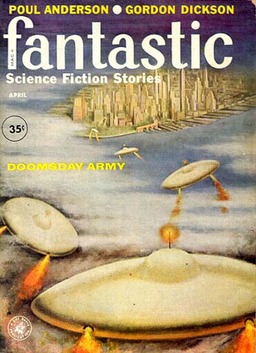 I'd rank this as a determinedly minor issue of this magazine, from fairly early in Cele Goldsmith's tenure. It has a bland cover by an artist I've never heard of, Jack Faragasso. The feature list is slim. Norman Lobsenz's editorial, very brief, is about an idea to put a ring of dust around the Earth so that it is always light. (What a dreadful idea!)
There is also the lettercol, with no contributors I recognized – the names are Miles McAlpin, James W. Ayers, Wesley Sharp, Billy Joe Plott, Frank P. Pretto (perhaps a typo for Prieto), and Michael W. Elm – and their usual small "Coming Next Month." Interior illustrations are by [Leo] Summers, Varga, and Grayam.
So, what about the stories?
The cover story is "Doomsday Army," by Jack Sharkey, an entirely too long story about a National Guard captain who ends up being the main intermediary to a bunch of (as it turns out) very small alien invaders. He's portrayed as a fairly ordinary suburban husband, prone to taking shortcuts in solving problems his wife brings to his attention: so of course his solution to the alien problem will be a dangerous shortcut. And so it is, with an implausible solution.
There's joke enough here for maybe 3,000 words at the outside, and this drags terribly at some 13,000 words. (I wonder if it was written to the cover, which does portray a scene from the story but in a very generic fashion.)
The other novelette is "Eve Times Four," by Poul Anderson (12,500 words), which is better, certainly, than the Sharkey, but it's pretty minor Anderson. A passenger spaceship suffers an emergency, and one lifeboat ends up containing three very pretty young women and one less enticing one, along with a couple of aliens and a randy ship's officer as the pilot. And, voila, the lifeboat is missing the necessary navigation information to lead them to an inhabited planet.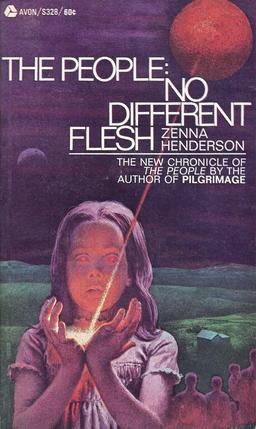 The story's title shows where this is going – the lifeboat lands on an uninhabited planet. The women, refreshingly, exhibit good sense in rejecting the officer's insistence that they help him repopulate the planet (he even claims it's the law). There is a twist, of course, an easily guessed one. It's fitfully amusing, at times a bit embarrassing, at times moderately funny, but it's nothing special.
There are three short stories. Best is "The Summer Visitors," by Gordon R. Dickson (5,000 words), which concerns a young boy who is bullied by his classmates. Escaping them, he climbs a hill to the remote estate of some mysterious people who visit in the summer, and who are apparently rather reclusive. But he is welcomed, somewhat reluctantly, and in the process is taught a life lesson or two. The kicker to the story is who the visitors really are, and it was refreshing that Dickson never tells us, in so many words, though it's fairly clear. Too many writers would have arranged a last minute, utterly unnecessary, reveal of the mystery.
Sometimes it seems the only subject Zenna Henderson had was alien children. That's not entirely true, of course, but it was the main subject of her most famous (by very far) stories, the People stories, and she used it in unrelated stories as well, as with this one, "The Closest School" (3400 words). A remote school gets a late enrollee, who is of course the child of aliens who are trying to fix their crashed spaceship. It's nicely enough written, fairly sweet – to the point of cloying a bit – and it never surprises for the briefest moment. Competent filler.
Finally, "Ella Speed" (6,500 words) is a fairly early Ron Goulart story. Goulart's first story appeared in 1950, when he was only 17, but he didn't really get going until 1958. This is about a writer of superhero comics, featuring Ella Speed as the main character, who, feeling burned out, visits a repressive area where all fiction reading (especially comics) is forbidden.
Eventually, while trying to camp in the woods, he is rescued from bandits by a girl who claims to be Ella Speed. Soon it's clear she's a leader of the resistance against the oppressive rulers, but when she tries to recruit the writer to the cause (once she knows who he is), he protests …
It's easy to see where this is going. Again, this is best described as competent filler – it's not bad, but it's not memorable. I was also bothered by the unexplained political situation – is this a Balkanized future US? Also, it's not funny, which is fine – it's just that Goulart's rep is as a comic writer. (Though one I've often found, well, let's just say decidedly sub-Sheckley.)
Our recent coverage of Fantastic includes:
December 1959
April 1960
January 1962
February 1962
June and July 1962
November and December 1963
January and February 1964
August and September 1964
October 1964
January 1965
June 1965
Fantastic Stories: Tales of the Weird & Wondrous, edited by Martin H. Greenberg and Patrick L. Price
---
Rich Horton's last retro-review for us was the September 1972 issue of Galaxy. See all of Rich's retro-reviews here.