A (Black) Gat in the Hand: Day Keene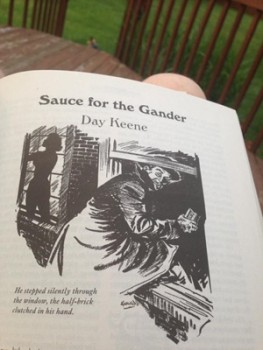 "You're the second guy I've met within hours who seems to think a gat in the hand means a world by the tail." – Phillip Marlowe in Raymond Chandler's The Big Sleep
(Gat — Prohibition Era term for a gun. Shortened version of Gatling Gun)
"The Bloody Tide" appeared in the June, 1950 issue of Dime Detective. John D. MacDonald (my favorite writer) also appeared that month. Both men had stories in the May issue as well, with JDM scoring the cover.
The story opens with Charlie White being released from a Florida prison after serving three years for smuggling. He's given some advice by another inmate on Death Row to go straight and stay on the outside. Get back to working on the water, even if it's a menial job. Wouldn't be much of a story if that's how things go, though, would it?
White's lover (not his wife) is waiting outside for him and drives him to a secluded beach cabin. He's going to get back into that fast life again. While he was in jail, $1,000 had been deposited monthly into his bank account, presumably by the 'big man,' who he felt had cast him to the wolves.
'The Devil came up behind me and pushed. To hell with Beth [his wife]. To hell with everything, I thought. To hell with trying to kill Senor Peso. In his way the guy had played square with me. Why should I try to goose into his grave an egg who laid so many golden pesos?'