Catching up with Tor.com Publishing — August 2020 edition
Catching up with Tor.com Publishing — August 2020 edition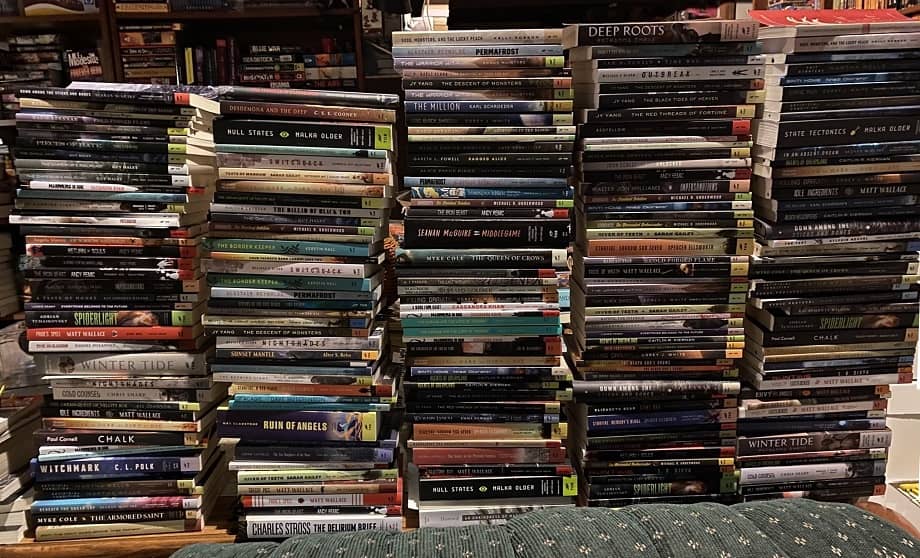 Just some of the Tor.com releases that have accumulated in the Black Gate reference library since 2015
Arrgh. I can't keep up with all the cool stuff coming from Tor.com.
You think it'd be easy. These are short little novellas, quick reads. I love novellas, and got all excited when they launched back in 2015, covered the first 33 releases in detail as they arrived, and watched in satisfaction as they started getting Hugos and Nebula nominations — and then virtually sweeping the nominations in the Novella category, year after year. And the books kept coming, and piling up on my desk, and then on the office tables at Black Gate's rooftop headquarters, and then spilling onto the floor….
Okay. I'm just one guy, I can't keep up with the tireless dynamo that is Tor.com Publishing. But I'm not giving up. In the last few months alone, they've released brand new books by Jeffrey Ford, Alex Irvine, Carrie Vaughn (two!), Zen Cho, Emily Tesh, Eddie Robson — plus a new Murderbot novel by Martha Wells, and a New York Times bestseller by Tamsyn Muir. My readers deserve to know about it all, damnit.
So I'm in triage mode. Tor.com has been releasing a book a week for the past few months, and I can't cover them all. But I can hit the highlights. So let's take a look at three of their most interesting releases from the past few months.
[Click the images for novella-sized versions.]
Covers by Alyssa Winans, uncredited, and David Curtis
First up is a debut from Nghi Vo, easily one of the most acclaimed books of the spring: a Paste Most Anticipated Novel of 2020; a Library Journal Debut of the Month, and a Buzzfeed Must-Read Fantasy Novel of Spring 2020. Jessica Wick at NPR called it "a remarkable accomplishment of storytelling," and in a starred review Publishers Weekly labeled it "A stunning feminist fantasy… this masterfully told story is sure to impress."
The Empress of Salt and Fortune by Nghi Vo (112 Pages, $12.99 in paperback/$3.99 digital, March 24, 2020) — cover by Alyssa Winans
A young royal from the far north, is sent south for a political marriage in an empire reminiscent of imperial China. Her brothers are dead, her armies and their war mammoths long defeated and caged behind their borders. Alone and sometimes reviled, she must choose her allies carefully.

Rabbit, a handmaiden, sold by her parents to the palace for the lack of five baskets of dye, befriends the emperor's lonely new wife and gets more than she bargained for.

At once feminist high fantasy and an indictment of monarchy, this evocative debut follows the rise of the empress In-yo, who has few resources and fewer friends. She's a northern daughter in a mage-made summer exile, but she will bend history to her will and bring down her enemies, piece by piece.
The sequel, When the Tiger Came Down the Mountain, is scheduled to arrive in December. Read Maya Gittelman's Tor.com coverage of the first book here.
Zen Cho, UK author of the BFA Award-winner (and Locus Award nominee) Sorcerer to the Crown, joined the Tor.com stable in June with a high-profile hardcover that sounds fantastic.
The Order of the Pure Moon Reflected in Water by Zen Cho (160 Pages, $19.99 hardcover/$9.99 digital, June 23, 2020) — cover uncredited
Zen Cho returns with The Order of the Pure Moon Reflected in Water, a found family wuxia fantasy that combines the vibrancy of old school martial arts movies with characters drawn from the margins of history.

A bandit walks into a coffeehouse, and it all goes downhill from there. Guet Imm, a young votary of the Order of the Pure Moon, joins up with an eclectic group of thieves (whether they like it or not) in order to protect a sacred object, and finds herself in a far more complicated situation than she could have ever imagined.
Back covers for The Empress of Salt and Fortune and Drowned Country
Emily Tesh's fiction debut was the Tor.com novella Silver in the Wood, the opening book in The Greenhollow Duology. Publishers Weekly called it "Exquisitely crafted," and Book Riot said (quite poetically, I thought) "Find a quiet place in a nearby wood, listen to the trees whisper, and thank the old gods and new for this beautiful little book."
The sequel (and closing volume), a Buzzfeed Summer Must-Read, hits bookstores today.
Drowned Country by Emily Tesh (176 Pages, $13.99 paperback/$3.99 digital, August 18, 2020) — cover by David Curtis
Drowned Country is the stunning sequel to Silver in the Wood, Emily Tesh's lush, folkloric debut. This second volume of the Greenhollow Duology once again invites readers to lose themselves in the story of Henry and Tobias, and the magic of a myth they've always known.

Even the Wild Man of Greenhollow can't ignore a summons from his mother, when that mother is the indomitable Adela Silver, practical folklorist. Henry Silver does not relish what he'll find in the grimy seaside town of Rothport, where once the ancient wood extended before it was drowned beneath the sea—a missing girl, a monster on the loose, or, worst of all, Tobias Finch, who loves him.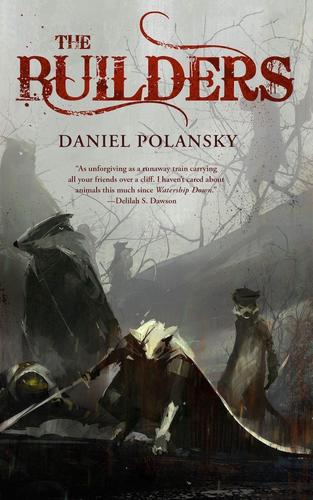 The Tor.com Publishing novella line began in 2015 with The Sorcerer of the Wildeeps by Kai Ashante Wilson. We've covered the first 33 here at Black Gate.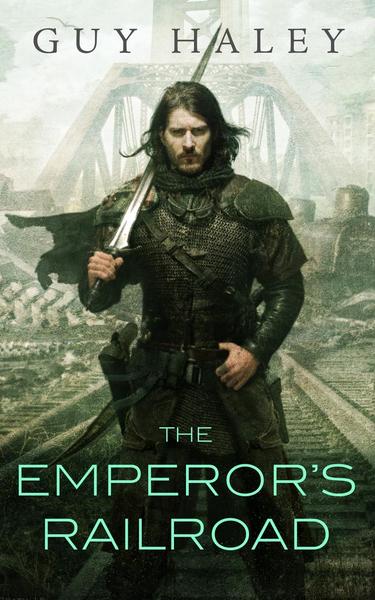 For more details, check out Tor.com's online catalog:
New Releases
Coming Soon
Download the Tor.com Publishing Sampler for Free!
Free Short Fiction — hundreds of free short stories and novelettes at Tor.com
Our more recent coverage includes:
Harrow the Ninth, Book 2 of The Locked Tomb Trilogy by Tamsyn Muir
The Ghosts of Sherwood and The Heirs of Locksley by Carrie Vaughn
Anthropocene Rag by Alex Irvine
Network Effect is the First Full Novel in the Martha Wells' Epic Murderbot Saga
Hearts of Oak by Eddie Robson
Rebecca Diem on The New Golden Age of the SFF Novella
Intergalactic Wars, Ancient Gods, and Living Ships: New Novellas from Tor.com
Desdemona and the Deep by C.S.E. Cooney
Get Cozy with Tor.com Publishing's Winter 2017 Titles
Caterers to the Damned, Zombie Gladiators, and Lovecraft's Dreamlands: Catching Up With Tor.com Publishing
Proceeding in the Pulp Tradition by Writing Five Novels a Year: A Conversation With Guy Haley
Tor.com Publishing's Fall 2016 Line-Up
Pirates, Weather Sorcery, and Desperate Nautical Adventure: The Drowning Eyes by Emily Foster
The Goblin King, New York Sorcery, and Demon Pirates: The New and Upcoming Fantasies of Tor.com
See all of our coverage of the best in upcoming fantasy here.