When Disney Meets Mad Max: Aftermath: an Adventure Book Game by Plaid Hat Games
When Disney Meets Mad Max: Aftermath: an Adventure Book Game by Plaid Hat Games

Gen Con 2020 is, as of this writing, still scheduled to take place July 30 – August 2, 2020. But now that other major events, such as the massive San Diego Comic Con have been canceled due to the threat of the coronavirus, I expect it won't be long before Gen Con is canceled as well. I hope it isn't, but frankly I think the only thing keeping it on the schedule at this point is blind optimism.
I'm enormously grateful I was able to attend Gen Con last year. It was terrific fun, for one thing, and incredibly eye-opening. I've been immersed in gaming culture since I started playing Avalon Hill games in high school, and I spend a lot of time keeping up with new releases and hanging out at the local Games Plus auction. But I had no idea –really,  no freakin' idea — of the true scale of this industry until I wandered the massive Exhibit Hall at Gen Con. Too large to take in in a single day, the Exhibit Hall (and all its various annexes, sub-rooms, and spillovers halls) is something that every game fan should experience once in their lives. It is jaw-dropping in both scale and diversity.
It's easy to get overwhelmed when you're standing in a packed stadium with tens of thousands of t-shirt-wearing gamers, and thousands of booths stretching in all directions. But once the wonder of it all starts to wear off, there are always games that stand out. One of those for me was Aftermath, by Plaid Hat Games. Copies were not available at the convention, but a quick internet search assured me it would be in production by October. I waited impatiently, and ordered one as soon as I could.
[Click the images for epic-mouse sized versions.]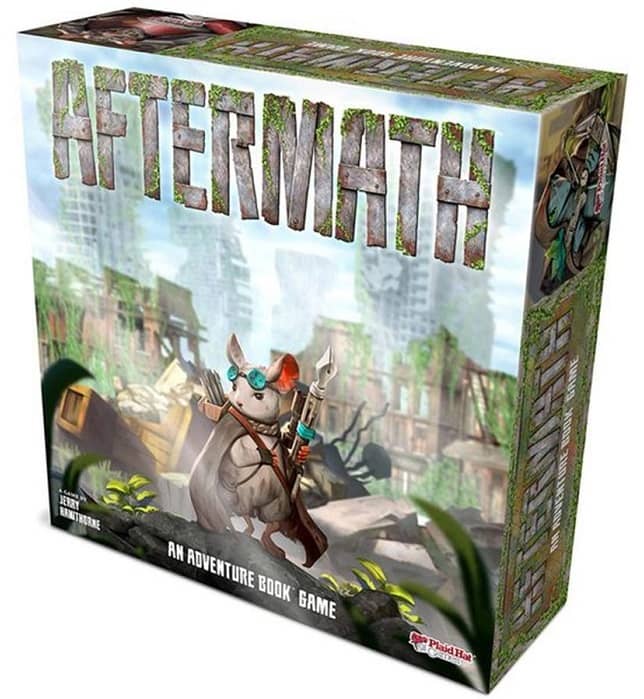 What was so special about Aftermath?
Part of it was the booth, of course. The Plaid Hat booth at Gen Con was spacious and filled with tables set up for demo play — and they were packed. There were plenty of people playing Aftermath, and they all seemed to be having a good time.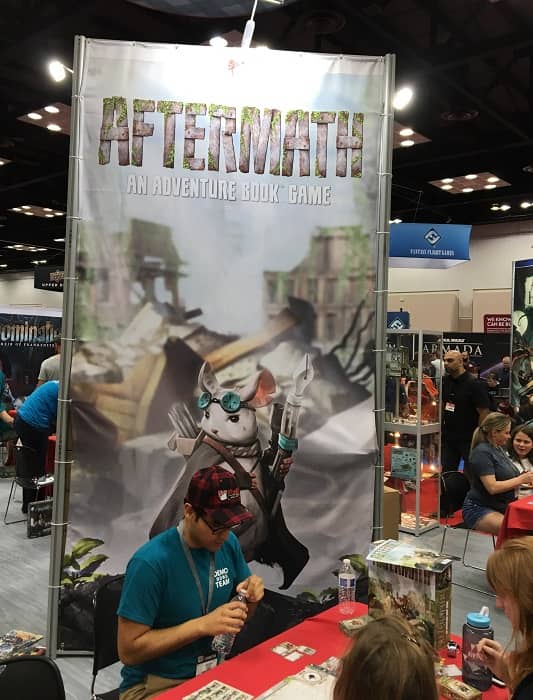 Aftermath at Gen Con 2019
Of course, I also have a weakness for anthropomorphic fantasy. Even at a glance, it was instantly compelling.
In Aftermath you take on the role of a valiant critter — including mice, guinea pigs, and hamsters — exploring a post-apocalyptic Earth to help your struggling colony.  You scavenge for food, find mysterious human artifacts, and face off against sinister and unnatural predators. The setting is colorful and imaginative, an appealing blend of Disney animation and Mad Max.
The game was created by Jerry Hawthorne, who also designed Mice & Mystics and Stuffed Fables, and who seems to know his way around good anthropomorphic fantasy.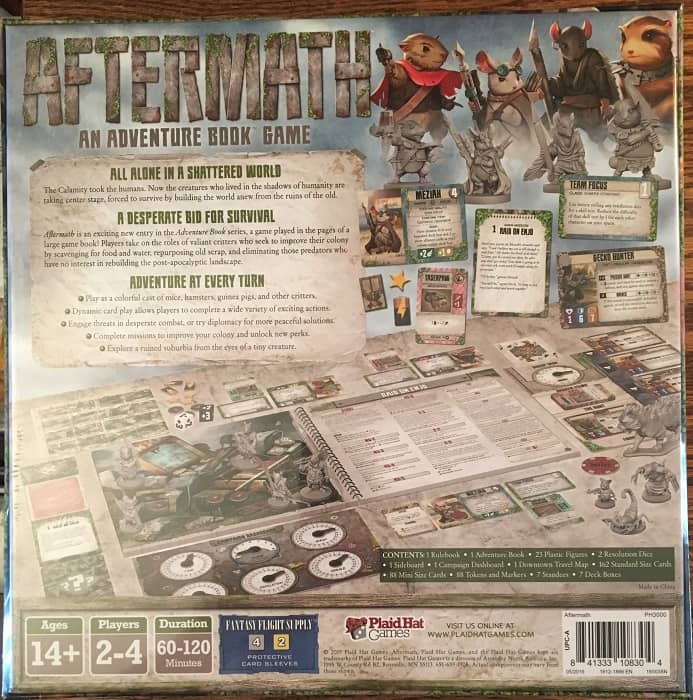 Aftermath back cover
Aftermath is advertised by Plaid Hat is an "Adventure Book Game."  I was first tipped off to these games by our man in the front lines at Gen Con, Andrew Jones. Here's what he said in his Gen Con 2017 report:
Jerry Hawthorne, creator of these games, has a new release coming up from Plaid Hat Games, which seems like it will be equally endearing. The game, Stuffed Fables, tells the story of a group of stuffed animals who, upon the first night that their child owner is in her big girl bed, learn that there are evil forces that seek to draw her into a world of nightmares. The first in Plaid Hat Games' AdventureBook series, Stuffed Fables is an adventures that takes place by proceeding through pages in a book. The book contains both the map for the scene that is unfolding, as well as the storyline you follow as you play, giving you directions of what encounters take place on the given map, what happens when villains are defeated (or not), whether any new information is provided about the storyline, and so on. (This is one advantage over Mice & Mystics, which includes an expansive tile-based game board but then has you flipping through a separate story book to figure out what happens on a particular tile.)
Sure enough, the players at the Aftermath demo tables were flipping through a big story book to advance the game.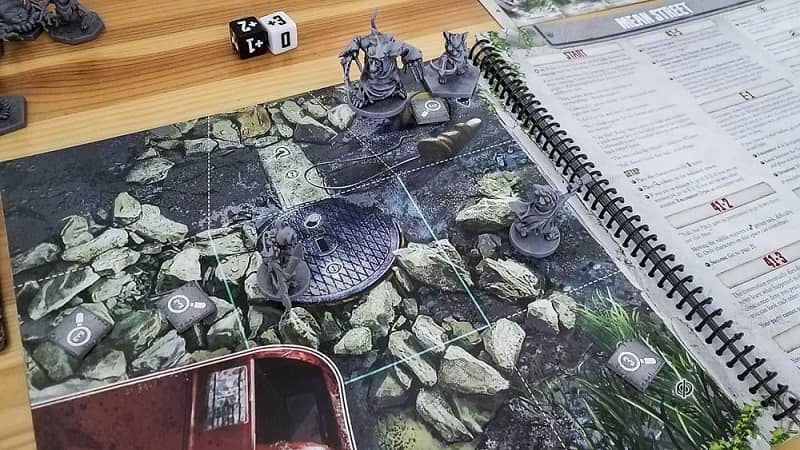 I mentioned that I'm fond of anthropomorphic fantasy. I also have a weakness for anything that reminds me of the great solitaire RPGs of my youth, like Steve Jackson's Death Test, Jeffrey C. Dillow's Wizards & Warriors, and Arnold Hendrick's Barbarian Prince — and that pretty much means any game with a substantial storybook. Since Aftermath magically combines these two genres, you can understand how it might make me a little weak in the knees.
Aftermath is the third Adventure Book game, following Stuffed Fables and Comanauts, a cooperative storytelling game in which you play a group of scientists attempting to wake a doctor from his coma so he can save the world (yes, seriously).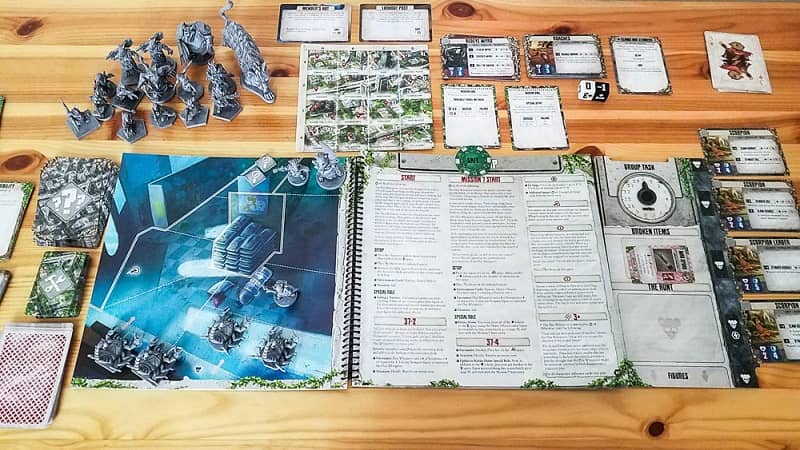 Here's the publisher's description for Aftermath.
Aftermath is an exciting new entry in the adventure book series, a game played within the pages of a large book! Created by Mice & Mystics and Stuffed Fables designer Jerry Hawthorne, Aftermath follows a band of misfit rodents trying to survive in a world where all humans have mysteriously vanished. Scavenge the ruins of mankind in search of food and supplies for your colony, but beware, the world is filled with bandits and predators. Equipped with makeshift weapons, your critter will quickly learn when to fight and when to flee. Drawing from a deck of cards, players will attempt a wide variety of desperate actions to navigate through the broken landscape and keep track of time. The rodents must move fast, or Calamity is sure to strike. With danger at every turn, will your colony survive the aftermath?
Aftermath has a real RPG-feel, and I think that's deliberate. There's no map, for example, beyond the scenario maps in the Adventure Book. And the Adventure Book gradually unfolds an epic campaign that has the scope and feel of a good role playing game.
Most of all, I think, the game lets you live adventures using dice and miniatures, and what's more RPG-like than that?
The miniatures in the game are unpainted, but there are plenty of gorgeous samples out there to show you how creative you can get painting them yourself.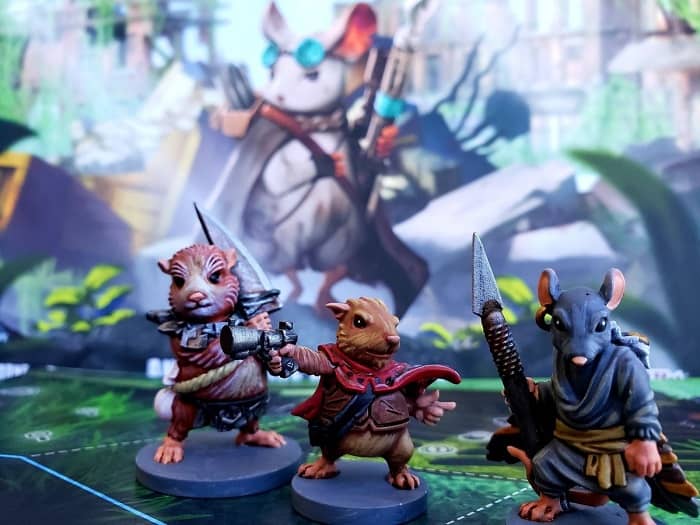 Painted minis by Nobeerblues
Co Op Board Games was one of the many sites to give the game a warm review. Here's what they said, in part:
Aftermath is a cooperative, post-apocalyptic, adventure board game in which you play as rodents who are trying to find a way to survive in a human-less world. This is a campaign game, so you'll play through a series of missions until you either lose or complete all of your goals…

The four main characters in Aftermath have personal goals and you'll be attempting to complete all of those goals as you play through the game's missions. On top of that, you need find food and other supplies so your colony can survive.

Just like in the other Adventure Book Games, each mission is played on a series of maps in the game's spiral bound book, and next to each map is a page of unique rules and story text. Whenever you reach scavenge spots, points of interest, or pretty much any other marked spot on a map, you'll read those entries in the adventure book…

Throughout each mission you'll be generating encounters by drawing encounter cards. This will usually lead to groups of animals showing up at your location. If the situation is safe, you can communicate with them and potentially add them to your colony. If the situation is hostile, they'll try to fight you…

After you finish a mission, the adventure book will walk you through the Colony Phase. This is when you feed your colony, potentially build new colony structures, and maybe gain some new abilities for your characters. Not having enough food to feed your entire colony makes your morale go down, and spending too much time on a mission can result in events (usually negative) taking place.

In my opinion, this card-based action system is so much better than the dice system used in Stuffed Fables and Comanauts. The card draws themselves are random, of course, but the system feels a lot less random since you know the cards' values ahead of time and you can use them in different ways. Plus, you have more "wilds" in this game, giving you even more flexibility.
That post-mission Colony Phase does the job of getting players excited to play more missions. Every time we built new colony upgrades or got new abilities for our rodents, we wanted to get right back into the game to test everything out and to see where the story went.
As expected, the writing in Aftermath is fantastic. As you progress through the campaign you learn more about the animals in the city and you even find out about some of the humans who used to live there. There are sweet moments, sad moments, and some pretty dark moments, all of which help to pull you into this unique post-apocalyptic world.

Aftermath is easily my favorite Adventure Book Game so far. I enjoyed the Comanauts story the most and Stuffed Fables is still the best one for kids, but Aftermath's gameplay is by far the best, in my opinion, and it looks the best on the table.
Aftermath made Co Op Board Games Best Adventure Board Games list, which had some pretty stiff competition.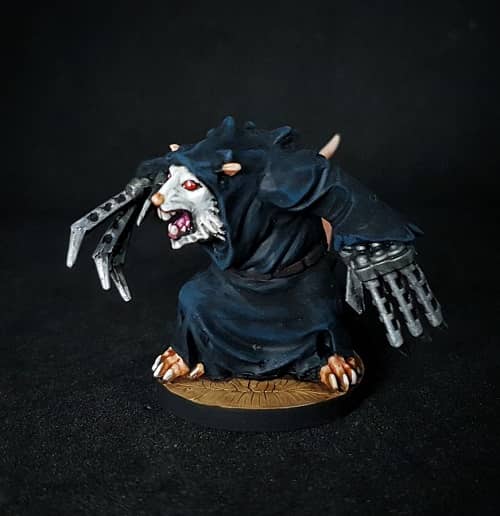 Mini by Netreya
Aftermath was designed by Jerry Hawthorne and published by Plaid Hat Games in 2019. The art is by Tregis and Jimmy Xia. It's playable with 2-4 players; games take about 90 minutes. Download the PDF rules here. It retails for $84.95; get more details at the Plaid Hat website.
Our previous coverage of the games of Gen Con 2019 includes:
Lost in the Halls at Gen Con 2019
The Games of Gen Con 2019 by Andrew Zimmerman Jones
Pathfinder Second Edition by Andrew Zimmerman Jones
Create Your Character Backstory with Style: Call to Adventure from Brotherwise
Gaming at the End Times: Degenesis
Play Host to Newborn Ghoulish Creatures in Alien: The Roleplaying Game by Free League Publishing
Desperate Heroes in the Oldest City in the World: The City of Kings by Frank West
Rely on Your Friends to Escape the Dark Castle
It's a Dog Eat Dog World in Racoon Tycoon
Tabletop Looting in Riot Quest by Andrew Zimmerman Jones
When Disney Meets Mad Max: Aftermath: an Adventure Book Game by Plaid Hat Games
Claim the Night in Terrors of London from Kolossal Games
Experience an Epic 4X Game with Heroes of Land, Air & Sea
See all our recent Games coverage here.