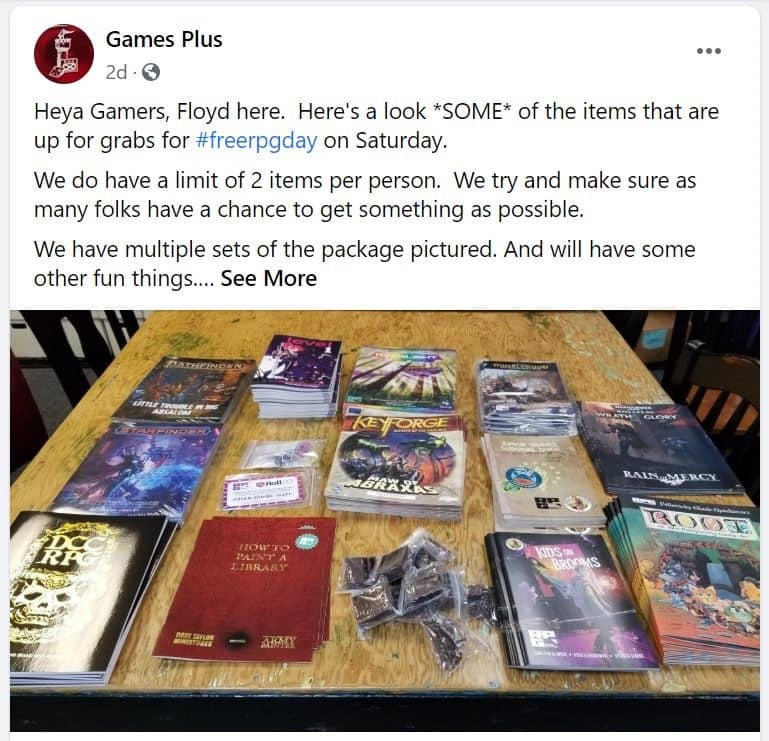 Free RPG Day is not something I can remember ever taking part in…. mostly because the only local gaming store here in St. Charles died ten years ago. But when I saw the Facebook announcement from Floyd at Games Plus on Friday (above), I was intrigued enough to make the 30-mile drive to Mount Prospect Saturday morning.
Games Plus is easily the best gaming store in the the Chicago area — perhaps in the entire country. It's the home of the Games Plus auctions I've written about extensively for the the past 10 years. Like all retail stores, it's struggled as a result of the pandemic, and I was overdue for a visit to show my support (and spend some money) anyway.
And several of the items in Floyd's pic grabbed my attention, especially the Dungeon Crawl Classics adventure from Goodman Games, the Root the Tabletop Roleplaying Game adventure, and the Warhammer Wrath & Glory module. It'd be a challenge narrowing my selection down to two items, but I figured that'd be part of the fun.
So what is Free RPG Day?
---