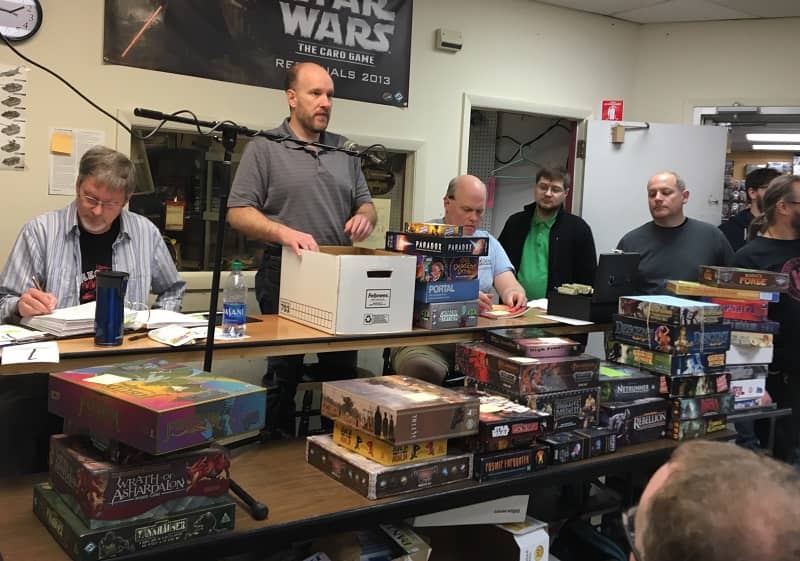 Yesterday I attended the 2020 Spring Auction at Games Plus in Mount Prospect, Illinois. I exhibited more self control than I usually do, but that's not saying much. My budget was $700, and after seven hours I reluctantly put away my bidding card, when my purchases finally tipped the scales at $1,000. That's considerably less than I spent in 2019 or 2018, but it still filled eight boxes, and it took the combined skills of three gaming professionals to Tetris them into my tiny Juke before my satisfied road trip back to St. Charles.
It was good to bring so many great bargains home. But truth to tell, I'd attend the biannual Games Plus auctions even if I couldn't buy a thing. It's been said that we live in a Golden Age of board gaming, and it's almost impossible to keep up with the tsunami of exciting new releases every month. The Games Plus auctions are a fun way to do that — not just to see the panorama of new titles as the auctioneers rattle through hundreds of games every hour, but to experience the sudden surge of interest from the crowd as rare or highly desirable items make their way to the auction block. It's a crash course in what's new, what's hot, and what's really hot.
The attendees at the Games Plus auctions are a friendly and courteous bunch, quick with gamer humor and rounds of laughter, and in those rare moments when prices shot up past $100, $200, or even $300 for truly hot items, there was always a round of appreciative applause. When I saw two determined collectors engage in a spirited bidding war for a trio of Rogue Trader supplements, and watched the loser drop his card at $155 and then good naturedly join in the applause for the winner, I knew I was in the right crowd.
---