The Games Plus 2019 Spring Auction, Part Two
The Games Plus 2019 Spring Auction, Part Two
Two months ago I assembled a photographic record of the games I brought home from the Games Plus 2019 Spring Auction. I didn't do a final count, but it was roughly 100 boxed games, and several boxes of RPG gamebooks, totalling some 15 boxes.
In that first piece I tried to capture the overwhelming experience of sitting in the front row for seven hours as thousands of new and used SF & fantasy games flashed by. It's a deep immersion in the games aftermarket, an education in just how many titles have been released in the past 12 months, and a chance to learn — by watching the excited frenzy as certain titles come up to the auction block — which ones have truly captured the attention of players. I saw a lot of games go for a lot of money, and even more sell at rock-bottom prices.
In Part Two of my auction report, I want to try and communicate the sheer scale of the event. I estimate there were somewhere between 150-200 attendees for the Saturday Fantasy and Sci-Fi Games auction this year, nearly a record, and I'm fairly sure there were a record number of games sold.
[Click the images for auction-sized versions.]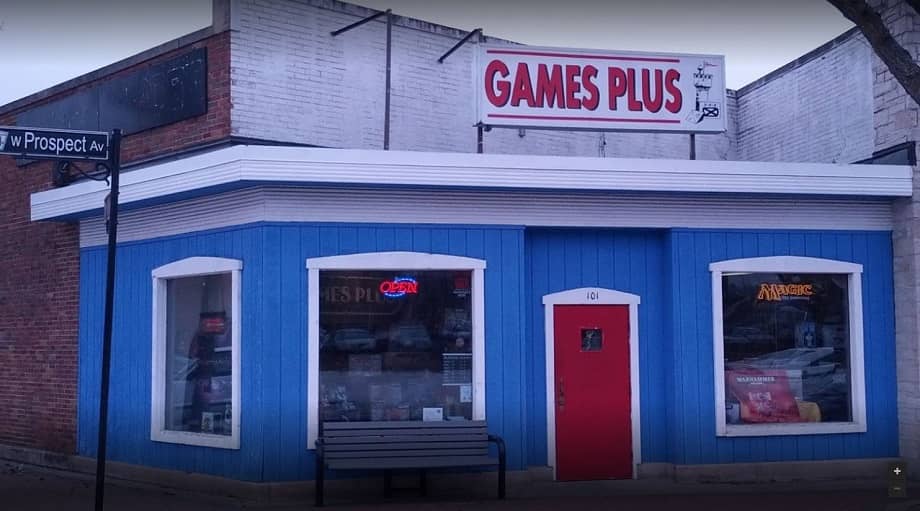 The Games Plus auction occurs twice a year at the Games Plus store in Mount Prospect, Illinois. There are too many items to sell in a single session, so the the auction is split into four days. Here's the schedule for this year.
Collectible, Tradable & Customizable Game Auction 

Starting 7pm on Thursday, February 28th
Magic the Gathering, Disk Wars and Armada sets, Mage Knight, Heroclix, Mechwarrior, Dungeons and Dragons Miniatures Game, Star Wars and Pirates Pocket Models and the like are up for auction. These are any games which you must collect to get a full set as opposed to games which are collectors items like War in Europe (or other titles like that).

Historical & Family Game Auction (with books & magazines but no minis)

Starting 6:30pm on Friday, March 1st
Historical games such as wargames (Avalon Hill, GMT, Avalanche, Multi-Man Publishing, Decision Games, etc.), historical (but not miniature) related magazines and other non-miniature items as well as any family style or Euro board and card games from manufacturers like Days of Wonder , Rio Grande Games, and other publishers. Games of this sort would be Settlers of Catan, Puerto Rico, Ticket to Ride, Shadows Over Camelot, and Arkham Horror, for example are sold here.

Fantasy and Sci-Fi Roleplaying, Boardgames, Magazines, etc. (no minis)

Starting on Saturday,March 2nd at 10 am
All non-miniature Fantasy and Science Fiction games and all the Role Playing games, supplements, modules, adventures and magazines entered will be auctioned today.

Miniatures Auction (all non-collectible genres, magazines, terrain, etc)

Starting on March 3rd, Sunday, at 9:30am
Miniatures, miniatures rules sets, terrain and accessories like campaign supplements, magazines, paint and all other items related to miniatures gaming are auctioned today.
Interested in attending? The schedule is updated twice a year for the Spring and Fall auctions (in March and October) here.
I've attended both the Thursday Historical and the Sunday Miniature auctions, but the one that brings me back year after year is the Fantasy and Sci-Fi Roleplaying and Boardgame auction on Saturday.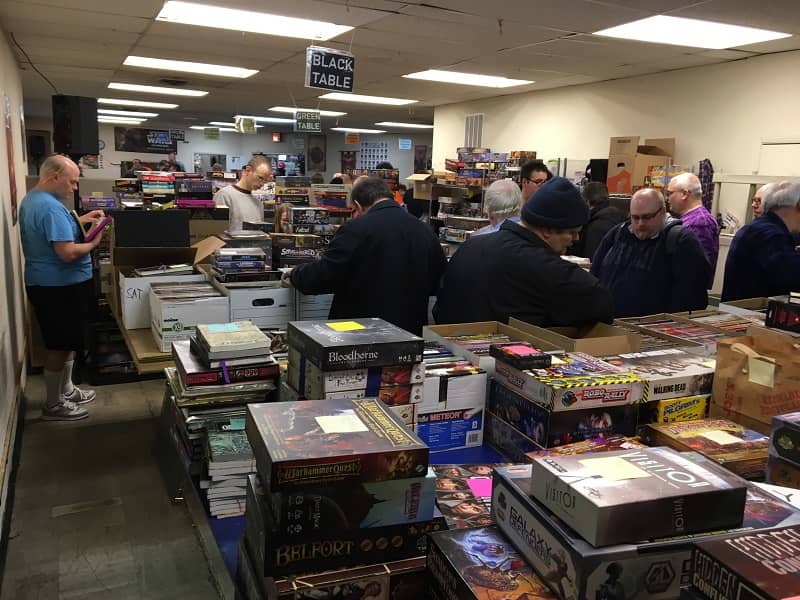 The store is open for about an hour before the auction begins so interested bidders can examine the enormous piles of games to be auctioned off at the back of the store. This is where you can plan out a careful auction strategy, which, like all battle plans, quickly goes to hell the moment you encounter the enemy.
You'll find plenty of die-hard collectors consulting lists as they glance through the thousands of games waiting to go up for auction.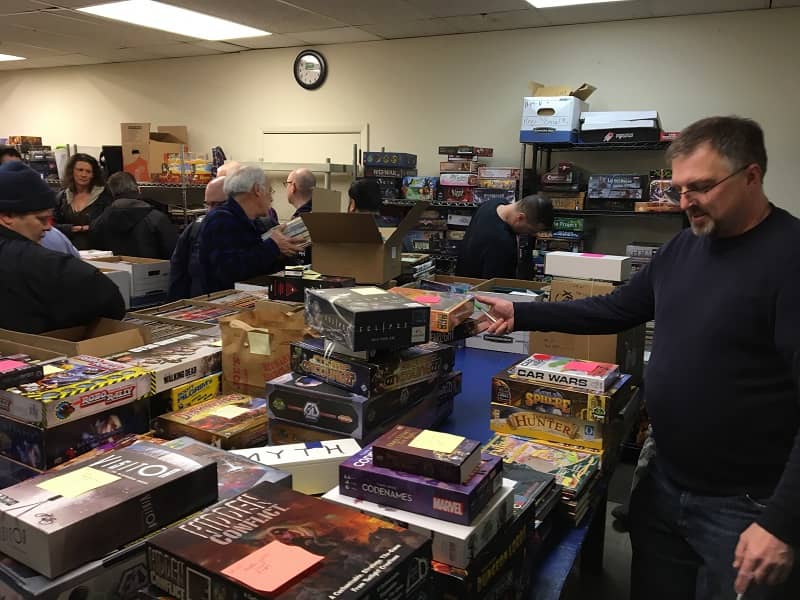 Here's a few more pics of some of the thousands of items sold during the seven hours of the auction. Click the images for bigger versions.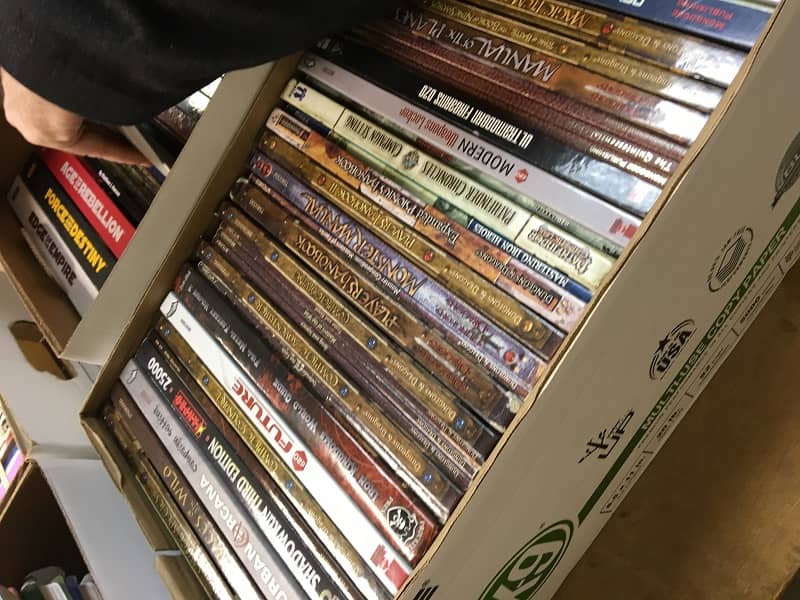 In Part Three of this auction record, we'll look in more detail at some of the games I brought home, as well as the ones that got away.
In the meantime, here's some of our previous coverage of the Games Plus Auction over the years.
Spring 2012: Spring in Illinois brings… Auction Fever
Fall 2012: The Paris Fashion Week of Fantasy Games
Fall 2012: The Paris Fashion Week of Fantasy Games, Part II
Spring 2013: The Games Plus 2013 Spring Auction
Spring 2013: The Paris Fashion Week of Games, Spring Edition
Spring 2014: To Hear the Lamentations of Their Women (at the Auction)
Fall 2017: The Subtle Art of Game Speculation
Spring 2019: The Games Plus 2019 Spring Auction: Part One
See all of our recent Games coverage here.