Adventures in Gaming Discovery: The Games Plus 2020 Spring Auction
Adventures in Gaming Discovery: The Games Plus 2020 Spring Auction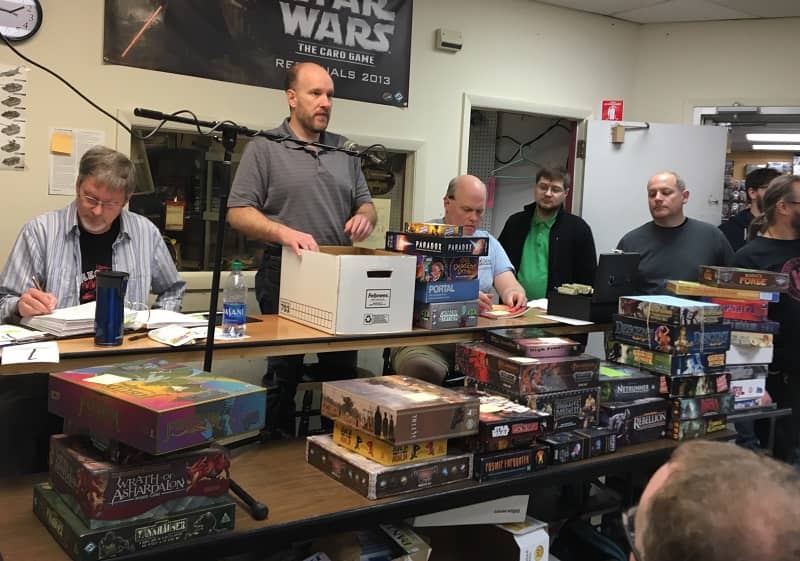 Yesterday I attended the 2020 Spring Auction at Games Plus in Mount Prospect, Illinois. I exhibited more self control than I usually do, but that's not saying much. My budget was $700, and after seven hours I reluctantly put away my bidding card, when my purchases finally tipped the scales at $1,000. That's considerably less than I spent in 2019 or 2018, but it still filled eight boxes, and it took the combined skills of three gaming professionals to Tetris them into my tiny Juke before my satisfied road trip back to St. Charles.
It was good to bring so many great bargains home. But truth to tell, I'd attend the biannual Games Plus auctions even if I couldn't buy a thing. It's been said that we live in a Golden Age of board gaming, and it's almost impossible to keep up with the tsunami of exciting new releases every month. The Games Plus auctions are a fun way to do that — not just to see the panorama of new titles as the auctioneers rattle through hundreds of games every hour, but to experience the sudden surge of interest from the crowd as rare or highly desirable items make their way to the auction block. It's a crash course in what's new, what's hot, and what's really hot.
The attendees at the Games Plus auctions are a friendly and courteous bunch, quick with gamer humor and rounds of laughter, and in those rare moments when prices shot up past $100, $200, or even $300 for truly hot items, there was always a round of appreciative applause. When I saw two determined collectors engage in a spirited bidding war for a trio of Rogue Trader supplements, and watched the loser drop his card at $155 and then good naturedly join in the applause for the winner, I knew I was in the right crowd.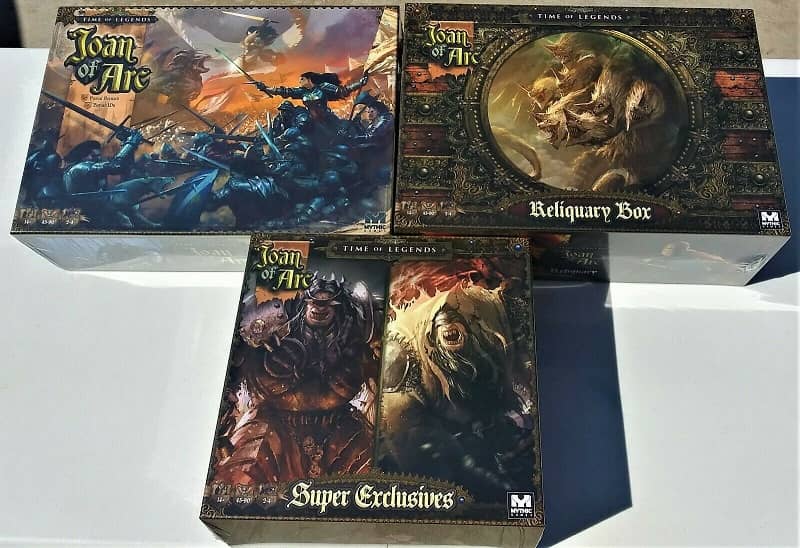 Time of Legends: Joan of Arc and some of its Kickstarter exclusives
What was hot at the auction?
In a word: Kickstarter. The crowdfunding platform has fueled an enormous boom in game publishing — and game collecting. Many, many titles at the auction were kickstarter-funded. A handful of them were also hugely in demand, or rare, or both. They included:
Time of Legends: Joan of Arc — A copy of the core set for the fantasy miniatures game sold for $110, and the supplements for nearly the same amount
Hate — A single copy of the core set of this board game of brutal combat in a desolate world from CMON sold for $100
Too Many Bones — a 1-4 player Solo/Co-op dice builder RPG Adventure. A pair of copies sold for $110 and $95
Secrets of the Lost Tomb — an Action Adventure board game set in the 1930's Pulp Era; one copy sold for just under $100
The Fantasy Trip Legacy Edition — Man, this was a BIG box. I lost count of how many copies there were, but they sold for $50 – $80
There were probably too many kickstarter titles for me to track effectively, but those were definitely the ones the crowd was most interested in.
Those prices may seem high, but bear in mind the retail price for many of these core sets is well north of a hundred bucks (Time of Legends: Joan of Arc starts at $120 US for the core set for example).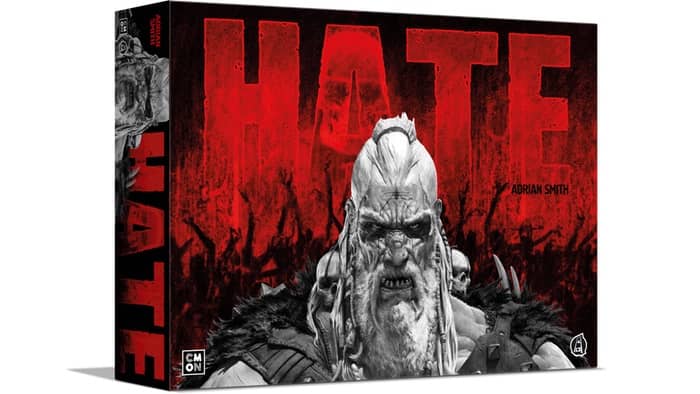 Hate (CMON, 2019)
As for me, I wasn't there to compete for the really expensive items. For one thing, I'm far too ignorant of the latest Kickstarter crazes (probably a good thing). Plus I spent a decade in the 90s tracking down all the really hard-to-find role playing collectibles I was looking for, including a near complete set of TSR adventure modules and boxed sets (and yes, I acquired a complete set of Rogue Trader game books as they were released). Lucky for me, while it seemed an expensive endeavor at the time, I rounded out my collection about ten years before prices on early RPG items began to really skyrocket.
No, my interest these days is in newer games — and especially, in bargains. While the high-priced, big ticket items get all the attention, there's plenty of low-priced items on offer, especially for the patient buyer.
I'm also interested in hard-to-find games. The rare, oddball titles that no one knows what to make of. They show up at the auction block, you blink at them, have just enough time to ask yourself, "What the heck is that?" and then they're gone. If you're lucky and fast with your bidding card — and willing to take some risks — you can bring home a few.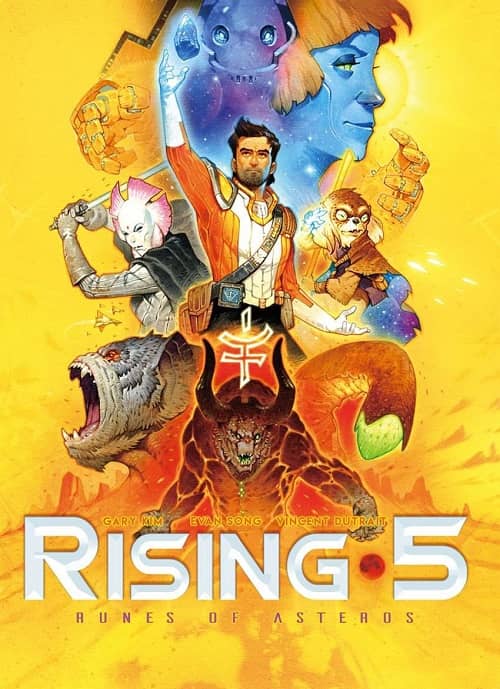 Rising 5 Collector's Edition (Mandoo Games, 2016)
That's how I ended up with a copy of Rising 5: Runes of Asteros, from French developer Mandoo Games, in a giant oversize box. I'd never seen it before, but the cover art was gorgeous and evocative of adventure. I like adventure. And the auctioneer said the game was unused and in virtually new condition, and offered for a minimum bid of a buck. That's a hard deal to say no to.
Of course, I wasn't the only one interested. A few other bidders raised their cards, and the price quickly shot up. My card started to waiver around 8 bucks — was there even enough room left in my car to fit this giant thing? — but before my will gave out, the gavel came down and the auctioneer announced that I'd purchased Rising 5 for $10.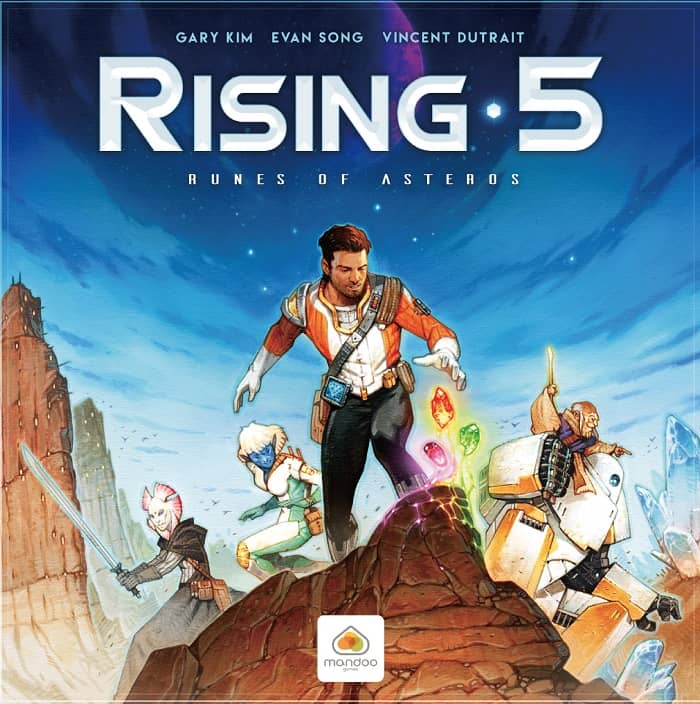 Rising 5 (Mandoo/Grey Fox Games, 2017)
It turned out to be one of my better purchases. Rising 5 was printed in an oversize Collector's Edition from Mandoo in 2016, with French and English rules and plastic miniatures, and reprinted in a more compact edition from Mandoo/Grey Fox Games with cardboard game pieces in 2017. The 2017 edition (above) is readily available, but that Collector's Edition? Not so much. I found a single listing on eBay for $135, but it's otherwise unavailable.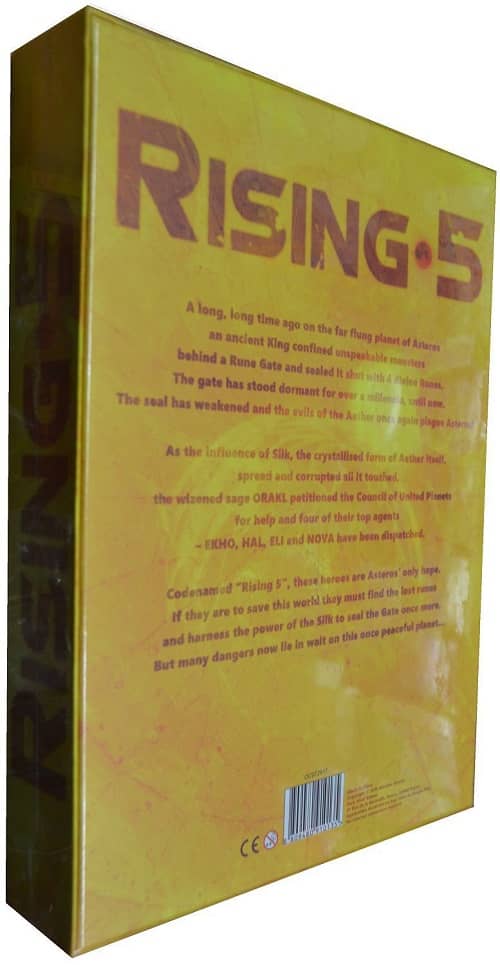 Rising 5 back cover (Collector's Edition)
Here's a look at the deluxe map and contents for the Collector's Edition.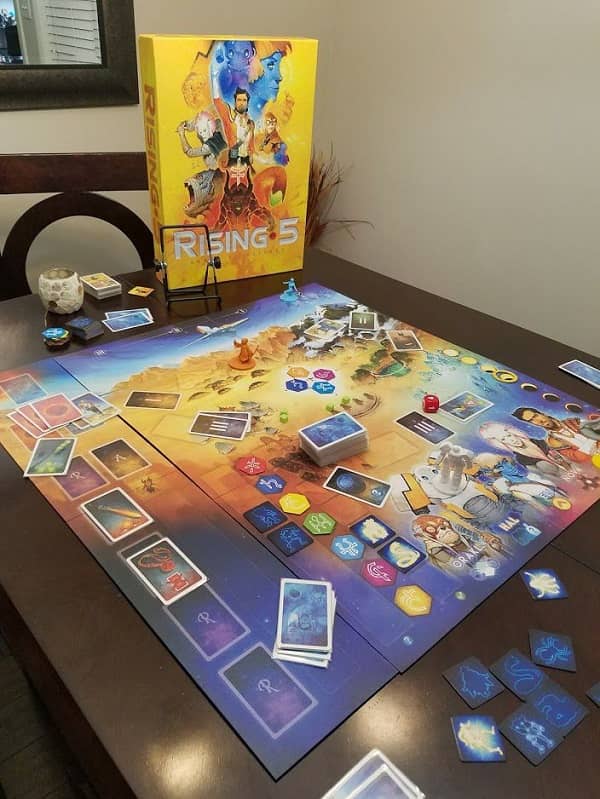 And here's a better look at the miniatures from the Collector's Edition (painted).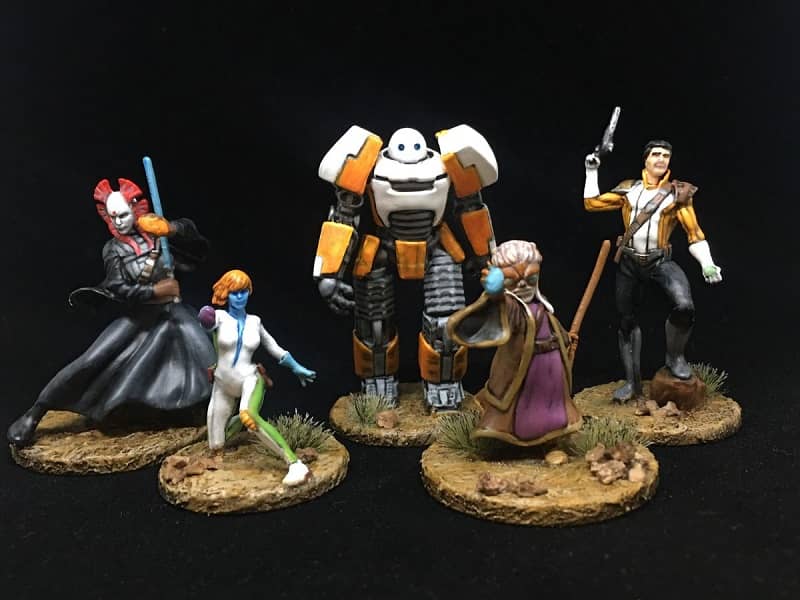 As usual, once the auction is over and you have time to review the items that got away, you have a tendency to kick yourself. Here's a few of the more interesting items that escaped my vile clutches.
Feudum — $34
Space Corps 2025 – 2300 — $43
Tegel Manor Revisited — $22
D100 Solo Dungeon — $24
Sea King's Malice — $34
Dwarf King's Hold — $22
Trudvang Chronicles — $20
Mouse Guard RPG — $28
Capital of the Borderlands — $10
Bargain Quest — $12
Murder City — $11
Rail Raiders — $12
Spirit Island — $16
Rangers of Shadow Deep: Deluxe Edition — $18 (written by BG author Joseph A McCullough)
Remarkable Inns — $14
The Final Hour — $15
Leaving the Earth — $24
That's not all, of course. But it makes a fine start.
Some of the ones that got away
I'll look at some of these items in more detail in future posts.
Here's some of our previous coverage of the Games Plus Auction over the years.
Spring 2012: Spring in Illinois brings… Auction Fever
Fall 2012: The Paris Fashion Week of Fantasy Games
Fall 2012: The Paris Fashion Week of Fantasy Games, Part II
Spring 2013: The Games Plus 2013 Spring Auction
Spring 2013: The Paris Fashion Week of Games, Spring Edition
Spring 2014: To Hear the Lamentations of Their Women (at the Auction)
Fall 2017: The Subtle Art of Game Speculation
Spring 2019: The Games Plus 2019 Spring Auction: Part One
Spring 2019: The Games Plus 2019 Spring Auction, Part Two
I didn't get all the games I wanted at the auction — not even close. But I did take good notes, and now I have a list of tantalizing items to track down over the next 6 months. That should keep me busy until the next Games Plus auction, anyway.
See you there.