Lost in the Halls at Gen Con 2019
Lost in the Halls at Gen Con 2019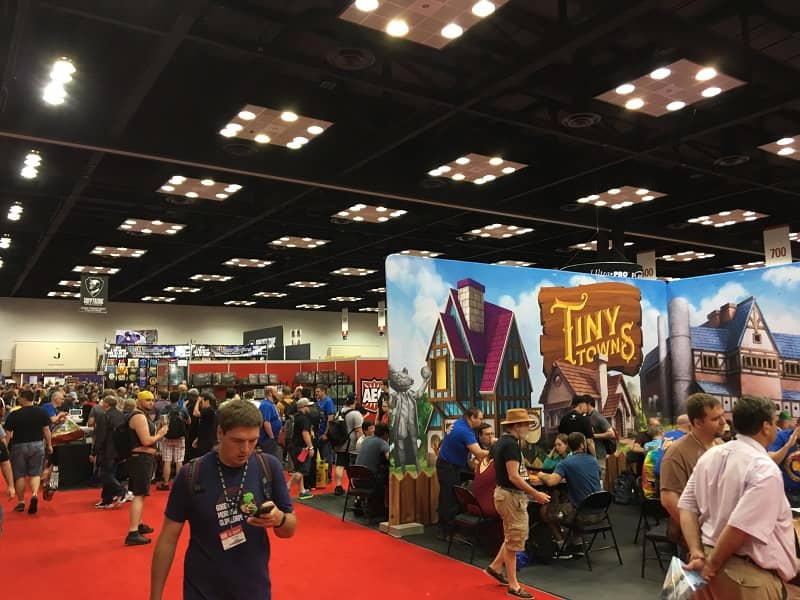 I'm here on site at Gen Con for the first time in…. wow, I don't even remember. Fifteen years, at least. Last time I visited Gen Con it was in Milwaukee, if that's any clue. It now fills (and substantially overfills) the spacious halls of the Indiana Convention Center in downtown Indianapolis, where tens of thousands of gamers meet friends, play games, try out new games, play the legendary NASCRAG tournament, and wander through the jaw-dropping Exhibit Hall.
I'm here for the first time in over a decade because I was invited to speak at the Writers Symposium, on topics like Submitting Short Fiction, What Happens to a Story After You Submit it, and Does Advertising Work? I've been very impressed at how well organized the Symposium is — it's run like an excellent mini-convention just for writers, inside a much larger enterprise. And it's attracted some top-notch speakers, including Howard Andrew Jones, Bradley P. Beaulieu — whose talk on Tension on Every Page was really terrific — the charming Anna Smith Spark, Black Gate blogger Clarence Young, writer and interviewer Seth Lindberg, Tor.com editor Diana Pho, and many, many others.
Of course, we're here in the name of games, and games new and old were everywhere. The enormous Exhibit Hall (pictured above) was filled with hundreds and hundreds (and hundreds) of game companies showing off their wares. I didn't get to spend nearly as much time in the Hall as I wanted — and you could spend weeks in there, believe me — but I did find countless treasures, many in the generously stocked Goodman Games booth at the far end. Over the next few weeks I'll share the details here. But in the meantime, I have to run to my next panel, Reviews and Reviewers: How to Find Them, How to Keep Them. Wish me luck!
Our coverage of the games of Gen Con 2019 includes:
Lost in the Halls at Gen Con 2019
The Games of Gen Con 2019 by Andrew Zimmerman Jones
Pathfinder Second Edition by Andrew Zimmerman Jones
Create Your Character Backstory with Style: Call to Adventure from Brotherwise
Gaming at the End Times: Degenesis
Play Host to Newborn Ghoulish Creatures in Alien: The Roleplaying Game by Free League Publishing
Desperate Heroes in the Oldest City in the World: The City of Kings by Frank West
Rely on Your Friends to Escape the Dark Castle
It's a Dog Eat Dog World in Racoon Tycoon
Tabletop Looting in Riot Quest by Andrew Zimmerman Jones
When Disney Meets Mad Max: Aftermath: an Adventure Book Game by Plaid Hat Games
Claim the Night in Terrors of London from Kolossal Games
Experience an Epic 4X Game with Heroes of Land, Air & Sea
See all our recent Games coverage here.