Future Treasures: Gideon the Ninth by Tamsyn Muir
Future Treasures: Gideon the Ninth by Tamsyn Muir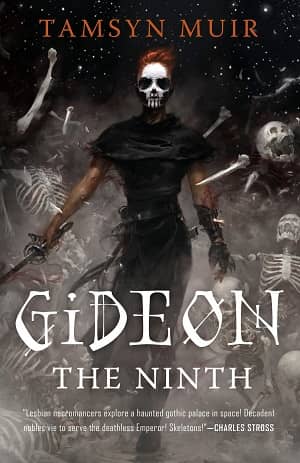 I love a good gothic space opera. And Tamsyn Muir's debut, coming next month from Tor.com, sounds like excellent gothic space opera. In a starred review, Publishers Weekly summarizes it as "Queer necromancers vie for power, solve ancient puzzles, and cross rapiers while exploring haunted deep-space ruins in this madcap science fantasy romp that manages to be both riotously funny and heartbreaking," and Kameron Hurley describes it as "a pulpy science-fantasy romp that will delight and horrify you." (And Charles Stross sums it up as "Lesbian necromancers explore a haunted gothic palace in space! Decadent nobles vie to serve the deathless emperor! Skeletons!") It's hard to make sense of it all, but I'm definitely getting a picture of something I'd enjoy. Gideon the Ninth arrives in hardcover next month. Here's the description.
The Emperor needs necromancers.

The Ninth Necromancer needs a swordswoman.

Gideon has a sword, some dirty magazines, and no more time for undead nonsense.

Tamsyn Muir's Gideon the Ninth unveils a solar system of swordplay, cut-throat politics, and lesbian necromancers. Her characters leap off the page, as skillfully animated as arcane revenants. The result is a heart-pounding epic science fantasy.

Brought up by unfriendly, ossifying nuns, ancient retainers, and countless skeletons, Gideon is ready to abandon a life of servitude and an afterlife as a reanimated corpse. She packs up her sword, her shoes, and her dirty magazines, and prepares to launch her daring escape. But her childhood nemesis won't set her free without a service.

Harrowhark Nonagesimus, Reverend Daughter of the Ninth House and bone witch extraordinaire, has been summoned into action. The Emperor has invited the heirs to each of his loyal Houses to a deadly trial of wits and skill. If Harrowhark succeeds she will be become an immortal, all-powerful servant of the Resurrection, but no necromancer can ascend without their cavalier. Without Gideon's sword, Harrow will fail, and the Ninth House will die.

Of course, some things are better left dead.
Gideon the Ninth will be published by Tor.com on September 10, 2019. It is 448 pages, priced at $25.99 in hardcover and $13.99 in digital formats. The cover is by Tommy Arnold. Read the first eight chapters at Tor.com.