Create Your Character Backstory with Style: Call to Adventure from Brotherwise
Create Your Character Backstory with Style: Call to Adventure from Brotherwise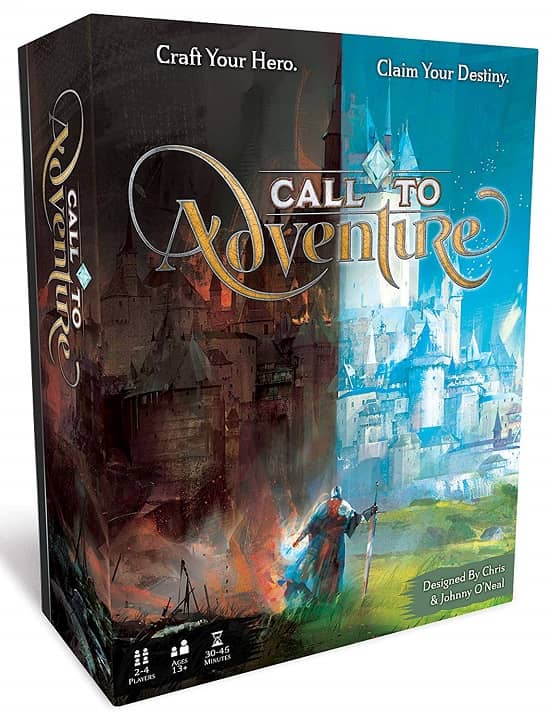 I attended Gen Con for the first time in roughly fifteen years this year, and let me tell you, it was an experience. Wandering the massive Exhibit Hall — which quite literally took me three full days  — drove home for the first time just how truly enormous the modern board game market is. 50,000 excited attendees packed the halls and pathways connecting over a thousand vendor booths, displaying thousands of new releases and tens of thousands of games. It was so packed it was sometimes impossible to move.
For a gamer whose very first gaming convention (CanGames in Ottawa in the late 70s) had maybe 250 attendees, it was a revelation. Fantasy gaming — like comics, role playing, and fantasy films — has gone mainstream in a big way. The tiny hobby I was once a part of is now a multibillion dollar business. Fantasy and Science Fiction were the dominant genres, but there were plenty of family games, wargames, and strange unclassifiable titles.
But it's still about the games. I realized early that it would be impossible to take in every new title of interest, so instead I started at one end of the Exhibit Hall, taking pictures with my iPhone. I  made my way methodically up and down each aisle until I arrived, three days and many hundreds of photos later, at the far end, with a record of every new game of interest. I can't cover them all of course, but I can discuss a few here on the blog. And I'll start with one of the first games I ordered as soon as I returned from Indianapolis: Call to Adventure from Brotherwise Games.
[Click the images for Gen Con sized versions.]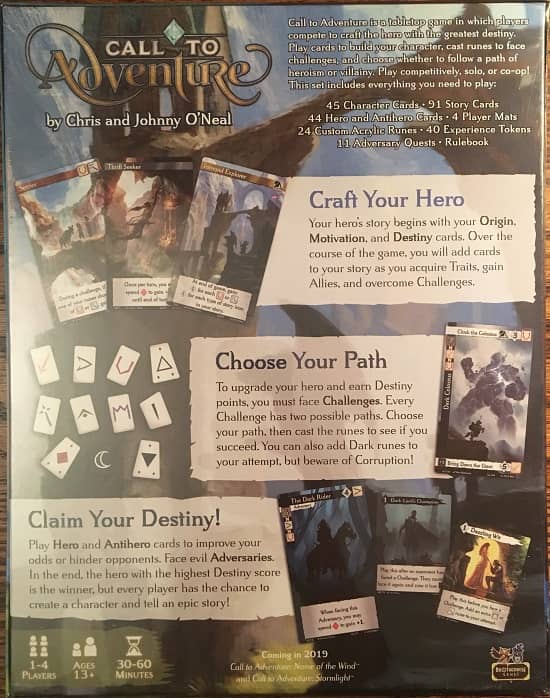 The back of the box
Brotherwise is a new outfit… or at least, I've never heard of them before. But they had a great idea for a new game: why not design a system that captures the essential art and joy of creating a D&D character? Here's the product description.
Call to Adventure is a tabletop game in which players compete to craft the hero with the greatest destiny. Play cards to build your character, cast runes to face challenges, and choose whether to follow a path of heroism or villainy. The core game mode is a 2-4 player competitive game, but Call to Adventure can also be played solo or cooperatively!

Call to Adventure was created by Brotherwise Games, designers of the hit game Boss Monster. Our goal: design a game based on character-driven fantasy novels and RPGs… an experience that would gamify the process of dreaming up the backstory for a D&D character. In Call to Adventure, facing a childhood rival or meeting your true love can be as important as slaying a dragon.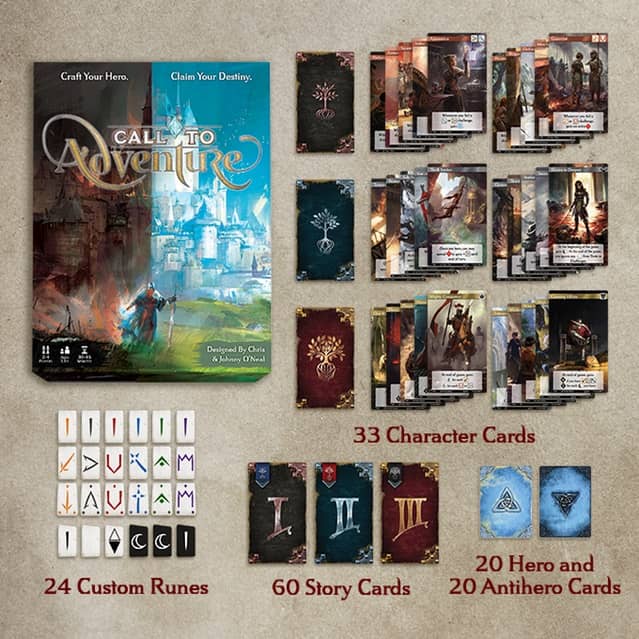 The game comes packed with everything you need to create an imaginative storyline for your character.
The Call To Adventure base game contains everything that 1-4 players need for unlimited hero crafting fun. High-quality components, including over 150 Tarot-sized cards, bring the game to life. Each set contains:

45 Character Cards
92 Story Cards
44 Hero and Antihero Cards
4 Player Mats
24 Custom Acrylic Runes
40 Experience Tokens
11 Adversary Quests
Full-Color Rulebook
Naturally enough, the premise lends itself to custom settings. Why be content with a generic backstory, when you could have one set in the world of your favorite fantasy novelists? Brotherwise has two expansions that allow you to do just that.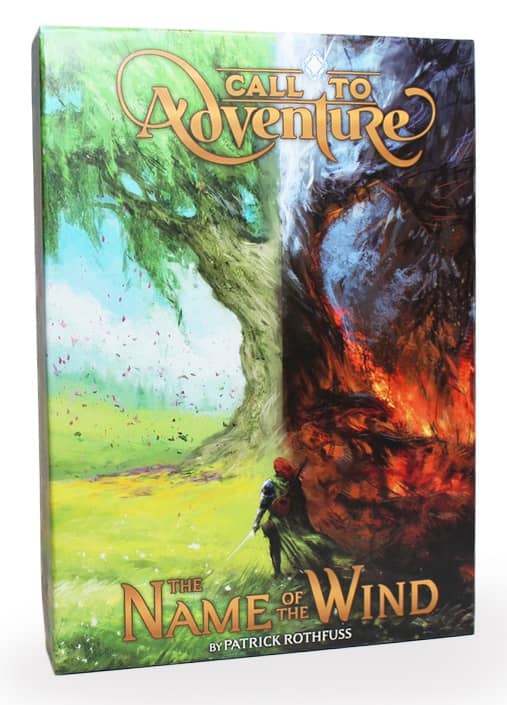 The Name of the Wind expansion for Call to Adventure
Here's the announcement:
As huge fantasy fans, we're thrilled to announce collaborations with two New York Times bestselling authors, Patrick Rothfuss and Brandon Sanderson. The first expansion to the game, available now, is set in the world of Rothfuss's The Name of the Wind. In summer 2020, we are releasing a standalone expansion set in the world of Brandon Sanderson's Stormlight Archive.

Whether you play in these fantasy worlds or create your own, Call to Adventure is a chance to create your own epic journey.
I haven't had long with the game, but the rules look simple, and the components look excellent, especially the cards.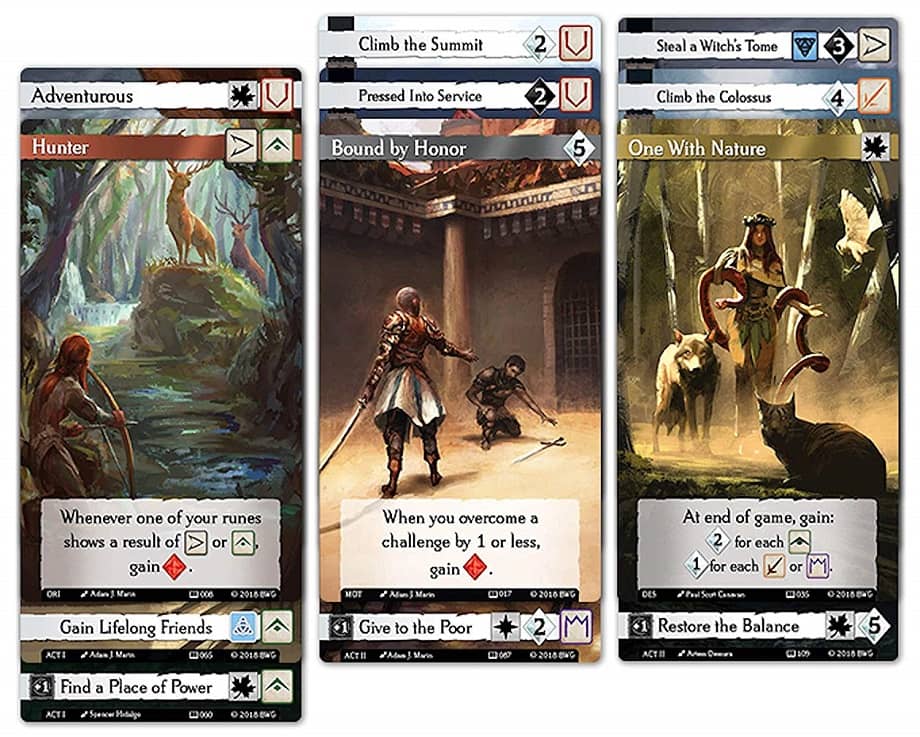 Instead of dice, Call to Adventure ruses Runes to power play, which adds a unique and immersive play mechanic.
Get complete details at the Brotherwise website here. You can check out the gameplay video from Brotherwise to see more, and also download the rulebook . There's also this great How to Play video from The Rules Girl:
Over the next few months I'll look at some of the other titles I brought home from Gen Con. Did you get a chance to attend the show, and see some games that deserve a shout out? Let us know in the Comments.
So far our coverage of the games of Gen Con 2019 includes:
Lost in the Halls at Gen Con 2019
The Games of Gen Con 2019 by Andrew Zimmerman Jones
Pathfinder Second Edition by Andrew Zimmerman Jones
Create Your Character Backstory with Style: Call to Adventure from Brotherwise
Gaming at the End Times: Degenesis
Play Host to Newborn Ghoulish Creatures in Alien: The Roleplaying Game by Free League Publishing
Desperate Heroes in the Oldest City in the World: The City of Kings by Frank West
Rely on Your Friends to Escape the Dark Castle
It's a Dog Eat Dog World in Racoon Tycoon
Tabletop Looting in Riot Quest by Andrew Zimmerman Jones
When Disney Meets Mad Max: Aftermath: an Adventure Book Game by Plaid Hat Games
Claim the Night in Terrors of London from Kolossal Games
Experience an Epic 4X Game with Heroes of Land, Air & Sea
See all our recent Games coverage here.