Rely on Your Friends to Escape the Dark Castle
Rely on Your Friends to Escape the Dark Castle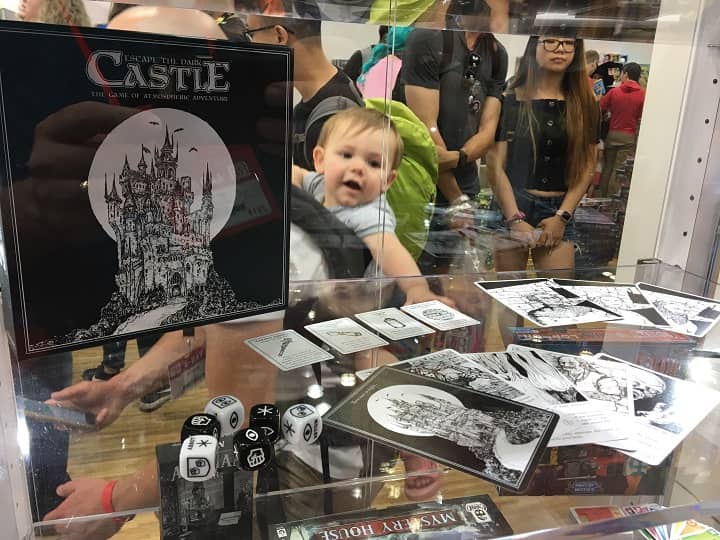 Even kids love board games at Gen Con
I've been slowly tracking down the board games that caught my eye at Gen Con last summer. (And to do that, they really had to be something. I wandered a gigantic Exhibit Hall filled with hundreds and hundreds of booths, thousands of new games, and tens of thousands of attendees, and it took three full days to do a complete circuit.) There was no time to investigate anything in real detail, so if it looked good I snapped a quick pic and moved on.
For the past few months I've been sifting through those photos, and three weeks ago I came across the one above, of one of the glass cases scattered around the exhibit floor. The first thing that caught my eye was the cute kid — he sure looks like he was having fun. But the second thing was the game in the case: Escape the Dark Castle. The custom dice and oversized cards looked interesting, but most intriguing of all was the cover art, reminiscent of the British Fighting Fantasy game books of the early 80s.
It didn't take long to find out that Escape the Dark Castle was the debut release from Themeborne in the UK. It was funded by a successful Kickstarter campaign in June 2017, and shipped more or less on time in 2018. Themeborne followed up with a second campaign to fund three expansion packs a year later. A little research uncovered some great reviews (at sites like Coop Board Games and Brawlin' Brothers), but by then I'd already ordered a copy.
[Click the images for castle-sized versions.]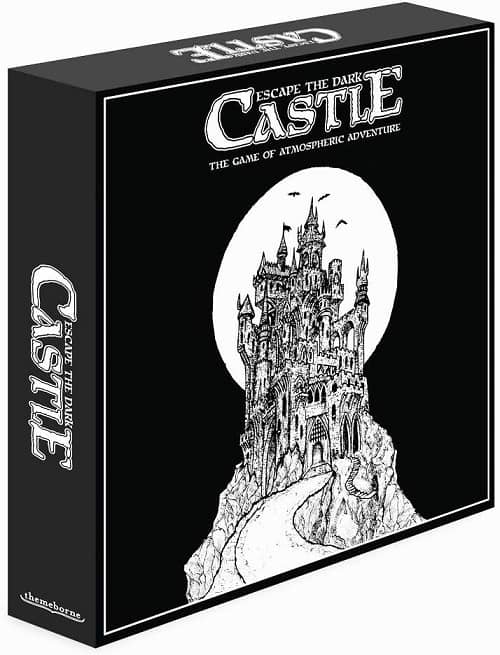 Art by Alex Crispin
Just because I bought a copy without doing my homework doesn't mean you have to. Here's what I've learned in the past week.
First, I was right about the Fighting Fantasy connection — or at least, I was right to think the designers were trying to signal the same solo gaming vibe as those great old adventures. Here's an excerpt from the description on the Kickstarter page.
What is it?

Escape the Dark Castle is a casual, cooperative adventure game with a focus on atmosphere, player cooperation, and fun – perfect for newcomers to tabletop gaming. It takes 2 minutes to set up, lasts around 30 minutes, and no two games are ever alike. Players take the role of prisoners on a quest to Escape the Dark Castle, and must work together to overcome its many horrors, traps, and challenges – each of which is represented by a large, beautifully illustrated chapter card.

As these immersive chapter cards are revealed one by one, the game takes on the form of a shared storybook experience, with the players making decisions about what to do each chapter before using a combination of dice and item cards to complete challenges. The game is largely inspired by 80s fantasy classics like the TV programme Knightmare, the Fighting Fantasy gamebook series, Dungeons & Dragons, and Heroquest, but you don't need to know what those things are to enjoy this game.
Escape the Dark Castle is a card game, which means it lacks a board, but set-up and teardown time is minimal. Games take about 30 minutes, and the randomness of the cards give it at least some semblance of replayability. Players cooperate to escape the castle, which means it's just the kind of game I like to play with my kids.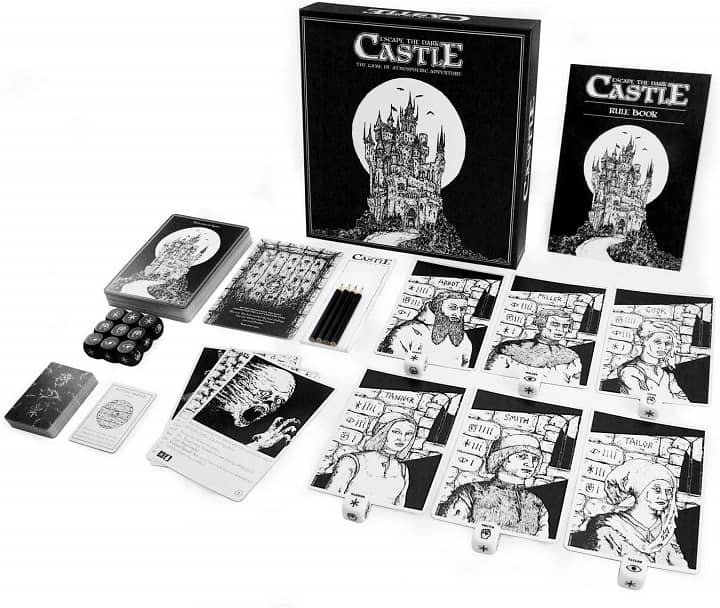 Here's an excerpt from Scott Sexton's review at Battlin' Brothers.
Imagine taking the best part of Eldritch Horror (the encounter cards) and making an entire game out of them. Add in an item deck, some nifty custom dice, and obscenely large cards that you'll never find sleeves for and you have a pretty good idea of what to expect from this first title from Themeborne, an indy publisher out of England.

Escape's mechanical bones are dead simple. You make your way through 15 random chapter cards and then face off against one of 5 or 6 random bosses. Along the way you'll gather random items, roll the dice for skill checks, and fight nifty little dice driven battles. Rounds have a free form turn structure where the players decide as a group who is going to "take point" and flip the next chapter card. Each giant chapter card is slightly larger then the page of a paperback book and you get a real feeling that the random 15 card deck is trying to simulate the feeling of flipping through a Fighting Fantasy or Choose Your Own Adventure game book. …

Despite being somewhat on rails, Escape the Dark Castle, does manage to do an outstanding job at what it is trying to do. Both of my 11 year olds have had a lot of fun experiencing the random stories that unfold… Escape manages to call back to the adventure books of yore with all the zeal of the best Eye of the Beholder fan fiction.
While any storytelling game will soon become repetitive, Themeborne is doing a fine job of keeping things fresh with Adventure Packs that add new cards, items. characters and storylines. Three have been published so far.
Adventure Pack expansions for Escape the Dark Castle
Get all the details at the Themeborne website.
Escape the Dark Castle retails for $39.99 in the US; the Adventure Packs are $19.99 – $24.99. I ordered my copy online.
So far I've covered about a dozen games I bought at, or shortly after returning from Gen Con. Not a lot considering how many I had to choose from, but it's a start. Our coverage of the games of Gen Con 2019 includes:
Lost in the Halls at Gen Con 2019
The Games of Gen Con 2019 by Andrew Zimmerman Jones
Pathfinder Second Edition by Andrew Zimmerman Jones
Create Your Character Backstory with Style: Call to Adventure from Brotherwise
Gaming at the End Times: Degenesis
Play Host to Newborn Ghoulish Creatures in Alien: The Roleplaying Game by Free League Publishing
Desperate Heroes in the Oldest City in the World: The City of Kings by Frank West
Rely on Your Friends to Escape the Dark Castle
It's a Dog Eat Dog World in Racoon Tycoon
Tabletop Looting in Riot Quest by Andrew Zimmerman Jones
When Disney Meets Mad Max: Aftermath: an Adventure Book Game by Plaid Hat Games
Claim the Night in Terrors of London from Kolossal Games
Experience an Epic 4X Game with Heroes of Land, Air & Sea
See all our recent Games coverage here.