It's a Dog Eat Dog World in Racoon Tycoon
It's a Dog Eat Dog World in Racoon Tycoon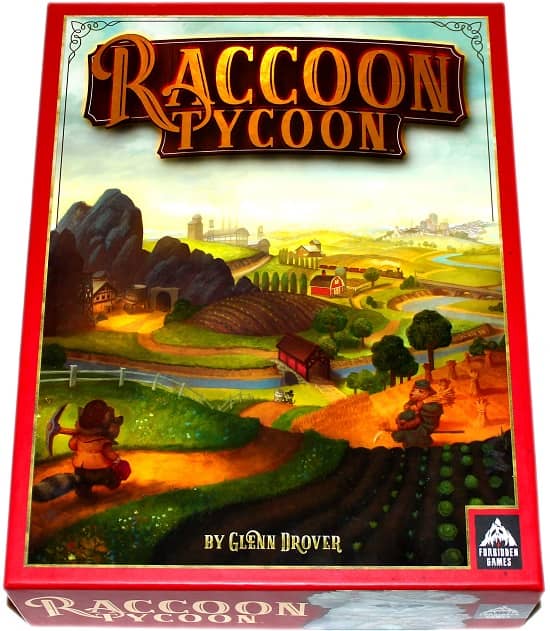 Different games appeal to me for different reasons. Coriolis and Cold and Dark interest me because I like dark science fiction adventure; I enjoy Starfinder because I like a richly inventive settings. Sometimes, though, it's a little harder to quantify.
Take Raccoon Tycoon, for example. I've wanted to play this game since the instant I laid eyes on it. Why? Who knows! Maybe it's the evocative and colorful cover scene. Maybe it's the name. Whatever the case, I ordered this game as soon as I learned it existed at Gen Con this summer, and I'm glad I did.
Raccoon Tycoon is a family game for 2-5 players that simulates an economic boom in the bustling woodland town of Astoria, which is populated by a diverse range of ambitious critters. Players are enterprising investors and business folk ready to cash in on this new era of opportunity, all making money the old-fashioned way: exploiting production of the goods, playing a fluctuating market, and profiting off growth. To aid players with all this imaginative play the game's creators have commissioned top-notch artwork that brings the various personalities to life in compelling ways. Just have a look at the board and the playing pieces, and see if you can resist the unique charm of this game.
[Click the images for raccoon-sized versions.]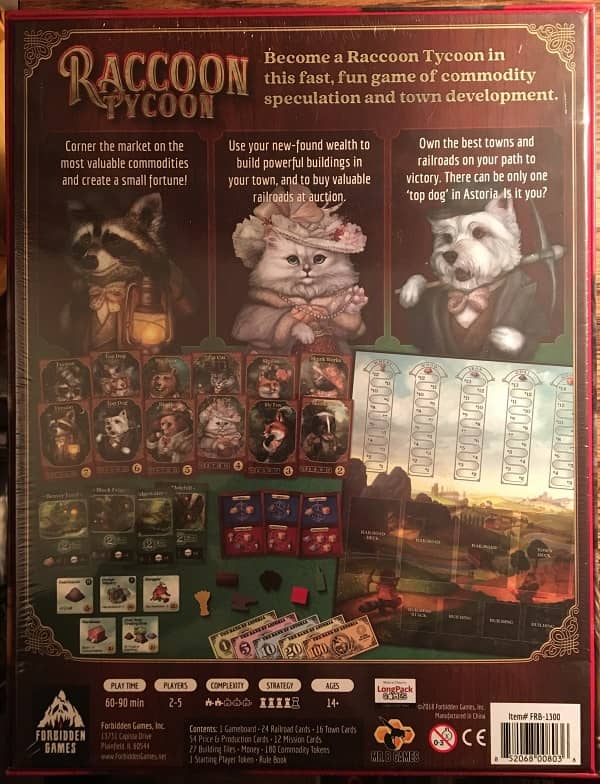 In his feature review at Meeple Mountain, Andy Matthews hit on many of the same things I did.
The first thing you'll notice about Raccoon Tycoon are the illustrations by artist Annie Stegg. More fine art than most board games, they're gorgeous and rich, popping off the page with character, charm, and detail. But these animals aren't just cute and cuddly; they're savvy, shrewd, and will take control of the commodities market like a bull dominates a pasture.

Raccoon Tycoon is a fairly simple game to play, offering only 5 choices to players. While there's not an expansive set of strategies, there's still an approach for every player. Do you purchase buildings early on to get useful special abilities and end game points at the expense of cash flow, or do you hold tight and save your money for a railroad auction where the real victory points lay? Do you wait to sell commodities when the market is at the peak, but risk losing it all when your opponents sell early and reap the rewards?…

In the reviewer letter we received from Forbidden Games, the publisher of Raccoon Tycoon, their stated goal was to "offer a game that would appeal to fans of games like Settlers of Catan." Were they able to accomplish that goal? In my opinion, absolutely. The game is streamlined and plays quite smoothly. Individual actions are easy to understand and will add up to a strategy that can be distinct for each player. Raccoon Tycoon is simple to learn and teach, fun to play with fantastic art; a solid gateway game for friends and family.
Here's a closer look at the game board.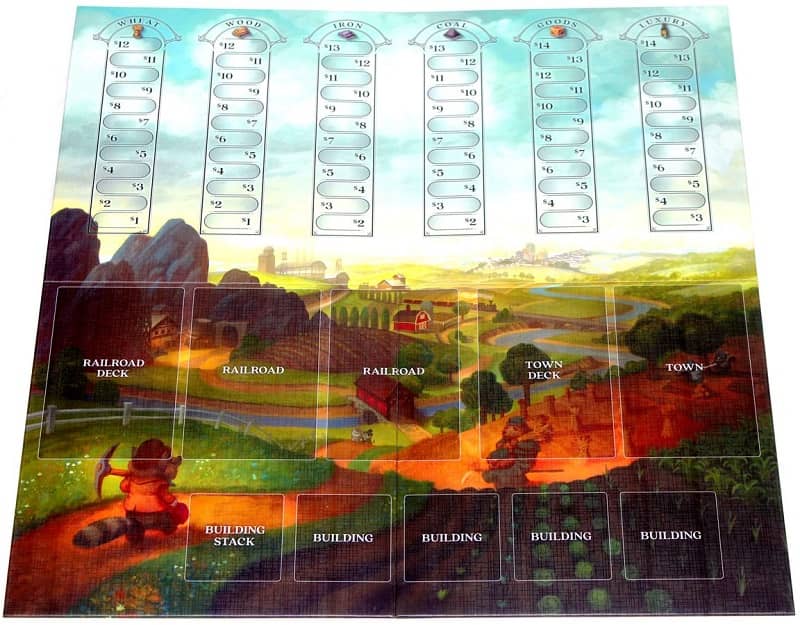 Raccoon Tycoon comes packed with a lot of stuff:
Game board
180 Commodity tokens:
30 Wheat
30 Wood
30 Iron
30 Coal
30 Manufactured Goods
30 Luxury Items
Start Player token
Money (in denominations of 1, 5, 10, 20, 100)
27 Building tiles (6 Commodity Bonus Buildings, 21 Advanced Buildings)
24 Railroad cards
16 Town cards
54 Price & Production cards
12 Mission cards
Game time is typically 60-90 minutes.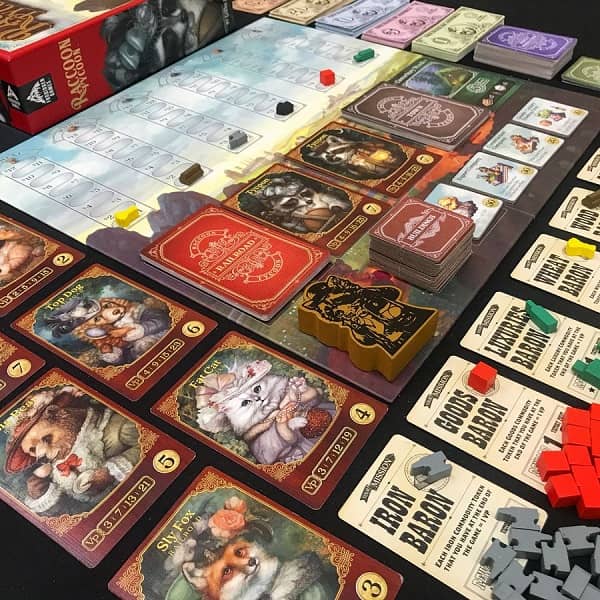 While in the end it always comes down to gameply, I always treasure rich imagination in gaming, and especially imagination in setting and character. Raccoon Tycoon has that in spades. And as a bonus, it's easy to learn, and has enough depth to appeal to the more hardcore gamers in my family. I predict this one will become a family favorite.
Raccoon Tycoon was designed by Glenn Drover and published by Forbidden Games in 2018. It retails for $49.99. The art is by Annie Stegg and Jacoby O'Connor. It is intended for 2 – 5 ages 8+, with an estimated play time of 60 – 90 minutes.
Our coverage of the games of Gen Con 2019 includes:
Lost in the Halls at Gen Con 2019
The Games of Gen Con 2019 by Andrew Zimmerman Jones
Pathfinder Second Edition by Andrew Zimmerman Jones
Create Your Character Backstory with Style: Call to Adventure from Brotherwise
Gaming at the End Times: Degenesis
Play Host to Newborn Ghoulish Creatures in Alien: The Roleplaying Game by Free League Publishing
Desperate Heroes in the Oldest City in the World: The City of Kings by Frank West
Rely on Your Friends to Escape the Dark Castle
It's a Dog Eat Dog World in Racoon Tycoon
Tabletop Looting in Riot Quest by Andrew Zimmerman Jones
When Disney Meets Mad Max: Aftermath: an Adventure Book Game by Plaid Hat Games
Claim the Night in Terrors of London from Kolossal Games
Experience an Epic 4X Game with Heroes of Land, Air & Sea
See all our recent Games coverage here.