Ghost Stories: Classic Tales of Horror and Suspense edited by Lisa Morton and Leslie S. Klinger
Ghost Stories: Classic Tales of Horror and Suspense edited by Lisa Morton and Leslie S. Klinger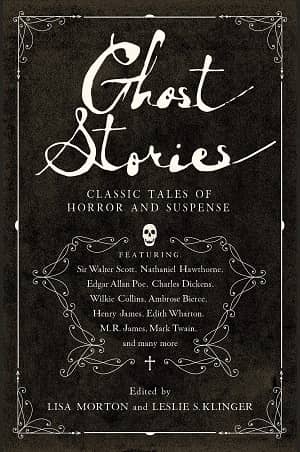 I know it's nowhere near Halloween — what Goth Chick joyously calls "The Season" — but that doesn't mean I don't delight in a brand new ghost story anthology.
Master anthologists Lisa Morton and Leslie S. Klinger deliver a terrific new volume of neglected spooky tales from Pegasus Books: Ghost Stories: Classic Tales of Horror and Suspense. It arrives in a handsome hardcover edition next week. Here's the description.
A masterful collection of ghost stories that have been overlooked by contemporary readers ― including tales by celebrated authors such as Charles Dickens, Sir Walter Scott, Mark Twain, and Edith Wharton ― presented with insightful annotations by acclaimed horror anthologists Leslie S. Klinger and Lisa Morton.

The ghost story has long been a staple of world literature, but many of the genre's greatest tales have been forgotten, overshadowed in many cases by their authors' bestselling work in other genres. In this spine-tingling anthology, little known stories from literary titans like Charles Dickens and Edith Wharton are collected alongside overlooked works from masters of horror fiction like Edgar Allan Poe and M. R. James.

Acclaimed anthologists Leslie S. Klinger (The New Annotated Sherlock Holmes) and Lisa Morton (Ghosts: A Haunted History) set these stories in historical context and trace the literary significance of ghosts in fiction over almost two hundred years ― from a traditional English ballad first printed in 1724 through the Christmas-themed ghost stories of the Victorian era and up to the science fiction–tinged tales of the early twentieth century.

In bringing these masterful tales back from the dead, Ghost Stories will enlighten and frighten both longtime fans and new readers of the genre.

Including stories by: Ambrose Bierce, Wilkie Collins, Charles Dickens, Olivia Howard Dunbar, Nathaniel Hawthorne, Henry James, M. R. James, Arthur Machen, Georgia Wood Pangborn, Mrs. J. H. Riddell, Elizabeth Stuart Phelps, Edgar Allan Poe, Sir Walter Scott, Frank Stockton, Mark Twain, and Edith Wharton.
Ghost Stories has an impressive list of contents. I tried to find a copy of the Table of Contents, but all I found was this weird Google widget that allows you to browse the first 40 pages of the book (including the TOC). Here it is.
If you're in the market for classic spooky tales, you're in luck. We've covered a few similar anthologies and collections over the years, spanning the last hundred years.
They include:
Algernon Blackwood's The Empty House and Other Ghost Stories by William I. Lengeman III (1916)
Were These the 10 Best Ghost Stories as of 1927? by Nick Ozment
The Haunted Hotel by Wilkie Collins and 25 Other Ghost Stories (1941)
The Second Ghost Book, edited by Lady Cynthia Asquith (1956)
Beyond the Curtain of Dark edited by Peter Haining (1972)
The Bumper Book of Ghost Stories, edited by Aidan Chambers (1976)
Dark Imaginings: A Collection of Gothic Fantasy edited by Robert H. Boyer and Kenneth J. Zahorski (1978)
Scottish Ghost Stories, Selected by Rosemary Gray (2009)
The Collected Supernatural & Weird Fiction of Sir Arthur Conan Doyle (2009)
The Dead of Night: The Ghost Stories of Oliver Onions (2010)
The Big Book of Ghost Stories, edited by Otto Penzler (2012)
Night Terrors: The Ghost Stories of E.F. Benson (2012)
Great Ghost Stories: 101 Terrifying Tales, compiled by Stefan Dziemianowicz (2016)
Robert Aickman's Classic Ghost Stories (2017)
Ghost Stories for Christmas by Thomas Parker
Ghost Stories will be published by Pegasus Books on April 2. It is 257 pages, priced at $25.95 in hardcover and $22.73 in digital formats. The cover was designed by Faceout Studio and Charles Brock.
See all our coverage of the best new upcoming fantasy here.