The Golden Age of Science Fiction: Omni
The Golden Age of Science Fiction: Omni
The Balrog Award, often referred to as the coveted Balrog Award, was created by Jonathan Bacon and first conceived in issue 10/11 of his Fantasy Crossroads fanzine in 1977 and actually announced in the final issue, where he also proposed the Smitty Awards for fantasy poetry. The awards were presented for the first time at Fool-Con II at the Johnson County Community College in Overland Park, Kansas on April 1, 1979. The awards were never taken particularly seriously, even by those who won the award. The final awards were presented in 1985. The Best Professional Publication Balrog was presented each year from 1979 to 1985. Won by either Omni or F&SF from its second year to its sixth year, it was won by the book Age of Dreams, and art book by Alicia Austin in its first and J.N. Williamson's anthology Masques in its last year.
1979 was Omni magazine's first full year of publication. The magazine had been founded in 1978 by Bob Guccione, best known as the publisher of Penthouse, and Kathy Keeton. Omni, with a focus on science, science fiction, and the paranormal was a glossy magazine that acquired some level of prestige, in part because Guccione was able to hire Analog editor Ben Bova to co-edit the magazine, along with Frank Kendig. Keeton described the magazine as exploring "all realms of science and the paranormal, that delved into all corners of the unknown and projected some of those discoveries into fiction.""
Over the course of the year, the magazine included eight novelettes by authors including Alfred Bester, Dean Ing, George R.R. Martin (2), Hayford Piece, Spider Robinson, Suzy McKee Charnas, and Stanislaw Lem. The magazine also included 34 short stories by authors like Gregory Benford, Joe Haldeman, Nancy Kress, Orson Scott Card (3), Roger Zelazny (2), Gene Wolfe, and others. Two of the stories published in Omni in 1979 went on to win awards. George R.R. Martin's "The Way of Cross and Dragon" from the June issue won the Hugo Award for Best Short Story and topped the Locus poll in the same category. It was also a nominee for the Nebula Award. Martin's "Sandkings" from the August issue was nominated for the Coveted Balrog Award and won the Nebula, Hugo, and Locus Award for Best Novelette. Orson Scott Card's "Unaccompanied Sonata" from the March issue was nominated for the Hugo and Nebula for Best Short Story.
Omni wasn't just fiction, of course, and the majority of its contents in 1979 was made up of essays. The essays ranged from speculative science to UFOlogy. Dava Sobel wrote several essays looking at science in Italy during the Renaissance, food in zero-G, and others. Dr. Bernard Dixon had a column looking at life and medicine, and George Robinson wrote about space law. Articles on UFOs appeared in eleven of the issues, written by James Oberg (6), Harry Lebelson (2), Allan Hendry, Art Gatti, and Robert Anton Wilson.
Kenneth Brower had a monthly column on Earth which explored different parts of the planet's geology and ecology. Astronomer Patrick Moore's column was called Stars and let him explore a variety of topics. The Exploration column was written by different authors in each issue, as were the columns on Space. The magazine also included movie, music, and book reviews as well as letter columns and editorial from Bova.
Of course, magazines also contain photos and artwork and Omni also included cartoons. Because Guccione was going for a slick magazine feel, many of the artists are names that would not necessarily be recognizable to science fiction and fantasy fans, but a few were. Don Maitz, Jim Burns, H.R. Giger, and Don Dixon were among the artists who contributed work, as were Norman Rockwell and René Magritte.
Omni began publishing an e-version on Compuserve as early as 1986 and when the magazine stopped printing a paper edition, it went all digital in 1996. The digital experiment lasted until shortly after the death of Keeton, the magazine's co-founder. Since Omni stopped publishing, questions about ownership and rights have been raised although those questions have been resolved and Omni has returned to have a brief presence on-line at the end of 2017 and a Winter 2017 print issue published.
Omni triumphed over a large field for the Balrog Award for Professional Publication, coming in above Analog, Asimov's, The Book of Munn, F&SF, Heavy Metal, Locus, Lovecraft's Providence, by H.P.L. Beckwith, Starlog, Swords Against Darkness, edited by Andrew J. Offutt, and Whispers, edited by Stuart David Schiff.
---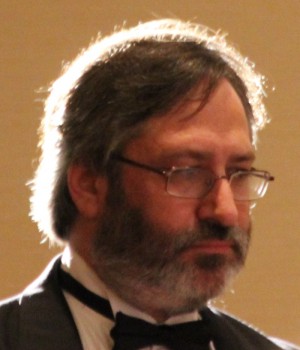 Steven H Silver is a sixteen-time Hugo Award nominee and was the publisher of the Hugo-nominated fanzine Argentus as well as the editor and publisher of ISFiC Press for 8 years. He has also edited books for DAW and NESFA Press. He began publishing short fiction in 2008 and his most recently published story is "Webinar: Web Sites" in The Tangled Web. Steven has chaired the first Midwest Construction, Windycon three times, and the SFWA Nebula Conference 6 times, as well as serving as the Event Coordinator for SFWA. He was programming chair for Chicon 2000 and Vice Chair of Chicon 7.