J. Barton Mitchell Reads from The Razor with Audience Q&A
J. Barton Mitchell Reads from The Razor with Audience Q&A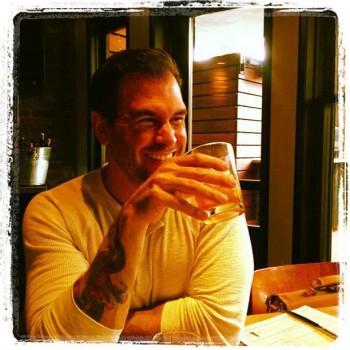 J. Barton Mitchell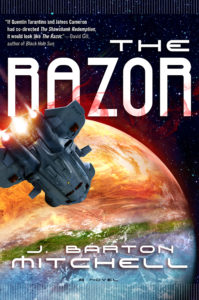 (the J. stands for "Jack") is the author of the science fiction YA novel series Conquered Earth (published by St. Martin's Press), and The Razor (published by Tor Books). He has also sold screenplays to Warner Bros. and 21st Century Fox, and created the comic book series POE for 'Boom! Studios'.
I had the privilege of interviewing him (see the video below), and in preparation for that interview, read The Razor, and let me just say: Wow. It is excellent.
Here's the back cover copy:
J. Barton Mitchell's The Razor is a riveting science fiction thriller about a man struggling to survive the chaos on a prison planet.

Brilliant engineer Marcus Flynn has been sentenced to 11-H37 alongside the galaxy's most dangerous criminals. A hard labor prison planet better known as the Razor, where life expectancy is short and all roads are dead ends.

At least until the Lost Prophet goes active…

In a few hours, prison guards and staff are evacuated, the prisoners are left to die, and dark mysteries begin to surface.

Only Flynn has the skills and knowledge to unravel them, but he will have to rely on the most unlikely of allies — killers, assassins, pirates and smugglers. If they can survive each other they just might survive the Razor… and claim it for their own.
Black Gate covered the release of The Razor last October.

The interview was at the Jean Cocteau Cinema in Santa Fe and includes several readings by Jack of the introductory chapters for four of the main characters. We also discussed Jack's career to date — actually all of his careers. He is also a software engineer, screenwriter, comic scriptwriter, and professional photographer. In between there were audience questions, and the Cocteau even made a signature cocktail for his appearance (as they usually do. It's traditionally based on the book somehow, and in this case was called Xytrilium. Those of you familiar with the book rest assured, it contained no mercury, despite how perfect that would have looked.)
Check out the video of the interview, here:
---
Emily Mah is a writer and the owner of E.M. Tippetts Book Designs, a company that provides formatting and cover design services for independent authors and publishers. Her last interview for Black Gate was with Lauren C. Teffeau.