Future Treasures: The Razor by J. Barton Mitchell
Future Treasures: The Razor by J. Barton Mitchell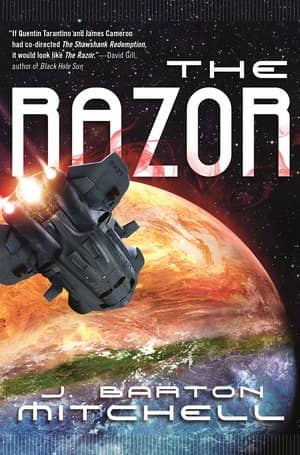 I flipped open J. Barton Mitchell's science fiction thriller The Razor today, just to get a sense of what the prose was like, and before I knew it I was deep in Chapter 2, following new convict Marcus Flynn as he plummets through the raging atmosphere and then is processed into the Razor prison planet, named for the tiny habitable zone separating the burning day and freezing night zones.
The Razor is an adventure novel about an engineer stuck in a very, very bad situation after the staff and guards at his remote prison suddenly evacuate, leaving nothing but dark mysteries behind. And yeah, the book certainly draws you in. I'm a huge fan of SF adventure novels, and this one has an enticing premise and smooth, readable prose.
I don't know much about J. Barton Mitchell, but the press packet that came with my advance copy says he's also the author of "the critically acclaimed Conquered Earth trilogy," which at least gives him some street cred. Whatever, I'd sold. Time to kick the cat out of my favorite recliner and settle in for the evening.
Brilliant engineer Marcus Flynn has been sentenced to 11-H37 alongside the galaxy's most dangerous criminals. A hard labor prison planet better known as the Razor, where life expectancy is short and all roads are dead ends.

At least until the Lost Prophet goes active…

In a few hours, prison guards and staff are evacuated, the prisoners are left to die, and dark mysteries begin to surface.

Only Flynn has the skills and knowledge to unravel them, but he will have to rely on the most unlikely of allies — killers, assassins, pirates and smugglers. If they can survive each other they just might survive the Razor… and claim it for their own.
The Razor will be published by Tor Books on November 27, 2018. It is 398 pages, priced at $26.99 in hardcover and $13.99 in trade paperback.
Read the complete first chapter here, and see all our coverage of the best in upcoming SF and fantasy here.