Hector DeJean on Why Jack Vance Was Science Fiction's Tightest Worldbuilder
Hector DeJean on Why Jack Vance Was Science Fiction's Tightest Worldbuilder
Jack Vance died in 2013, but his work continues to be avidly discussed and appreciated. New readers are still discovering his timeless SF adventures like Big Planet, and publishers like Subterranean have produced gorgeous collections like The Early Jack Vance (five volumes) and The Jack Vance Treasury. And his mass market paperbacks from DAW, Ace and others remain inexpensive and continue to circulate, winning him new readers.
I've quite enjoyed some of the more recent discussions of Vance, like Hector DeJean's January 11 Tor.com article "A Lean, Mean, Writing Machine: Jack Vance Was Science Fiction's Tightest Worldbuilder," which looks at three of Vance's early novels from a rather different perspective. Here's the opening paragraphs.
I'm a big fan of concise stories. If a writer fills a three-volume science fiction epic with 2000 pages of detailed worldbuilding, intriguing speculative concepts, and captivating character arcs, that's all well and good, but if that writer can get that down to 300 pages, that's better. And if a writer goes further and nails it in 150 pages — well then, that writer can only be Jack Vance.

Vance produced well over 70 novels, novellas, and short story collections over the course of his writing career, creating fantasy stories and mysteries as well as science fiction, and even producing a substantial number of doorstoppers that would have impressed George R. R. Martin with their girth. Vance's extensive oeuvre has its imperfections — especially glaring today is his near-complete lack of interesting female characters — but at their best the books set an excellent standard for the construction of strange new worlds. Three tales in particular, The Languages of Pao (1958), the Hugo Award-winning The Dragon Masters (1962), and The Last Castle (1966), squeeze artfully assembled civilizations into focused, tight paragraphs. Other authors might have used these worlds as settings for bloated trilogies, but Vance quickly builds each society, establishes his characters, delivers the action, and then is off to create something new. I can't think of any other author who put together so many varied worlds with such efficiency.
I think DeJean has a fine point. Vance's early experiences writing for the markets, and especially the painful and arduous task of substantially cutting his first novel, Big Planet for publication in hardcover (and later at Ace), taught him the valuable skill of spinning a complex tale in a very small space.
As his closing argument, DeJean's cites one of Vance's greatest works, the compact marvel "The Moon Moth."
Around the time he wrote these three science fiction tales, Vance also wrote a short story in which he packed one of his most intricate cultures into a mere 35 pages. "The Moon Moth" (1961) is an extraordinary example of worldbuilding, set within a one-of-a-kind mystery… It's a feat that many other authors would have stretched into a novel, or filled with paragraphs of clunky exposition, but Vance, as always, breezes past bloat and tedium, depicting a fully-formed world with the fewest possible brush strokes.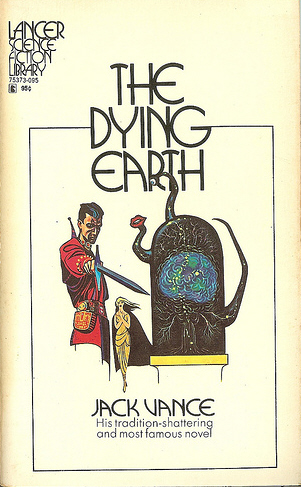 Read DeJean's complete article at Tor.com here.
Our previous coverage of Jack Vance includes:
Jack Vance, August 28, 1916 — May 26, 2013
Maske: Thaery
The Worlds of Jack Vance
Lyonesse: Suldrun's Garden by Fletcher Vredenburgh
Green Magic: The Fantasy Realms of Jack Vance
The Durdane Trilogy
The Omnibus Volumes of Jack Vance, Part I: Planet of Adventure
The Omnibus Volumes of Jack Vance, Part II: Tales of the Dying Earth
The Omnibus Volumes of Jack Vance, Part III: The Demon Princes
Madouc
Dream Castles: The Early Jack Vance, Volume Two
Travel the Magic Highways with The Early Jack Vance, Volume Three, edited by Terry Dowling and Jonathan Strahan
It's Good to be Minding the Stars with The Early Jack Vance, Volume Four, edited by Terry Dowling and Jonathan Strahan
The Early Novels of Jack Vance: Grand Crusades: The Early Jack Vance, Volume Five, edited by Terry Dowling and Jonathan Strahan
Big Planet
Jack Vance and Appendix N: Advanced Readings in D&D
See all of our recent Vintage Treasures here.