The Pocket Best
The Pocket Best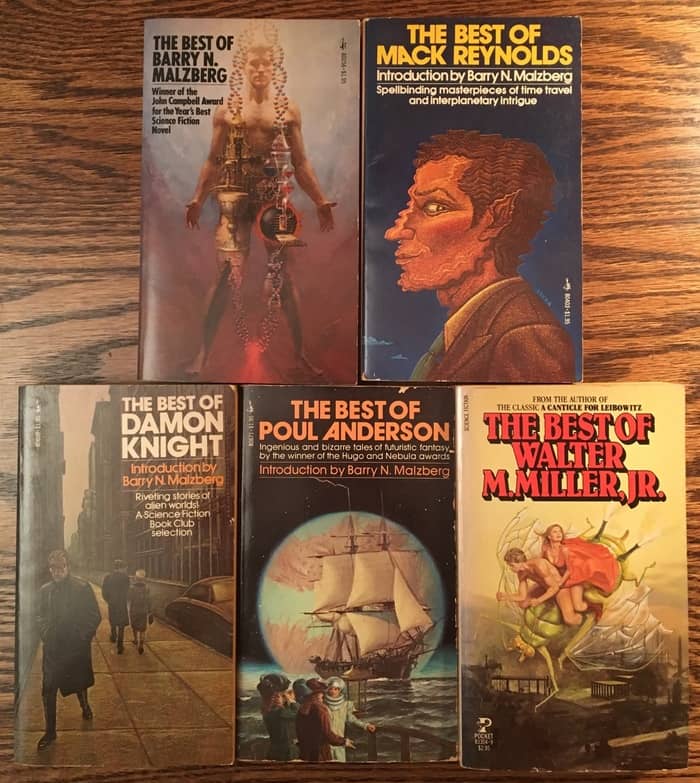 We've spent a lot of time here at Black Gate celebrating Del Rey's Classics of Science Fiction line from 1974-88 (The Best of Eric Frank Russell, The Best of Fritz Leiber, etc.); nearly two dozen paperback originals reprinting early short stores by C.L. Moore, Leigh Brackett, Edmond Hamilton, Henry Kuttner, John W. Campbell, Philip K. Dick, Fredric Brown, Murray Leinster, Robert Bloch, Jack Williamson, and many others. The series was the equivalent of a Masters-level course in science fiction and, taken as a whole, formed an essential library of 20th Century SF. The entire series, including all the reprints, is cataloged at IMDB. None of the volumes have been reprinted since 1988, and there are no digital versions, but the series was popular enough that copies are easy to find and not particularly expensive. (See below for a handsome set I bought last month for $40).
Lester del Dey wasn't the only publisher to see the value of a line of Best of collections, of course. Donald Wollheim more or less pioneered the idea with The Book of  A.E. van Vogt (DAW Books No. 4, 1972) and The Book of Brian Aldiss (No. 29, 1972), and followed with nine more from Frank Herbert, Philip K. Dick, Gordon R. Dickson, Philip Jose Farmer, Fritz Leiber, Fred Saberhagen, Poul Anderson, John Brunner, and Andre Norton. Like most early DAW efforts though, these were slender volumes; they're also not as numerous, and the packaging isn't nearly as attractive as the Del Rey books, so they aren't as collectible.
There was another publisher who gave del Rey a run for his money, however. Between 1976 and 1980 Pocket Books produced nearly a dozen substantial collections showing off the science fiction authors in their catalog, including Jack Vance, Robert Silverberg, Harry Harrison, John Sladek, Keith Laumer, Damon Knight, Poul Anderson, Barry N. Malzberg, Mack Reynolds, and Walter M. Miller.
[Click the images for bigger versions.]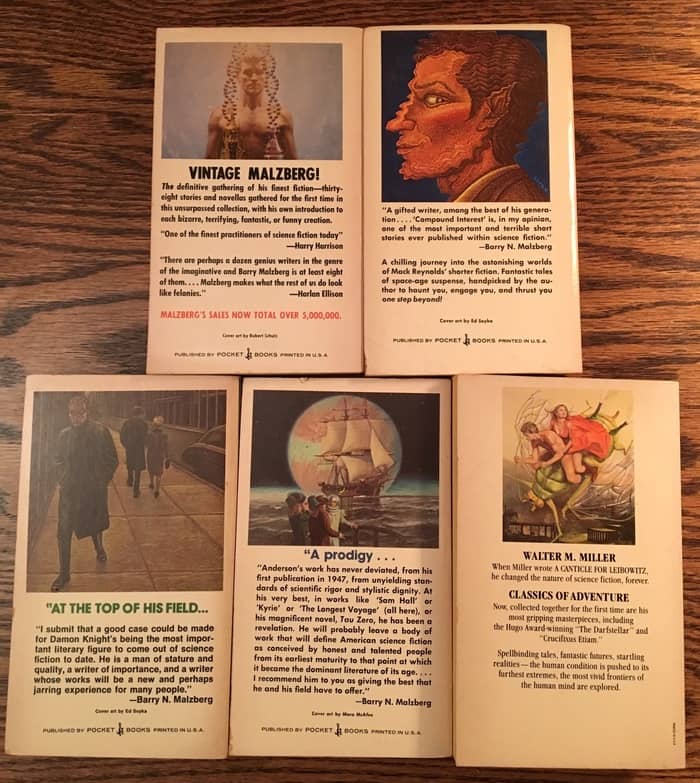 Unlike the DAW volumes, these were sizeable collections. The Best of Walter M. Miller, for example, was packed with five long novellas — including "Conditionally Human," "Dark Benediction," "The Lineman," and his Hugo Award-winning "The Darfsteller" — and clocked in at 472 pages. I very much appreciated Pocket for this at the time (and still do today), as novellas didn't often get reprinted, and they were a tough find in paperback collections.
The covers were generally well done as well, including fine work by Mara McAfee, Gerry Daly, Alan Magee, and others.
Most of the books included introductions by Barry Malzberg, who was an excellent choice. His enthusiasm for his subjects was infectious and genuine and, as always, he was deeply informed. Here's a snippet from his intro to The Best of Damon Knight.
I submit that a good case could be made for Damon Knight's being the most important literary figure to come out of science fiction to date. He has, in the first place, excelled in everything he's done — editing, criticism, novels, short stories, and some extraordinary dirty limericks, too. In the second place, his reputation as critic and editor has obscured to younger writers and readers the fact that the body of fiction he produced in the 1950s was superb. Of all the writers H.L. Gold developed for Galaxy, Knight was probably the most characteristic and often the best at social satire and criticism… At some basic level I owe almost all the critical apparatus with which I now deal with science fiction to Damon Knight, and I owe practically to him alone my first astonished realization in the early fifties that, by God, science fiction not only was a lot of fun… it could be written by its best practitioners so as to correspond to (though never duplicate) the best of work done anywhere.
The was no editor credited for the volumes, and while I'm not aware of Malzberg working at Pocket for any period, I wouldn't be surprised to discover he edited most of the books as well. I certainly suspect he had a hand in writing the teaser text on the inside covers, which was generally very fine (see below for some examples).
Pocket had a long history with Best of collections. When David Hartwell launched his Timescape imprint at Pocket in 1981, he expanded the set with four additonal volumes:
The Best of Harry Harrison (1981, reprint)
The Best of Randall Garrett (1982)
The Best of Wilson Tucker (1982)
The Best of Jack Vance (1982, reprint)
I'm not aware of a complete list of the Pocket volumes — if anyone out there knows of a definitive list, I'd welcome that information in the comments.
Like the Del Rey volumes, the Pocket Best of books generally had solid print runs and, while they haven't been reprinted in over three decades and are lacking digital versions, they are all easy to find and inexpensive. If you know how to do a decent book hunt on eBay, and don't mind buying sets, you can snap up copies in fine condition for less than the cost of a brand new paperback.
In June I bought the set of 25 Best of volumes below, many in unread condition, for $40 on eBay — that's less than $2 per book, under the original cover price. Similar sets come up from time to time, if you're interested.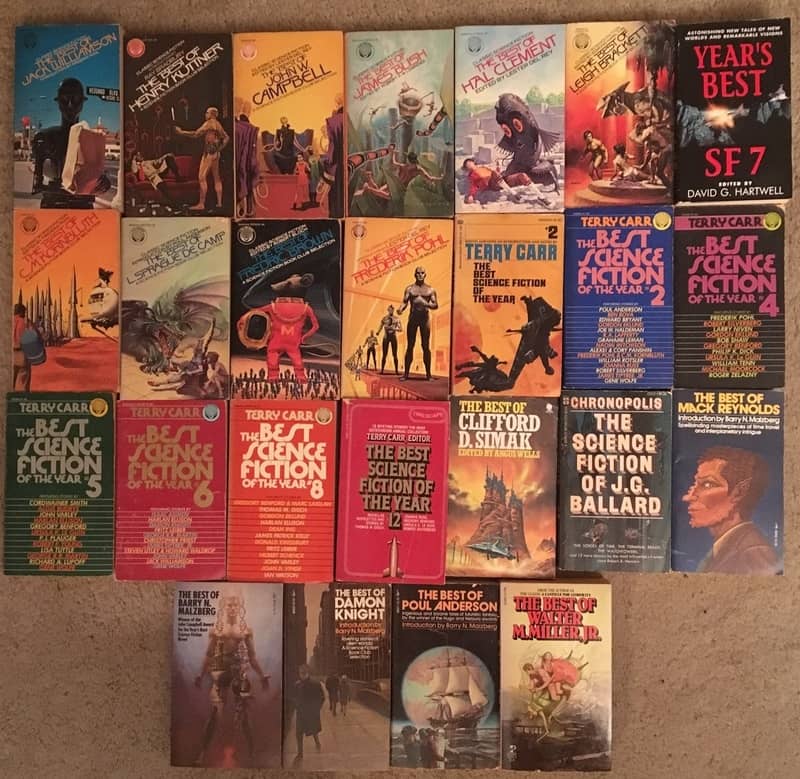 Our previous coverage of the Classics of Science Fiction line includes (in order of publication):
Smugglers, Alien Vampires, and Dark Dimensions: The Best of C. L. Moore by James McGlothlin
Rich Playboys, Mad Scientists, and Venusian Monsters: The Best of Stanley Weinbaum by James McGlothlin
Vampires, Frozen Worlds, and Gambling With the Devil: The Best of Fritz Leiber by James McGlothlin
Space Colonies, Interstellar Fleets, and The Martian in the Attic: The Best of Frederik Pohl by James McGlothlin
A Neglected Master: The Best of Henry Kuttner by James McGlothlin
A Shaper of Myths: The Best of Cordwainer Smith by James McGlothlin
Wings, Wind, and World-Wreckers: The Best of Edmond Hamilton by Ryan Harvey
Shark Ships and Marching Morons: The Best of C. M. Kornbluth by James McGlothlin
Drawing Out What it Truly Means to be Human: The Best of Philip K. Dick by James McGlothlin
The Best of Henry Kuttner
The Best of John W. Campbell
The Best of C M Kornbluth
The Best of Philip K. Dick
The Best of Fredric Brown
The Best of Edmond Hamilton
The Best of Murray Leinster
The Best of Robert Bloch
The Best of Jack Williamson
The Best of Hal Clement
The Best of James Blish
The Best of John Brunner
See all of our recent Vintage Treasures here.