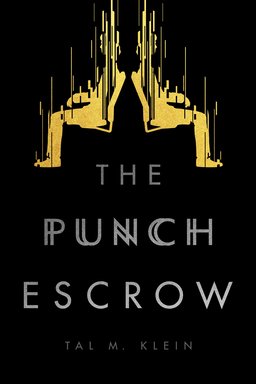 The Punch Escrow is Tal M. Klein's debut novel, but it's getting a lot more attention than most first novels get. It won the reader-voted Geek & Sundry Hard Science Contest last year, and the Barnes & Noble Sci-Fi & Fantasy Blog called it "the smartest sci-fi thriller of the summer." And Kirkus says "It's hard to say enough good things about this hard-science future thriller with humor and heart ― an excellent debut."
It arrived last week in trade paperback from Inkshares. Here's the description.
It's the year 2147. Advancements in nanotechnology have enabled us to control aging. We've genetically engineered mosquitoes to feast on carbon fumes instead of blood, ending air pollution. And teleportation has become the ideal mode of transportation, offered exclusively by International Transport ― the world's most powerful corporation, in a world controlled by corporations.

Joel Byram spends his days training artificial-intelligence engines to act more human and trying to salvage his deteriorating marriage. He's pretty much an everyday twenty-second century guy with everyday problems ― until he's accidentally duplicated while teleporting.

Now Joel must outsmart the shadowy organization that controls teleportation, outrun the religious sect out to destroy it, and find a way to get back to the woman he loves in a world that now has two of him.
Read an excerpt at Tor.com.
The Punch Escrow was published by Inkshares on July 25, 2017. It is 356 pages, priced at $14.99 in trade paperback and $7.99 in digital formats. The cover was designed by M.S. Corley.
See all our recent New Treasures here.
---