July 2017 Nightmare Magazine Now on Sale
July 2017 Nightmare Magazine Now on Sale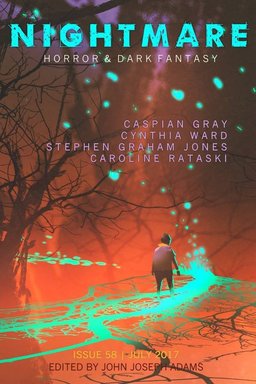 The July 2017 issue of Nightmare is now available, with original fiction from Caspian Gray and Caroline Ratajski, and reprints by Stephen Graham Jones and Cynthia Ward. Here's Valerie A. Lindsey from Tangent Online:
"Promises of Spring" by Caspian Gray opens with Cody asking his high school friend, Tay, to help him stop some high school kids from summoning the witch that granted three of them their desires during a bloody ritual. Gray illustrates the high cost of making wishes without understanding how high the true cost will be. Fortunately, the one who suffered the most is able to make the best wish of all…

Caroline Ratajski's "And With Her Went the Spring" captured my interest from the first evocative sentences. The story seems to open as you would expect with grieving parents and an outraged town, but it soon becomes more. The story moves smoothly from what happened to the viewpoints of the boy and the dead girl. The missing girl refuses to accept her fate meekly and becomes a retributive force for herself and all the girls before her.
Read her complete review here.
There's also an editorial from John Joseph Adams (which includes a cover reveal for all of his 2017 titles at John Joseph Adams Books), the latest installment of "The H Word" (Nathan Carson shares the creepy truth about goats), author spotlights, and a feature interview with Donnie Darko's Richard Kelly.
The complete contests of the issue are listed below.
Original Stories
"Promises of Spring" by Caspian Gray

It was a freezing day in January, so Cody was surprised when Tay answered the door to his apartment without a shirt. His wet hair was still slicked down from the shower. "Um, hey," said Cody. "It's good to see you." "Huh," said Tay. "Come in, I guess." Cody expected the scar in the middle of Tay's chest. It was raised and shining, a ragged knoll that Tay crossed his arms over as soon as he noticed Cody looking. What Cody hadn't expected was the other one.

"And With Her Went the Spring" by Caroline Ratajski

They searched for weeks, but never found her. It was decided without words that "weeks" was the appropriate unit of time. Some girls are "weeks" and some girls are "days." And some girls are missing posters that get seen by too few and ignored by too many. But she had done so well. Tried so hard. She followed all the rules that girls were meant to follow. She deserved weeks.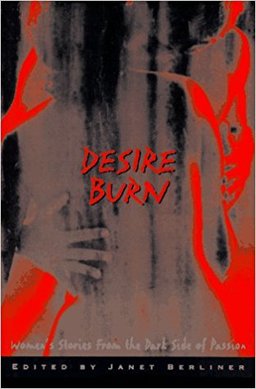 Reprints
"Brushdogs" by Stephen Graham Jones (from The Children of Old Leech: A Tribute to the Carnivorous Cosmos of Laird Barron, 2014)

Junior wasn't even forty-five minutes into the trees when his son Denny called him on the walkie, to meet back at the truck. Denny was twelve, and Junior could tell he'd got spooked again. He wasn't going to get any less spooked if Junior called him on it, though. So, instead of staking out a north-facing meadow like he'd been intending, waiting for the sun to glint off some elk horn, Junior tracked himself back, stepping in his own boot prints when he could.

"The Midwife" by Cynthia Ward (from Desire Burn: Women's Stories from the Dark Side of Passion, 1995)

Though his estate had fallen upon difficult times, my husband Geoffrey retained the midwife to nurse me through my delirium, for Marguerite Willette had knowledge of the illnesses which come upon a woman who has borne and lost a child. Marguerite little resembled the crude, dull-witted folk who lived in the town, but her humble breeding was evident in the cast of her face, which revealed her French ancestry, and in the swarthy hue of her complexion and raven darkness of her tresses.
And the non-fiction.
Editorial, July 2017 by John Joseph Adams
The H Word: Kiss the Goat by Nathan Carson
Interview: Richard Kelly by The Geek's Guide to the Galaxy
The cover this issue is by grandfailure, with some help from Adobe Stock Art.
See the complete contents of the issue here.
Nightmare is edited by John Joseph Adams. This is the 58th issue. Subscriptions are available for just $1.99 per issue, single issues are available in multiple digital formats for $2.99. Purchase copies and sample free content at the website.
We last covered Nightmare with March 2017 issue.
Check out Nightmare's sister magazine Lightspeed, also edited by John Joseph Adams.
See our July Fantasy Magazine Rack here, and all of our recent Magazine coverage here.