June 2017 Lightspeed Magazine Now Available
June 2017 Lightspeed Magazine Now Available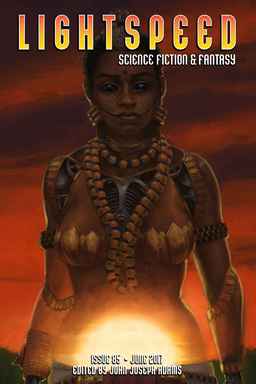 Over at Quick Sip Reviews, Charles Payseur takes at detailed look at the latest issue of John Joseph Adams' Lightspeed.
"Marcel Proust, Incorporated" by Scott Dalrymple (4,130 words)

This is a fascinating story about education and about capitalism and about people being treated like property. This is a rather deeply dystopic story that follows a journalist in education who is brought into a story that is…well, rather huge. The story slowly reveals the scope of a project to make memory, to make education, property. And not just property, but property that doesn't really belong to the person in whose mind the knowledge of education resides. Instead, this future world imagines what it would be like if there was a drug that would allow corporations and institutions to keep people in debt indefinitely with the looming threat that if people fail to pay, their memories will literally disappear, essentially repossessing the education that they can't afford to pay for…. It's a deeply unsettling piece that shows just how far and how bad things could go, and how in need we are of protections now more than ever to value human beings above profits and banks…

"Crossing the Threshold" by Pat Murphy (4,180 words)

This story speaks to me of bargains and loss and chaos. It features a woman whose father has died and who has to sort through his strange and varied estate. At the same time, it's a story about her maybe-sorta helping the devil do some mischief, and trying to help undo some of that. It's a bit of a weird contemporary fantasy story where the speculative elements are ones that "could maybe" be explained away, but as that never bothers me I do appreciate the way it moves, the way that it sets up this picture of the world that is only slightly off, where chaos and order seem to be more palpable forces in the world… Luckily there's a helpful witch willing to work in exchange for some fertility idols. I like the strangeness of the piece… it's a great read!
This month's Lightspeed offers original fantasy by Shweta Narayan and Pat Murphy, and fantasy reprints by Carlos Hernandez and Ben Hoffman, as well as original science fiction by Scott Dalrymple and Matthew Kressel, along with SF reprints by Vandana Singh and Elizabeth Bear. The non-fiction includes author spotlights, Book Reviews by Amal El-Mohtar, Movie Reviews by Carrie Vaughn, and an interview with Yoon Ha Lee by Christian A. Coleman.
The exclusive content in the ebook version of Lightspeed this month includes a reprint of Yoon Ha Lee's "Iseul's Lexicon" and an excerpt from Seanan McGuire new novel Down Among the Sticks and Bones, plus a bonus excerpt from Never Now Always by Desirina Boskovich.
The cover is by Randy Gallegos, illustrating Shweta Narayan's "World of the Three."
Here's the complete contents for the June issue.
Fantasy
"World of the Three" by Shweta Narayan Author spotlight
"The Magical Properties of Unicorn Ivory" by Carlos Hernandez (from The Assimilated Cuban's Guide to Quantum Santeria, 2016)
"Crossing the Threshold" by Pat Murphy Author spotlight
"Substitutes" by Ben Hoffman (from Granta, 2015)
Science Fiction
"Yakshantariksh" by Vandana Singh (from The Bestiary, 2015)
"Marcel Proust, Incorporated" by Scott Dalrymple Author spotlight
"The Heart's Filthy Lesson" by Elizabeth Bear (from Old Venus, 2015)
"Love Engine Optimization" by Matthew Kressel Author spotlight
Nonfiction
Editorial, June 2017, by John Joseph Adams
Book Review: June 2017, by Amal El-Mohtar
Movie Review: June 2017, by Carrie Vaughn
Interview: Yoon Ha Lee, by Christian A. Coleman
Exclusive Paid Content
NOVELLA: "Iseul's Lexicon" by Yoon Ha Lee
NOVEL EXCERPT: Down Among the Sticks and Bones by Seanan McGuire
NOVEL EXCERPT: Never Now Always by Desirina Boskovich
See the complete June issue here.
Lightspeed is edited by John Joseph Adams. Most of the content is available free online; individual issues are available in multiple digital formats for $3.99. 6-month subscriptions are just $17.94 ($6 off the cover price), or $35.88 for 12 months ($12 off the cover price). Purchase copies and sample free content at the website.
We last covered Lightspeed with Issue 84, May 2017.
Check out Lightspeed's sister magazine Nightmare, also edited by John Joseph Adams.
See our June Fantasy Magazine Rack here, and all of our recent Magazine coverage here.