February 2016 Lightspeed Magazine Now on Sale
February 2016 Lightspeed Magazine Now on Sale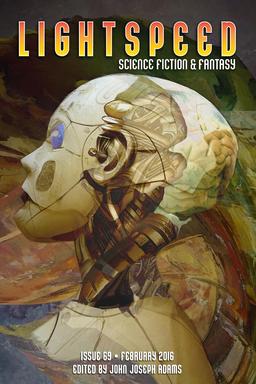 Editor John Joseph Adams talks about his latest big project in his editorial this month.
We're currently in the midst of crowdfunding our next Destroy project. In 2014, we asked women to destroy science fiction, and they did — spectacularly — in our first crowdfunded, all-women special issue, Women Destroy Science Fiction!. Then, in 2015, we asked queers to destroy science fiction, they did — again, spectacularly — in Queers Destroy Science Fiction!

This year, we're turning the reins over to People of Colo(u)r, with People of Colo(u)r Destroy Science Fiction!, guest edited by Nalo Hopkinson and Kristine Ong Muslim. Joining Nalo and Kristine will be a team of wonderful POC creatives, including Nisi Shawl (reprint editor), Berit Ellingsen (flash fiction editor), Sunil Patel (personal essays editor), Grace Dillon (nonfiction editor), and more!

We launched our Kickstarter campaign on January 18 and surpassed our original goal in just a manner of hours. Our first day's totals surpassed that of QDSF and WDSF, and as I write this (on the evening of January 31), we're currently at nearly $26K (518% of our original goal). Thanks so much to all of you who have supported the project thus far!

Our two biggest stretch goals are the same as last year: If we receive enough pledges, we'll not only publish POC Destroy Science Fiction!, we'll also publish additional special issues POC Destroy Horror! (at $30K) and POC Destroy Fantasy! (at $40K).
The kickstarter wrapped up on February 18, blowing through virtually all of the stretch goals and raising $51,734. I'm looking forward to seeing these special issues of Lightspeed and, just as we always have, we'll report on them here.
This month Lightspeed has original fantasy from Black Gate author Jeremiah Tolbert (author of "Groob's Stupid Grubs," in BG 15) and Karin Tidbeck, and fantasy reprints by Rachel Swirsky and Christopher Barzak, plus original SF by Rachael K. Jones and Sarah Pinsker, and SF reprints by Samuel Peralta and Paul McAuley.
All that plus their usual author spotlights, an interview with N.K. Jemisin, book reviews by Sunil Patel, and the launch of a new media review column. eBook readers get a bonus reprint of Brenda W. Clough's novella "May Be Some Time," and an excerpt from V.E. Schwab's new novel A Gathering of Shadows.
Here's the complete fiction contents for the February issue.
Fantasy
"Not by Wardrobe, Tornado, or Looking Glass" by Jeremiah Tolbert
The scent of fresh lilacs and the boom of a cannon shot muffled by distance prefaced the arrival of the rabbit hole. Louisa jerked upright in her seat, and her book fell from her lap to slap against the cold pavement of the station floor. Dropping a book would normally cause her to cringe, but instead she allowed herself a spark of excitement as a metal maintenance door creaked open on rusty hinges. Golden light spilled out onto dazed commuters. Was this it? Was this finally it?

"Starfish" by Karin Tidbeck
On the third day of the sightseeing trip, among walrus-laden icebergs, they run into slurry. At the fore, Skipper sticks a boat hook into the water. "There are plenty of critters here," he says. "It's like playing grab bag. You'll always catch something on the hook." He thrusts the boat hook up and down a couple of times, stirs it in the slush, and pulls it out again. A transparent little rag is impaled on the tip.

"Monstrous Embrace" by Rachel Swirsky (from Subterranean: Tales of Dark Fantasy, 2008)
I am ugliness in body and bone, breath and heartbeat. I am muddy rocks and jagged scars snaking across salt-sown fields. I am insect larvae wriggling inside the great dead beasts into which they were born. Too, I am the hanks of dead flesh rotting. I am the ungrateful child's sneer, the plague sore bursting, the swing of shadow beneath the gallows rope. Ugliness is my hands, my feet, my fingernails. Ugliness is my gaze, boring into you like a worm into rotting fruit.

"Map of Seventeen" by Christopher Barzak (from The Beastly Bride and Other Tales of the Animal People, 2010)
Everyone has secrets. Even me. We carry them with us like contraband, always swaddled in some sort of camouflage we've concocted to hide the parts of ourselves the rest of the world is better off not knowing. I'd write what I'm thinking in a diary if I could believe others would stay out of those pages, but in a house like this there's no such thing as privacy. If you're going to keep secrets, you have to learn to write them down inside your own heart.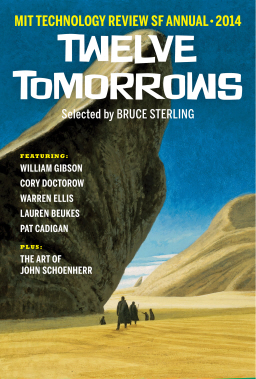 Science Fiction
"Charlotte Incorporated" by Rachael K. Jones
At night she pores over the corpus catalogues online: Incorporated Incorporated, Modern Anatomy, and Shoulders, Knees, & Toes. She weighs the merits of femur length and belly fat, redundant kidneys, attached earlobes, and pronated feet. Most people buy pre-configured corpi with symmetrical faces and standard organ kits, but she wants a custom build. Something completely unique.

"Sooner or Later Everything Falls Into the Sea" by Sarah Pinsker
The rock star washed ashore at high tide. Earlier in the day, Bay had seen something bobbing far out in the water. Remnant of a rowboat, perhaps, or something better. She waited until the tide ebbed, checked her traps and tidal pools among the rocks before walking toward the inlet where debris usually beached. All kinds of things washed up if Bay waited long enough.

"Hereafter" by Samuel Peralta (from Synchronic: 13 Tales of Time Travel, 2014)
September 15, 2006 : That autumn she's back in Toronto, staying at her mom's place, before deployment. At Queen's Quay Terminal, her two girlfriends go inside to grab a coffee, to stave off the late afternoon chill. She stays outside to check in, but the phone at her mom's rings four, five, six times, and she flips her phone closed before it goes to voice mail. There's a soft crush of wind, and she hugs herself in her jacket. Time for that coffee.

"Transitional Forms" by Paul McAuley (from Twelve Tomorrows, 2013)
At night, the hot zone was patched with drifts of soft pastel light. Violets and indigos; dark reds, translucent greens. Jellyfish genes for luminescence had been used as markers for tweaks in the first genetically modified organisms, and that tradition had been adopted by alife hackers. The colours were tags, territorial claims that pulsed and twinkled like spring blossom in an alien and verdant land.
Read the complete February issue here.
The cover artist this issue is Elizabeth Leggett (click the image for a bigger version).
Lightspeed is edited by John Joseph Adams. Most of the content is available free online; individual issues are available in multiple digital formats for $3.99. 6-month subscriptions are just $17.94 ($6 off the cover price), or $35.88 for 12 months ($12 off the cover price). Purchase copies and sample free content at the website.
We last covered Lightspeed with Issue 68, January 2015.
Check out Lightspeed's sister magazine Nightmare, also edited by John Joseph Adams.
See our February Fantasy Magazine Rack here, and all of our recent Magazine coverage here.