January 2016 Lightspeed Magazine Now on Sale
January 2016 Lightspeed Magazine Now on Sale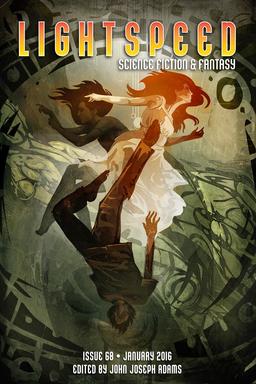 Editor John Joseph Adams makes a welcome announcement in his editorial this month.
You might notice something a little different this month in the magazine. That's because we're changing the way we select our covers. Previously we sought out existing artwork and licensed it for use on our covers, but henceforth we'll be commissioning original cover illustrations, based on one of the stories in the issue. First up is Galen Dara, with an illustration of Will McIntosh's "The Savannah Liars Tour."

Our current plan is to use a small team of artists we know and like, and rotate among them — and since that means we'll be repeating the same artists fairly frequently, we're doing away with the artist spotlight feature. So in lieu of that we'll be presenting a new rotating nonfiction column, starting with a new movie review column by bestselling author Carrie Vaughn. Carrie's column will appear a couple times a year (probably quarterly), and we'll rotate in other nonfiction in the other months; as for what will be in that "slot" next — stay tuned! We'll have more information about that next month.
Lightspeed has always had fabulous cover art, and I'm delighted to see that it will now showcase the fiction inside as well.
This month Lightspeed has original fantasy from Will McIntosh and Kat Howard, and fantasy reprints by Peter S. Beagle and Leena Krohn, and original SF by JY Yang and the collaborative team of Keith Brooke and Eric Brown, plus SF reprints by Jason Gurley and Kate Bachus. All that plus their usual author spotlights, an interview with J. Michael Straczynski, and book reviews by Andrew Liptak. eBook readers get a bonus reprint of Michael Swanwick's Hugo and Nebula Award-nominated novella "Griffin's Egg," and an excerpt from the new novel Barsk by Lawrence M. Schoen.
Here's the complete fiction contents for the January issue.
Fantasy
"The Savannah Liars Tour" by Will McIntosh
My essence, my soul, whatever you wanted to call it, burst into that place beyond places. After dozens of trips, the ecstasy of the reverse-explosion was as intense as the first time.

"Maiden, Hunter, Beast" by Kat Howard
She had never intended to be a nineteen-year-old virgin. She wasn't opposed to the idea of sex, didn't think the simple act of having sex with someone had to be a big deal, and sure, she went to Mass and knew what the priests taught, but she figured God was actually a lot less concerned about that sort of thing than they were. She just hadn't ever wanted to badly enough.

"La Lune T'attend" by Peter S. Beagle (from Full Moon City, June 2010)
Even once a month, Arceneaux hated driving his daughter Noelle's car. There was no way to be comfortable: He was a big old man, and the stick-shift hatchback cramped his legs and elbows, playing Baptist hell with the bad knee.

"Gorgonoids" by Leena Krohn (from Leena Krohn: Collected Fiction, originally published in Finnish in 1992)
The egg of the gorgonoid is, of course, not smooth. Unlike a hen's egg, its surface texture is noticeably uneven. Under its reddish, leather skin bulge what look like thick cords, distantly reminiscent of fingers. Flexible, multiply jointed fingers, entwined—or, rather, squeezed into a fist.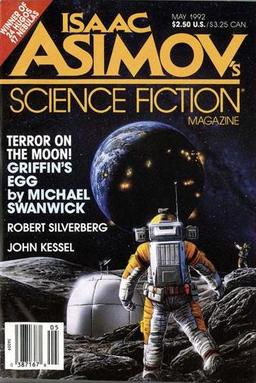 Science Fiction
"Secondhand Bodies" by JY Yang
"Admit it, the only option left for that body is getting rid of it." Cousin Aloysius says this as he sprawls uninvited along the length of my bed, and I hate him for that.

"Beyond the Heliopause" by Keith Brooke and Eric Brown
As soon as the recorded message pinged in her peripheral vision, she accepted and listened to the call on her cochlear implant. "Suzanne, I need to see you. It's urgent. I… well, I'll tell you when I see you. All my love."

"The Dark Age" by Jason Gurley (Originally published as a digital chapbook in 2014)
I caught her. The doctor gave me a textured blue wrap. Frannie looked alarmed and said, "No, no, skin—skin-to-skin, I want skin-to-skin," and the doctor assured her that this was only for me, so that I wouldn't drop her.

"Pinono Deep" by Kate Bachus (from Asimov's Science Fiction, October-November 2014)
It was Martin Rios who found the captain's body. Captain Naguen was splayed on the Chieftain's deck where he'd fallen, and Martin realized as he stood there staring at the disar-ray of limbs that at least this was some small comfort: As unlucky as Martin had been in his life, there was always someone who had been unluckier.
Read the complete January issue here.
The cover artist this issue is Galen Dara, illustrating Will McIntosh's "The Savannah Liars Tour" (click the image for a bigger version).
Lightspeed is edited by John Joseph Adams. Most of the content is available free online; individual issues are available in multiple digital formats for $3.99. 6-month subscriptions are just $17.94 ($6 off the cover price), or $35.88 for 12 months ($12 off the cover price). Purchase copies and sample free content at the website.
We last covered Lightspeed with Issue 67, December 2015.
Check out Lightspeed's sister magazine Nightmare, also edited by John Joseph Adams.
See our January Fantasy Magazine Rack here, and all of our recent Magazine coverage here.