December 2015 Lightspeed Magazine Now on Sale
December 2015 Lightspeed Magazine Now on Sale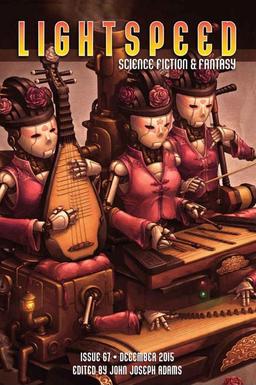 Lots of great stuff in the December Lightspeed. First off, editor John Joseph Adams shares some big news in his editorial.
Houghton Mifflin Harcourt, publishers of my Best American Science Fiction and Fantasy (and the rest of the Best American series), have offered me the opportunity to edit a science fiction/fantasy (and horror) novel line for them — and naturally I agreed!

The line will be called John Joseph Adams Books (their idea, not mine!), and will be a tightly-curated list of 7-10 titles per year. We'll be pre-launching the line in early 2016 with new editions of three Hugh Howey novels: Beacon 23, Shift, and Dust — making them available via traditional publishing for the first time, and then the line will kick things off in earnest in early 2017 with our first batch of never-before-published works.
This is fabulous news for John, and for the industry as a whole. Expectations are high for the new line, and I'm sure he will deliver.
Also, Black Gate readers will be delighted to find a story by BG blogger Mark Rigney, author of the eternally popular Tales of Gemen, "The Trade," "The Find," and "The Keystone," three of the most widely read stories in the Black Gate Online Fiction library. "Portfolio" is a tale of strange reincarnation, and a set of very unnerving paintings.
This month Lightspeed has original fantasy from Rachel Swirsky and Jay Lake, and fantasy reprints by Richard Parks and Mark Rigney, and original SF by A. Merc Rustad and Aidan Doyle, plus SF reprints by Hugh Howey and Charlie Jane Anders. All that plus their usual author spotlights, an interview with Andy Weir, and book reviews by the fabulous Amal El-Mohtar. eBook readers get a bonus reprint of Kelly Link's novella "The Surfer," and an excerpt from A Daughter of No Nation by A.M. Dellamonica.
Here's the complete fiction contents for the December issue.
Fantasy
"The Queen's Reason" by Richard Parks (from Lady Churchill's Rosebud Wristlet #25, April 2010)
The courtiers and servants did their best to conceal the truth, but that was a losing battle. The final straw, so to speak, was when their beautiful young queen managed to elude her Ladies in Waiting and greet the South Islands Confederation ambassador while wearing only a skirt made of broom straw and a gardenia pot for a hat. After that incident there was little point in denying the obvious: Mei Janda II, newly crowned Queen of Lucosa, was barking mad.

"Tea Time" by Rachel Swirsky
Begin at the beginning: His many hats. Felt derbies in charcoal and camel and black. Sporting caps and straw boaters. Gibuses covered in corded silk for nights at the theatre. Domed bowlers with dashingly narrow brims. The ratty purple silk top hat, banded with russet brocade, that he keeps by his bedside.

"Portfolio" by Mark Rigney (from Lady Churchill's Rosebud Wristlet #22, June 2008)
This is the incomplete story of Paints, grandson of Paints No More. It begins in shadow. Like this: As far as reincarnation goes, I became a believer on the day that I found a dead mole in my Gran's stuffy one-car garage. The old Volvo had obviously run the mole over, or at least its back half; the head and forearms still looked ready to rise and crawl away.

"Ex Libris Noctis" by Jay Lake
Beatrice's heart skipped and skipped again, the tiny pistons clattering in their brassbound prison. Her ribs ached, and there were narrow darts of pain throughout her chest. She was dying.
Science Fiction
"Tomorrow When We See the Sun" by A. Merc Rustad
Wolflord (title): nomadic, nameless survivors of destroyed warships; those who did not accept ritual immolation during the Decommission. No allegiance to the Principality; outlaws. The antiquated title is self-taken from the first deserter, whose name and memory were erased upon execution; precise origin unknown.

"Beacon 23: Little Noises" by Hugh Howey (from The Walk Up Nameless Ridge / Beacon 23, June 2015)
They don't prepare you for the little noises. They put you in a centrifuge until you pass out, ride you up and down parabolic curves until you puke your stomach lining, poke you with needles until you know what an addict feels like, and make you learn three fields of physics and get a medical degree while training for triathlons.

"Beneath the Silent Stars" by Aidan Doyle
Jean-Paul crawled out of storage and stretched his arms and legs. He avoided going into storage whenever he could help it, but the ship had insisted this time. "Hello, Jean-Paul," Unattributed Source said. "I woke you as soon as we arrived within visual range of Amala.".

"The Time Travel Club" by Charlie Jane Anders (from Asimov's Science Fiction, October-November 2013)
Nobody could decide what should be the first object to travel through time. Malik offered his car keys. Jerboa held up an action figure. But then Lydia suggested her one-year sobriety coin, and it seemed too perfect to pass up. After all, the coin had a unit of time on it, as if it came from a realm where time really was a denomination of currency. And they were about to break the bank of time forever, if this worked.
Read the complete December issue here.
The cover artist this issue is James Ng (click the image for a bigger version.)
Lightspeed is edited by John Joseph Adams. Most of the content is available free online; individual issues are available in multiple digital formats for $3.99. 6-month subscriptions are just $17.94 ($6 off the cover price), or $35.88 for 12 months ($12 off the cover price). Purchase copies and sample free content at the website.
We last covered Lightspeed with Issue 66, November 2015.
Check out Lightspeed's sister magazine Nightmare, also edited by John Joseph Adams.
See our December Fantasy Magazine Rack here, and all of our recent Magazine coverage here.