Future Treasures: Borderline by Mishell Baker
Future Treasures: Borderline by Mishell Baker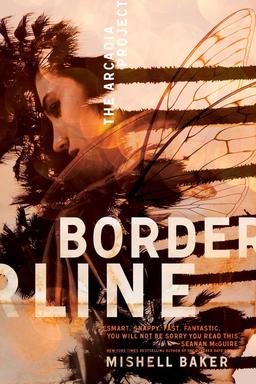 Mishell Baker is the Communications Director for the Clarion Foundation. Most of what I know about her comes from her bio at Beneath Ceaseless Skies, which states "She lives with her husband and daughter in Los Angeles, where she is currently at work on a novel set in the early history of the world featured in 'Throwing Stones.'" Borderline, which arrives in trade paperback from Saga Press next week, could be that novel. Probably is. If it sounds intriguing, it couldn't hurt to check out "Throwing Stones," which appeared in BCS 47.
Borderline follows the misadventures of a cynical, disabled film director with borderline personality disorder who is recruited into a secret organization that oversees relations between Hollywood and Fairyland. It's the opening volume in a new urban fantasy series, and is Mishell Baker's debut novel.
A year ago, Millie lost her legs and her filmmaking career in a failed suicide attempt. Just when she's sure the credits have rolled on her life story, she gets a second chance with the Arcadia Project: a secret organization that polices the traffic to and from a parallel reality filled with creatures straight out of myth and fairy tales.

For her first assignment, Millie is tasked with tracking down a missing movie star who also happens to be a nobleman of the Seelie Court. To find him, she'll have to smooth-talk Hollywood power players and uncover the surreal and sometimes terrifying truth behind the glamour of Tinseltown. But stronger forces than just her inner demons are sabotaging her progress, and if she fails to unravel the conspiracy behind the noble's disappearance, not only will she be out on the streets, but the shattering of a centuries-old peace could spark an all-out war between worlds.

No pressure.
Borderline will be published by Saga Press on March 1, 2016. It is 390 pages, priced at $15.99 in trade paperback and $7.99 for the digital edition.