Twelve Tomorrows: MIT Technology Review SF Annual 2014 now on Sale
Twelve Tomorrows: MIT Technology Review SF Annual 2014 now on Sale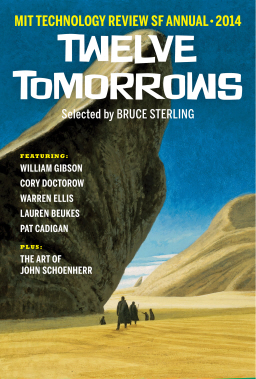 MIT Technology Review has published two highly regarded SF anthologies over the past few years: TRSF (2011) and Twelve Tomorrows (2013). Both included 12 short stories inspired by recent developments reported in the pages of MIT Technology Review and featured an impressive list of contributors, including Neal Stephenson, David Brin, Brian Aldiss, Nancy Kress, Cory Docotorow, Joe Haldeman, and many others.
The 2014 edition has arrived and it looks just as impressive. Edited by Bruce Sterling and featuring original short stories by William Gibson, Pat Cadigan, Cory Doctorow, Warren Ellis, Bruce Sterling, Joel Garreau, Paul Graham Raven, Lauren Beukes, and Christopher Brown, this latest volume envisions the future of the Internet, biotechnology, computing, and much more.
It also includes a gallery of work by the great artist John Schoenherr and an interview with fantasy legend Gene Wolfe. See the complete details at the website.
The volume is currently available at better bookstores around the country. It's also available for Kindle and the iPad, or in a three-volume bundle with TRSF and Twelve Tomorrows (2013) for just $29.95.
Twelve Tomorrows 2014 was edited by Bruce Sterling and published by MIT Technology Review on August 25, 2014. It is 234 pages in magazine format, priced at $12.95 for the print edition and $9.99 for the digital version.
The cover, by John Schoenherr, was also the cover of the original Ace paperback edition of Frank Herbert's Dune from 1967 (click the image at left for a high-res version).