Vintage Treasures: The Well of the Unicorn by Fletcher Pratt
Vintage Treasures: The Well of the Unicorn by Fletcher Pratt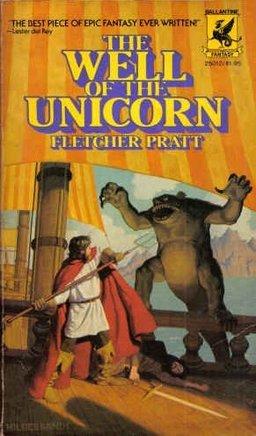 It's no surprise that I don't get to pick up as many novels as I used to — and I finish even fewer than I start. I tell myself that at least I'm pretty well grounded in classic fantasy… but even then there are embarrassing holes. Like Fletcher's Pratt's groundbreaking The Well of the Unicorn, which the great Lester del Rey called "The best piece of Epic Fantasy ever written." It's one of his two truly major novels (the other being The Blue Star), and it influenced an entire generation of fantasy writers. It has been out of print for decades, and there is no digital edition, but copies aren't hard to find. I tracked one down last week, and I'm very much looking forward to reading it.
A rousing epic fantasy of romantic adventure and swashbuckling sorcery by the author of The Blue Star.

Outcast of the Well

The ruthless and greedy Vulkings drove young Airar Alvarson from his people and his heritage. But soon, aided by the mysterious enchanter Meliboe, he embarked on a desperate odyssey through a treacherous world where magic worked — sometimes at a perilous price. As one of a band of desperate rebels, fighting against his Vulking oppressors, Airar's future quickly became enmeshed with a trio of women… each one seemed born to alter his destiny!

Gython: A snow blonde beauty who fired his blood with a heart as cold as ice…
Evadne: A savage warrior maid determined to have her way with her battles and her men…
Argyra: A princess of the Well from whose waters come peace. A lady who brought him only turmoil and strife…

In a flash Airar Alvarson was trapped in the bloodiest battles, the most sinister of intrigues… and the most amazing romance of all.
The Well of the Unicorn was first published in hardcover by William Sloane Associates in 1948 (under the name George U. Fletcher). It was first printed in paperback in 1967 by Lancer Books, and then Ballantine in May 1976, with a classic cover by the Brothers Hildebrandt. The Ballantine edition is 388 pages, priced at $1.95 (click the image at right for a bigger version).
Our previous coverage of Fletcher Pratt includes:
The Compleat Enchanter by L. Sprague de Camp and Fletcher Pratt
Tales From Gavagan's Bar by L. Sprague de Camp and Fletcher Pratt
Land of Unreason by Fletcher Pratt and L. Sprague de Camp
L. Sprague de Camp, Fletcher Pratt, Gardner Fox and Appendix N: Advanced Readings in D&D
Manly Wade Wellman, Fletcher Pratt, and Appendix N: Advanced Readings in D&D
The Well of the Unicorn by Fletcher Pratt
The Blue Star by Fletcher Pratt
World of Wonder edited by Fletcher Pratt
See all of our recent Vintage Treasures here.