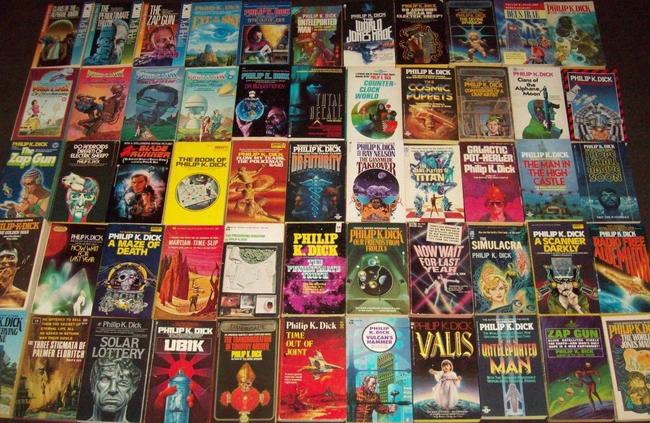 Recently I wrote here about a handsome collection of 35 books by Isaac Asimov I bought on eBay for $82.17 — a lofty price for vintage paperbacks, but I wasn't the only one who noticed what great shape they were in. Last week I also reported on the set of 32 paperback of the same vintage by Arthur C. Clarke I purchased at the same time. Clarke is still highly regarded these days, but not in the same category as Asimov. I expected to pay much less for them, and I was right — I won the auction for $27.
The same seller was also offering the striking set of Philp K. Dick books above (click for bigger version). While not virtually brand new like the Clarke and Asimov collections, they were nonetheless in terrific shape, especially for 40-year old paperbacks. I bravely took part in the auction, but bowed out before it hit $100. I expected it to go a lot higher, and it did.
The set sold for $536 and change, about $9.50 per book — a bargain, considering what Dick paperbacks in that kind of condition sell for individually.
---