Announcing the Winners of This Gulf of Time and Stars by Julie Czerneda
Announcing the Winners of This Gulf of Time and Stars by Julie Czerneda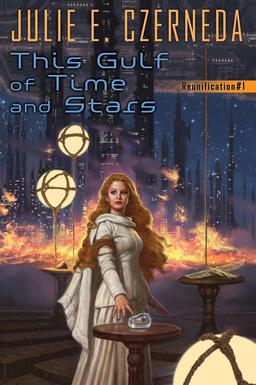 Woo hoo! We have two winners!
Last week we invited you to enter a contest to win one of two copies of Julie Czerneda's This Gulf of Time and Stars, the opening volume in a brand new adventure SF series from one of the most popular authors in the field. To enter, all you had to do was send us an e-mail with the subject "This Gulf of Time and Stars."
We have two versions to give away — a copy of the hardcover, and an audiobook. Our lucky winners were selected from the pool of eligible entries by the most reliable method known to modern science: D&D dice. The winner of the hardcover is:
Paul Lipps
And our audiobook winner is:
Derek A. Neve
Congratulations all! Once again, we'd like to thank DAW Books and Audible.com for providing the prizes and making the contest possible. Read Julie's interview with Allyson Johnson, the voice of the audible.com edition of This Gulf of Time and Stars, right here at Black Gate.
This Gulf of Time and Stars was published by DAW Books on November 3, 2015. It is 464 pages, priced at $25.95 in hardcover, and $12.99 for the digital edition.