Goth Chick News: Dashing Through the Snow to the Days of the Dead Show
Goth Chick News: Dashing Through the Snow to the Days of the Dead Show

Granted, snow in the windy city in November is not exactly unexpected. But it is a bit surreal to be making our way to the last horror show of the year in white-out conditions.
And yet this is precisely the situation Black Gate photog Chris Z and I found ourselves facing last Saturday morning. Thankfully, the Chicago BG office is well equipped for such emergencies, though attempting to get John O out of bed before noon to requisition the keys to the company urban assault vehicle turned out to be only the first of many challenges we faced that day.
Still, we trundle into the unplowed parking lot of the venue in our jacked up Jeep Wrangler precisely at 9:45, to find roughly 500 other hard-core horror fans bent double against the howling wind, making their way through 18" of snow to pay homage to the season's last genre-specific event.
Was it worth it?
Oh, hell yes.
First, in case you're unfamiliar, the Days of the Dead show is described as a "by the fans, for the fans" convention which had its inaugural show in Indianapolis in July, 2011.
Since then, the show has gained momentum and expanded to three additional cities; Atlanta in February, LA in April and somehow, Chicago in November.
Boasting a full schedule of special events tailored just for the fans including an after-hours scene of horror themed parties, Days of the Dead also manages an interesting guest list of the celebrities, artists, and up and coming independent film makers. Anticipation is particularly high this year as Chris Z has made arrangements to meet his personal, pinup girl crush – Elvira.
I cannot give him the razzing I feel this deserves considering I am almost as giddy at the prospect of meeting Susan Backlinie, the "first victim" in my all-time-favorite movie Jaws, and David Naughton, star of American Werewolf in London.
But more about the celebrity encounters in a sec.
Days of the Dead also attracts quite an impressive list of vendors for a mid-sized show in wintery Chicago. It's a great opportunity to see what will be 'hot' in the coming year – sort of like New York Fashion Week, only different.
Here are our favorites in no particular order.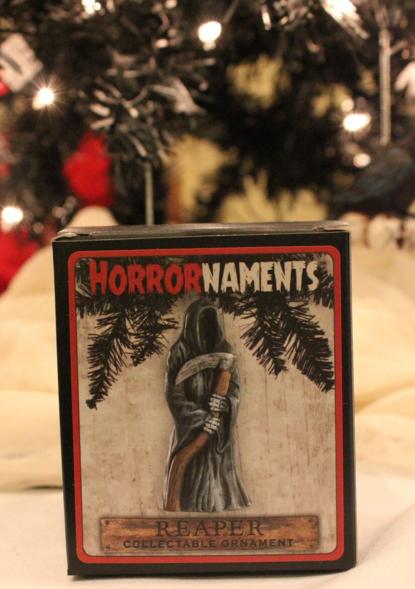 You've seen the sweet, Hallmark-version of a Halloween Tree; small delicate glass ornaments depicting innocuous symbols of the season such as pumpkins, ghosts and candy corn hung from a glittery, miniature tree.
This is not that.
Instead, JM Burns the talented artist behind Horrornaments has created highly detailed little resin gems depicting the not-so-harmless icons of Halloween (think skull, axe, creepy doll head, chainsaw). Each is ready to be strung up for the month of October, but can just as easily adorn a Christmas tree, making this a perfect gift for the goth in your life.
Burns hints that you may find the entire collection in stores next season, but don't wait. Order a full set at the web site, or at the very least, snag one of his limited-edition, numbered tombstones depicting his own demise. We certainly could not resist.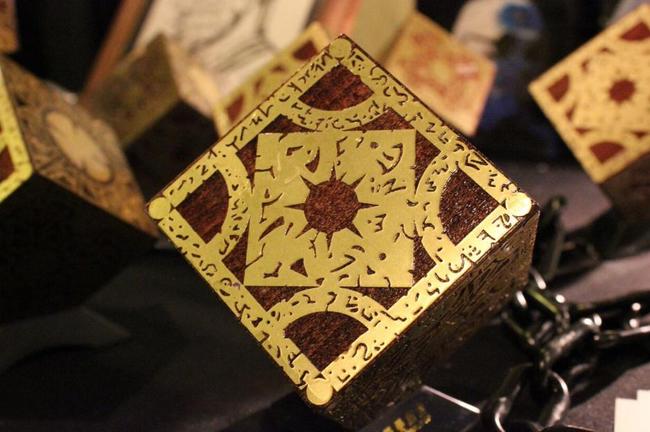 Configuration Boxes
The Hellraiser franchise is rife with nauseatingly memorable imagery, but the Lemarchand Configuration box might be the most recognizable — aside from Pinhead himself.
Originally designed by Simon Sayce for the Hellraiser movies, a Lemarchand Configuration box is a mystical/mechanical device that acts as a door to another dimension or plane of existence inhabited by the Cenobites. Occasionally a box signed by Sayce himself will come up for auction, but why wait when you can own an extreme replica by Derek Neal?
Neal hand-makes each puzzle box and sells them through his website Configuration Boxes. Boxes start with a maple cube which is stained with mahogany then overlaid with brass that is chemically etched. The result is a beautifully crafted art piece for the movie prop collector or Barker fan on your shopping list.
And though Neal's boxes are "static" (i.e. their parts don't actually move and configure into the gate of hell or anything), there is another option for those of you who want to play.
The Pyramid Gallery creates Lemarchand Configuration boxes with an extra bit of authenticity.
If you recall, Barker's original text in The Hellbound Heart describes the box:
Lemarchand, who had been in his time a maker of singing birds, had constructed the box so that opening it tripped a musical mechanism, which began to tinkle a short rondo of sublime banality.
In short, it's a music box which is exactly what The Pyramid Gallery has created. With a clever winding mechanism hidden in the surface design, their puzzle boxes also play a "short rondo of sublime banality" and are available for order on their site.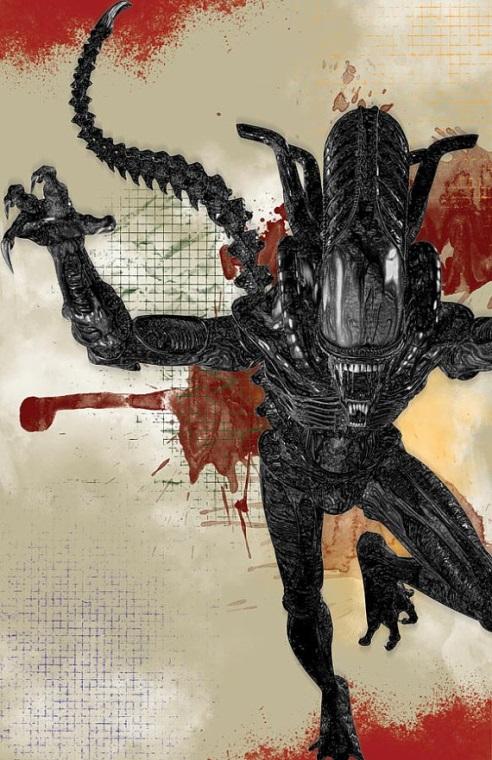 Judge Hydrogen's Xenomorph
Though Days of the Dead is not the venue for artists in the league of C2E2, we still found some interesting works. For instance:
Judge Hydrogen Apocalyptic Art – Judge Hydrogen has been selling his art at conventions and online for the last five years. What he terms his "apocalyptic art" is inspired by industrialization and apocalyptic myths, but he also creates some pretty bad-assed fan art of his favorite horror and TV characters. Personally, I was particularly fond of his Xenomorph designs in light of all the brouhaha around new Alien movies.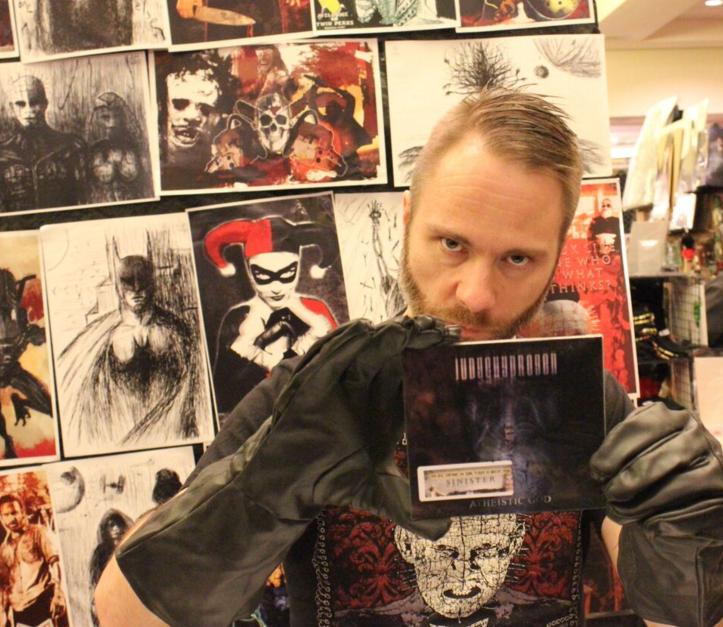 Judge Hydrogen and his gloves
JH wanted to be photographed wearing those black, rubber autopsy gloves, for which we did not discover an explanation, but is reason enough to check out his art if you ask me.
Last but never least is a Goth Chick News perennial favorite Mr. Mike Krohn, proprietor of Blood Brood FX, custom horror prop builder and artist. Several Mike Krohn originals don the shelves of our subterranean BG offices including conjoined twin skull, pigmy skull and vampire bat skull.
However, this time Mike outdid himself.
Upon our arrival at his very elaborately outfitted booth, Mike disappeared under the table and emerged with the piece he'd been saving just for me.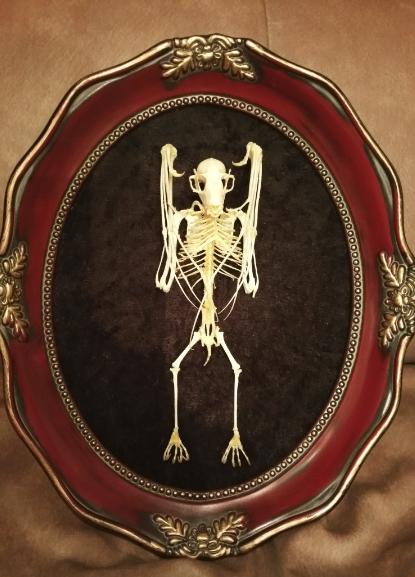 Bat Skeleton courtesy of Blood Brood FX
Unlike much of his work which is resin cast from the real skeletal remains, the gorgeously mounted vampire bat skeleton was far too fragile to withstand the casting process. This little beauty was the real thing and it was all mine.
For understanding exactly how to sweep a goth girl off her feet, Blood Brood FX receives the Five Bat Award for this show, and my dearest Mike receives my undying admiration.
Check out the Blood Brood FX web site to score your own Krohn original.
So now, back to the celebrity encounters.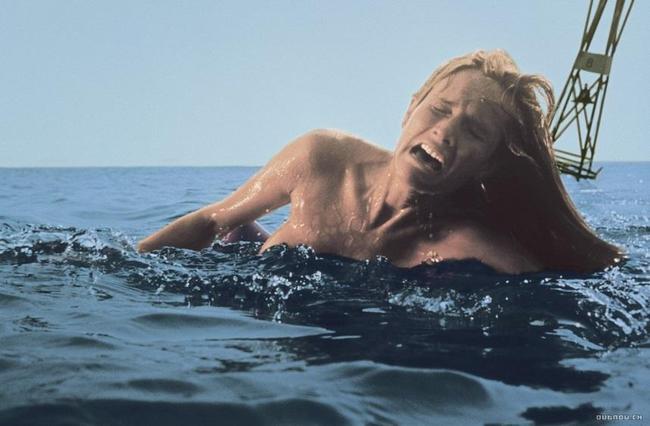 Susan Backlinie back in the day
Susan Backlinie, the naked chick from the opening scenes of Jaws, was extremely gracious and interesting to chat with. As a lifelong Californian, she was excited to tell us she had rushed outside in the wee hours of that morning to take pictures of the snow to text back home.
Warm weather people are so cute.
Currently an accountant, Backlinie spent her early career as a sports diver and stuntwoman specializing in water stunts, which landed her the role as Chrissy, the hippie chick who takes a moonlight swim, thus launching the first ever "summer blockbuster."
Ms. Backlinie has some great stories about filming Jaws, which she agreed to share with us in an upcoming exclusive interview. Stay tuned.
David Naughton (American Werewolf in London) being a native of Connecticut wasn't nearly as pleased by the snow and was clearly wondering if it would delay his departure from O'hare. He also seemed a bit chuffed that I didn't realize that was him playing Mr. Samuels in episode three of the latest American Horror Story season.
Seriously?
Moving on…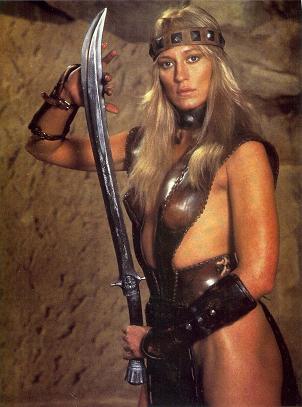 Sandahl Bergman as Valeria
Always a pleasure to meet is Ms Sandahl Bergman, whose most public claim to fame is playing Valeria in Conan the Barbarian. I first met Ms. Bergman back in 2011 and Ms. Bergman has never failed to be extremely generous to every fan who waits to speak to her.
I had a chance to chat with her about how her Valeria character was groundbreaking in the movie business back in 1982. Before then, butt-kicking women who were the antithesis of damsels in distress were few and far between. Afterwards, Bergman's agent would often tell her that casting directors were looking for "Sandahl Bergman types" and how the character Xena owed a lot to Valeria.
Bergman is currently choreographing a production of The Wiz in Los Angeles.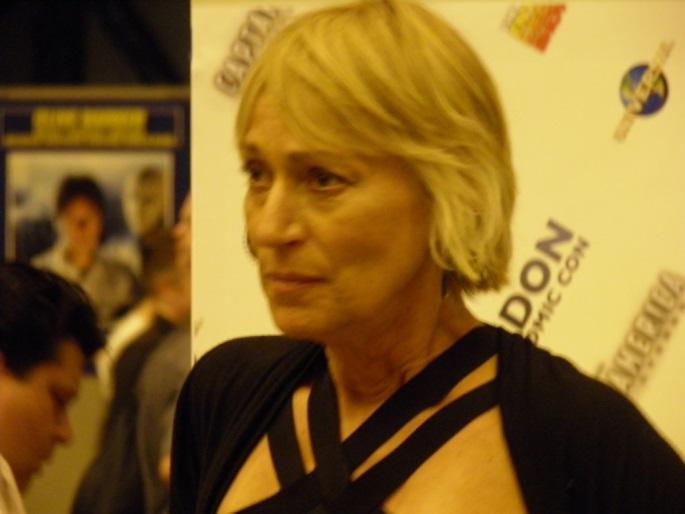 Sandahl Bergman still fabulous today
Chris Z did eventually get his photo op with Elvira. It only took $50 and an hour wait in a line that snaked through the entire facility, clearly indicating that even after all this time, the lady still makes bank. He was in and out of the designated photo room so fast, I thought perhaps he'd made good on his quest to find out if all her assets were real and had been thrown out.
But no, it was just the speed at which the event occurred and Chris Z. seemed no less enamored as a result – guess we all go gooey over someone.
There really wasn't a lot of time for anyone to go gooey over Tara Reid, in spite of her life-sized Playboy magazine cover propped up in the lobby, which apparently wasn't the only thing propped up.
Theoretically Ms. Reid was supposed to be there; she of American Pie, Sharknado, bad cosmetic procedures and hard-partying fame — though when we went to the desk to pick up our passes, I overheard several of the staff commenting that she "wasn't up yet." Two hours later I overheard another staff member say they had gone to knock on her door but she was still in bed.
Roughly three hours after the doors had opened and Days of the Dead was in full swing, Ms. Reid finally made an appearance. Though Chris and I had been unsuccessful at getting the one bar in the facility to open long enough to serve us our traditional show-coverage-Fireball-shot, this lack of adult beverages clearly did not apply to room service.
Ah the glamorous life of celebrity…
Have a question or comment? Post it here or drop a line to sue@blackgate.com. And Happy Thanksgiving from Goth Chick News!