C.S.E. Cooney promoted to Black Gate Website Editor
C.S.E. Cooney promoted to Black Gate Website Editor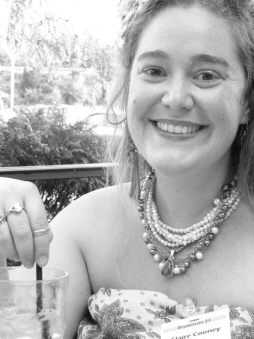 Effective January 1st,  blogger and contributor C.S.E. Cooney has been promoted to Black Gate website editor.
C.S.E. (Claire) Cooney is one of the most talented new writers we've had the pleasure to be associated with. Her fiction and poetry have appeared in Clockwork Phoenix 3, Book of Dead Things, Subterranean magazine, Goblin Fruit, Ideomancer, Doorways, Strange Horizons, Mythic Delirium, and Apex, among many others, and her novella The Big Bah-Ha was recently published by Drollerie Press.
She has sold several long connected pieces to Black Gate, the first of which, "Godmother Lizard," will appear in BG 16. Her short story "Braiding the Ghosts" was selected for inclusion in Rich Horton's upcoming The Year's Best Science Fiction & Fantasy 2011 Edition.
Claire's first contribution to the BG blog was her review of Last of the Dragons in January, 2010. Since then her posts have been among the most popular features we've offered, including her 3-part examination of Fantasy in Metal, her detailed looks at Goblin Fruit and Ideomancer, and her lengthy interviews with S.J. Tucker, Gene Wolfe and Ysabeau Wilce.
For the last several months Claire has been coaxing and recruiting terrific new writers to the BG blog, including Mike Allen, Amal El-Mohtar, Magill Foote, Erik Amundsen, and others, and in October she assembled a crack team to create the first Epic Black Gate Trailer of AWESOMENESS! In between, she's been editing behind the scenes, quietly helping other contributors get their articles posted, and generally cleaning up the place.
Claire's enthusiasm and commitment have been infectious, and she's brought a whole new level of energy to the Black Gate blog. We are pleased and extremely proud to have her as our new Website Editor.
For a complete list of the folks responsible for Black Gate, visit our Staff Page.