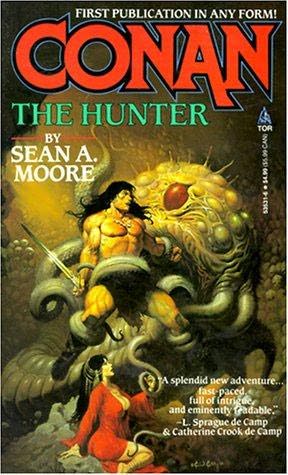 Conan the Hunter
Sean A. Moore (Tor, 1993)
You know I'm getting busy in other parts of my life when I pull out another Conan pastiche review for you here at Black Gate. (I store them up in a locked chest to be used in emergencies.) I've so far looked at a book each from John Maddox Roberts, Leonard Carpenter, and Steve Perry. So now it's time for one from Sean A. Moore.
First, a prologue. (Almost all Conan pastiches have prologues, so why not start a review with one?) There is a moment in Conan the Hunter where a palace gardener beats our hero unconscious. Incredibly, the book is not as completely horrible as that absolutely ridiculous statement would make it sound. But it just has to be one of the most unbelievable moments I've read in any Conan story. Go ahead, read that statement again. By Crom, I dare you not to laugh.
Now that I've set the tone, it is time to dive into the meat of Conan the Hunter, or at least the gristle.
This is the first Conan novel from Sean A. Moore. Like John C. Hocking, Moore came late to Tor's pastiche series, and went on to pen a two more before the line went on hiatus. Judging from this outing, Moore's strengths lie in crafting a clever, dense plot with immense, epic scope, and populating it with an imaginative flood of action and monsters. This novel bursts at the seams with supernatural menaces and crimson battles: A leech beast in the sewers. Hordes of gargoyles. Repugnant, horror-laden traps everywhere. An invincible demon-sorceress trying to revive her race. A cramped duel to the death in the corridors of a palace. A henchman with a magnetic lodestone for a shield. Nifty stuff all around, candy for a heroic fantasy reader.
Yet for all this material, Conan the Hunter can make for miserably slow going. Moore demonstrates two tremendous flaws that impede the novel and make it only sporadically entertaining and otherwise a chore to read.
---