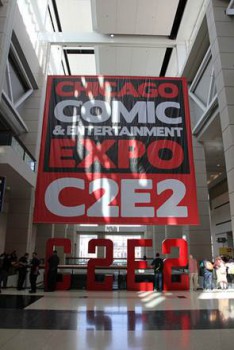 Last week the Chicago Comic and Entertainment Expo (C2E2 for you cool kids) rolled into town with its usual juggernaut of the innovative, the unusual and the spandex'd.
Though this is my fourth year covering the show for Black Gate, I must say it is by far the worst place to send someone like me who has a problem with staring; especially when doing so is likely to seriously annoy a very big person in a very small costume.
But never let it be said that I shirked my obligation to a long-suffering readership. Therefore I bribed Black Gate photographer Chris Z to once again wade into a precarious situation with me, this time with the promise he could meet all the crew of the Black Pearl from Pirates of the Caribbean who were listed as special guests.
Plus, Chris would be a good deterrent if I did indeed seriously annoy someone; like Batman or Chewbacca.
Almost immediately I realized Chris Z was probably in as much trouble as I was.
The first indication was a sign instructing us to text a number if we saw anything "suspicious." At which point Chris and I looked at each other and said in unison, "Define suspicious."
When everywhere you look are adults dressed as super heroes, Star Wars characters and video game icons, determining exactly what constitutes "suspicious" is darn near impossible. Which makes you wonder what would cause someone to text the number as instructed.
Still, Chris and I did our very best to put on the mental blinders and run through a full-day lineup of interviews, meet-and-greets and 100 aisles of merchandise.
---