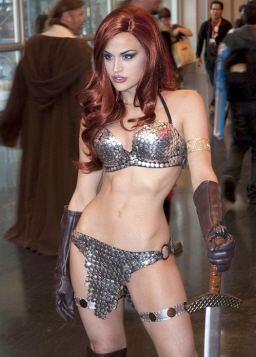 We've all heard about the downsides of the chainmail bikini.
Sure, sure, it'll get you pierced a thousand times over and you have to wax about every hour, but could it be that the chainmail bikini suffers from a bad rap? Could our prejudices be standing in the way of one of fantasy's greatest female armors? Should we just silence all the naysayers out there?
I think we should at least try, because I've yet to see a picture of Hawkeye in a chainmail bikini. (Internet, you've failed us all. And it's okay. Really.)
Here's a list of oft-overlooked awesome chainmail bikini traits, to help redirect the conversation in a more positive way.
Show off your abs – Female warriors work hard, too!  After all, even Conan had leather thongs to show off his almost-but-thankfully-not-everything everything.  (Wait, is that a good pro argument? Hang on. I can do better.)
No great maintenance costs – Paladins curse this one. While they have to get their armor to the smithy after every single random encounter (well, maybe every third or fifth, depending on skill level), the female bikini-clad woman can simply strut to the beach, confident that her armor was not damaged. Because if she'd taken a hit that could damage her armor, she'd be dead.
---