Tom Reamy, the Iron Throne, and George R.R. Martin's Plan to Stay Ahead of HBO: The Game of Thrones Issue of Vanity Fair
Tom Reamy, the Iron Throne, and George R.R. Martin's Plan to Stay Ahead of HBO: The Game of Thrones Issue of Vanity Fair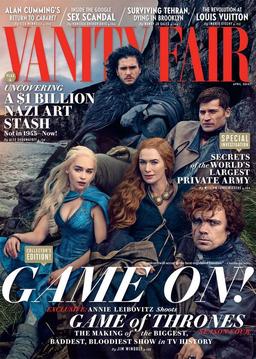 You know your HBO fantasy series has hit it big when it makes the cover of culture and fashion magazine Vanity Fair.
The April issue, on sale now, features a cast photoshoot by star photographer Annie Leibovitz and a feature on the making of the show written by Jim Windolf. But more interesting is a wide-ranging interview with author George R.R. Martin which covers, among other things, the true scale of the Iron Throne and Martin's plan to stay ahead of the rapidly-progressing show.
The season that's about to debut covers the second half of the third book… But there are two more books beyond that… A Dance with Dragons is itself a book that's as big as A Storm of Swords. So there's potentially three more seasons there, between [A Feast for Crows] and Dance, if they split into two the way they did [with Storms]. Now, Feast and Dance take place simultaneously… You can combine them and do it chronologically. And it's my hope that they'll do it that way and then, long before they catch up with me, I'll have published The Winds of Winter, which'll give me another couple years. It might be tight on the last book, A Dream of Spring, as they juggernaut forward.
I was also fascinated by his comments on the death of the brilliant Tom Reamy, whom we profiled in Black Gate 15:
Tom died of a heart attack just a few months after winning the award for best new writer in his field. He was found slumped over his typewriter, seven pages into a new story. Instant. Boom. Killed him… Tom's death had a profound effect on me, because I was in my early thirties then. I'd been thinking, as I taught, well, I have all these stories that I want to write… and I have all the time in the world… and then Tom's death happened, and I said, Boy. Maybe I don't…

After Tom's death, I said, "You know, I gotta try this. I don't know if I can make a living as a full-time writer or not, but who knows how much time I have left?…" So I decided I would sell my house in Iowa and move to New Mexico. And I've never looked back.
Read the complete interview here.