Adventures Fantastic Salutes Bud Webster and Tom Reamy
Adventures Fantastic Salutes Bud Webster and Tom Reamy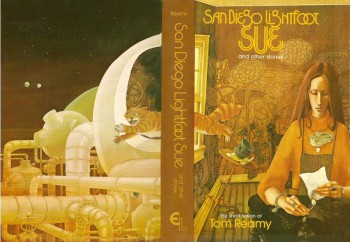 We're receiving reports as Black Gate 15 arrives in mailboxes around the globe. We'll update you here as we collect feedback and reviews on the issue and its contents.
One of the first to check in was Keith West at Adventures Fantastic, who has written an open letter to Bud Webster in response to Bud's column on Tom Reamy, the acclaimed fan and short story writer who died in 1977:
Dear Bud,

I wanted to let you know how much I appreciated your profiling Tom Reamy in your inaugural installment of "Who?!" in the new issue of Black Gate. I've enjoyed your "Past Masters" columns for years. You have a tendency to profile most of my favorite writers from my teenage years. I assume you know which ones to pick because you have exemplary taste. I was especially pleased that you chose Tom Reamy. He is an author who is sadly neglected, and I wish someone would bring him back into print in an archival edition…

Somewhere, and I don't recall where, I found a hardcover of San Diego Lightfoot Sue. At the time I was (and still am) an aspiring writer with a fondness for short fiction… In his Afterward, Howard Waldrop writes about the gas station the Reamys operated on the highway between Breckenridge and Woodson. As soon as I read about it, I knew exactly the gas station Howard was talking about. It sat in a curve in the road just inside the county line.

The gas station is gone now, but the house is still standing. That's it in the photo on the right. I'd read on the Black Gate blog that you were going to write about Tom and I took the picture when I was visiting my parents in Breckenridge last Christmas.
Job well done, Keith. A nice piece of investigative reporting. Thanks for the touching tribute of your own. Hope you enjoy the rest of the issue as much as Bud's column.
You can see Keith's complete letter (and photos) here.